A visit to the MSU campus will provide opportunities to meet faculty, staff and students, and to explore life at Montana State! Because selecting a college is such an important decision, families are always welcome and encouraged to participate. MSU offers group visits during our MSU Friday events, daily campus visits and the option to do a self-guided tour.



Daily Visits
Daily visits are available Monday through Friday, year-round, with the exception of major holidays. Students can attend a campus tour, visit our residence halls, meet with an admissions counselor, and get more information from academic departments of interest. Explore available sessions below, and take a look at our sample visit schedule!
8:45am - Introductory MSU welcome and video presentation
9:00am - Explore MSU on a campus tour
10:00am - Experience on-campus housing
11:00am - Attend an academic information session
12:00pm - Break for lunch
1:00pm - Meet with an Admissions Counselor
Academic information sessions are also available at the following times:
11:00am - Architecture Info Session
11:00am - Imagine Your Future: Why Humanities Matter
12:00pm - Honors College Info Session
1:10pm - Engineering Info Session
1:10pm - University Studies Info Session (undecided students)
If you are interested in attending any of the sessions listed above, please select them when scheduling your campus visit.
Schedule now>>

To schedule your visit, you are encouraged to complete the registration form or call at least two weeks in advance of your planned visit. If you have questions, please feel free to contact the Campus Visit Coordinators in the Office of Admissions at campusvisit@montana.edu, (406) 994-1989 or toll free 1-888-MSU-CATS. You are also more than welcome to just "drop in" and go on a campus tour.
Available Sessions

School & Community Visits
We welcome larger group visits every year, including high schools, TRiO programs, and more! We can accommodate these visits Monday-Friday, year-round. Please email or call our Campus Visit Coordinators to discuss what options are available.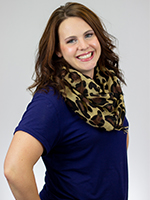 Anna Floyd
Campus Visit Coordinator

MSU Friday Visit Program
MSU Fridays are a fun way to check out the campus! Our preview days offer tours, meetings with faculty members, advice from current students, sample classes and much more. For more info and to register, visit our MSU Friday page.

Self-Guided Walking Tour
For individuals who are unable to attend a regularly-scheduled campus tour, our office does offer a self-guided walking tour experience. This tour includes podcast audio to enhance your experience.
The 1.3-mile tour begins in front of the south entrance to the Strand Union Building and takes approximately 1 hour to complete. The number route follows the same path as our regular student-guided tour, however, visitors are welcome to tailor the tour to their own interests using the key below the map. If buildings are open, feel free to go inside and take a look around. If classes are in session, please try to be as considerate as possible.

Questions? We're here to help.
If you have questions, please don't hesitate to reach out to us! You can email our staff at campusvisit@montana.edu, or call us Monday - Friday, 8:00am-5:00pm MT at 1-888-MSU-CATS.