Updated: March 2016
Preparing boxes for Archives:
Absolutely DO NOT reuse boxes for Archives.

Remove all binders, binder clips, paper clips, etc. Only paper and rubber bands are allowable. You will be notified to come to AP office and remove these items before the boxes go to Archive Room.

On archives box (ON BOTH ENDS):

Write in unit name (ie: Res Life, Catering, CatCard, etc)
Write in Beg/End Dates month & year
Write in description in detail (this will be used for logging onto Archives Master List and must be detailed in order to locate files at a later time if needed)
Write in From date & Thru date

Send box to Archivist in Aux AP office for completion of labeling:

Archivist will adhere all identification labels and box numbers.
Archivist responsible for determining destroy date per retention date listing. An email will be sent to departments for final approval prior to being destroyed.
Example Archive Box (before entering Archives)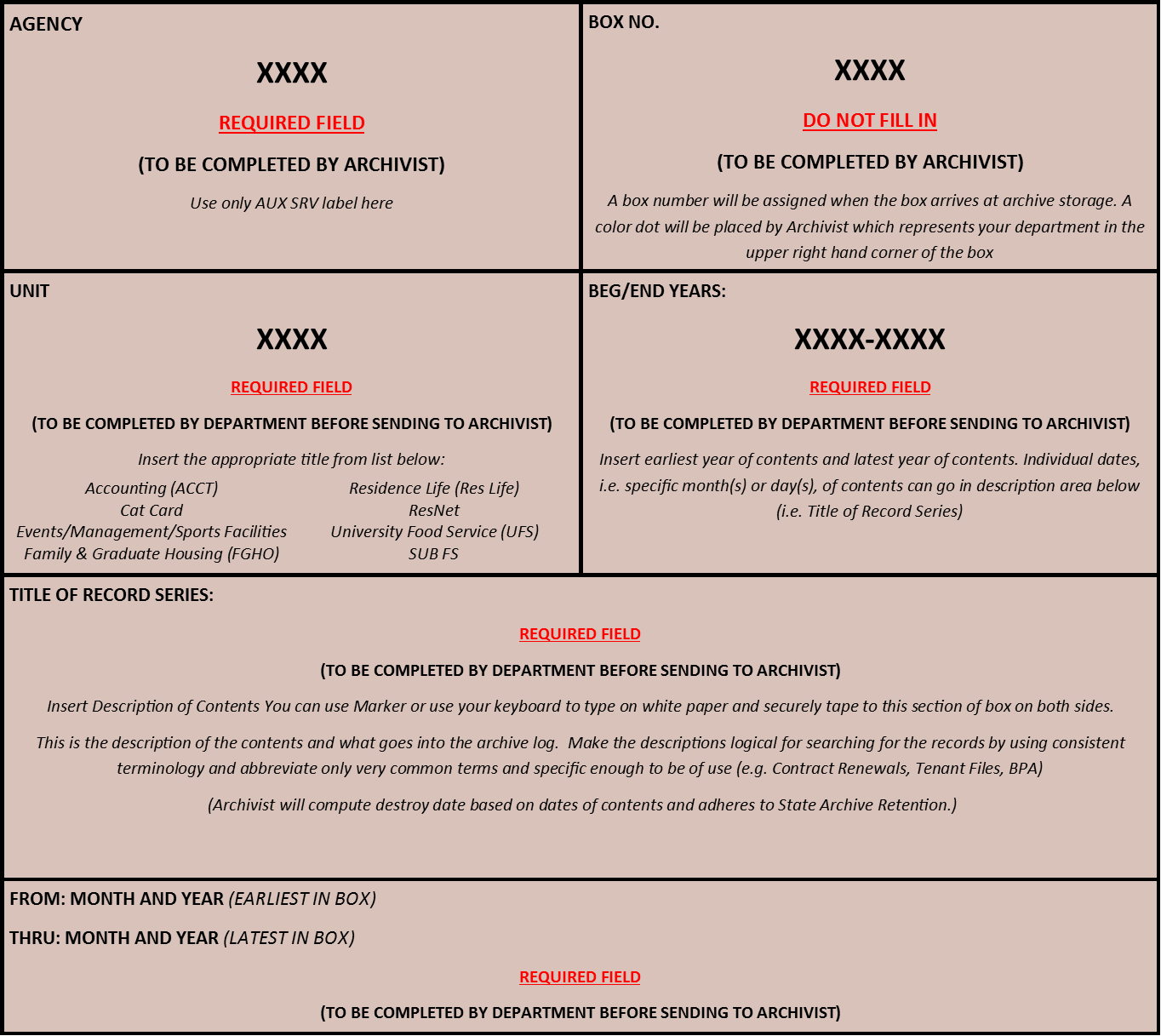 REMEMBER!! Archive boxes cannot be reused for Archiving. Once boxes are due for destroy, they will be emptied by Document Destroyers and the empty boxes are put into recycling.
Requesting files from Archives:
Via email request files from Archivist. Please specify year and description of box and name of individual file to be retrieved.
Archivist will pull box from Archives, place the box in a holding area in archives, retrieve the individual file and send via runner mail or personally deliver (determined by requestor location).
Archivist will complete checkout sheet for date out and date returned. Requestor will be contacted after 2 weeks of pull date if file has not been returned.
In the past archivist would pull the entire box & deliver to the requestor. We are now actually pulling the file requested. No box will be delivered to you in its entirety.
Requestor is welcome to accompany archivist to Archives area for file retrieval!