Cat/Griz Retailer Display Contest
All Bobcat retailers are invited to participate in a display contest to help build excitement for the annual Brawl of the Wild rivalry football game on November 23 at Bobcat Stadium. Use your creatitvity, have fun and show your Bobcat spirit.
To participate, simply email a photo of your store display along with your name and phone number to catgear@montana.edu by November 19, 2013. Please also provide permission to share your image(s) on Facebook and the winner will be announced via the Montana State University: Stand Up Gear Up Facebook page on November 21, 2013.
1st prize: 2 tickets (standing room only) to the Cat/Griz game with access to the Club Room, plus one night of lodging at the Holiday Inn Express and Suites in Belgrade.
2nd prize: A 5-foot stuffed Champ for use in merchandise displays.
Where's Champ?
February 25-28, 2013
Get involved in the "Where's Champ?" scavenger hunt in downtown Bozeman! Watch for daily clues on MSU Stand Up, Gear Up Facebook page, collect all four champ cards, and be eligible to win great prizes.
Prizes
Grand Prize: Tickets to Cat-Griz basketball games, autographed basketball, $50 Downtown dollars, Bobcat Spirit and Downtown Bozeman prizes.
2nd Prize: $25 in Downtown dollars, Bobcat and Downtown Bozeman items.
3rd Prize: $10 in Downtown dollars, Bobcat and Downtown Bozeman items.
Official Rules
All entrants must
Like the MSU Stand Up, Gear Up Facebook page. Enter your name and address below and upload a photo of yourself holding all four cards. All entries must be received by midnight February 28, 2013. All participants who complete the Where's Champ? Scavenger Hunt will receive an MSU string bag and Bobcat magnet.
The Bobcat Spirit webpage is dedicated to promoting school pride and MSU and Bobcat merchandise.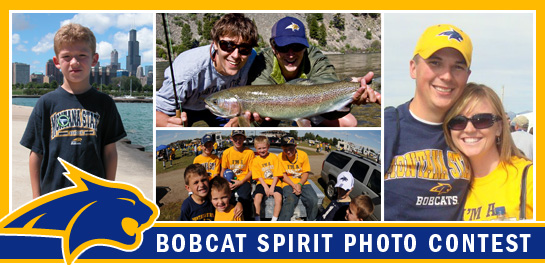 Photo Contests: Check out Bobcat Fans and their photo submissions