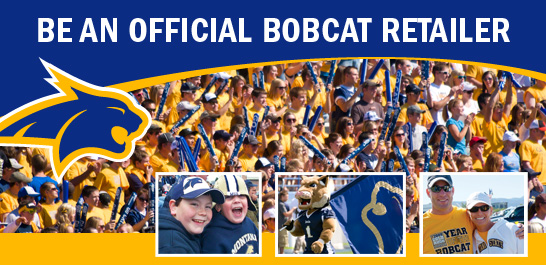 Montana State University and Bobcat merchandise sales have grown significantly over the past five years. With a worldwide alumni network more than 84,000 strong and numerous regional friends and fans, there's never been a better time to carry MSU and Bobcat gear.

It's easy:
Purchase gear from our officially licensed vendors —download a list below
Montana Licensee List (PDF)
National Licensee List (PDF)
MSU supports its retail outlets through:
Free signage to promote your status as an official Bobcat outlet
Blue & Gold Fridays across Montana
Free Web listing
Social media promotions on Facebook
The Montana State Bobcats have lots to be proud of:
Expanded stadium for the 2011 football season
Big Sky Football Conference Champions in 2010
More than 41,000 alumni living in Montana
Other questions? Contact Julie Kipfer, licensing director, at 406-994-5737 or jkipfer@montana.edu.
Support MSU and the Bobcats, carry licensed gear!

This newsletter provides a connection between licensees, retailers and fans to continue to increase sales and availability of MSU and Bobcat gear across the state. The newsletters will be released three times per year—summer, fall and spring—that will provide information about sales, promotions, merchandise and upcoming events.
Subscribe to the Bobcat Gear Gazette
Read the current issue or view the archive