Message from the Director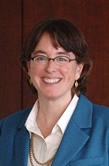 Welcome to The Bracken Center for Excellence in Undergraduate Business Education, established through a generous gift in the name of Gary K. Bracken, Class of '61 by his family and friends. This is an exciting time in the Jake Jabs College of Business & Entrepreneurship at Montana State University - Bozeman. The endowment for The Center represents an extraordinary occasion to enhance the supportive structure for undergraduate student learning and advancement. The resources now available through The Bracken Center are particularly significant in light of the many business programs whose attention and assets illuminate primarily graduate programs.
At present, the objectives for The Bracken Center focus on the expansion of opportunities for internships and business professionalization for students, on the enhancement of faculty development initiatives which facilitate excellence in pedagogy, and on provision of resources for the maintenance of a contemporary curriculum.
The Bracken Center has state-of-the-art technology used in the support of student learning. Videoconferencing, interactive whiteboards, specialized business databases, and multi-media presentation equipment are available to students as they engage in coursework, service learning, and professionalization. In cooperation with our industry partners and MSU Career, Internship & Student Employment Services, The Bracken Center provides career mentoring services and skill building opportunities. The Bracken Business Communication Center provides one-on-one written and oral communication coaching. For written communication, students review drafts of their written work with a skilled coach to enhance their work's organization and mechanics. For oral communication, students review recordings of their oral presentations with a coach to help them identify areas for improvement.
I encourage you to watch for future developments in The Bracken Center. The best is yet to come!
Susan Dana, J.D., Director