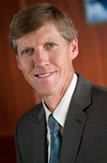 Welcome to the Jake Jabs College of Business & Entrepreneurship at Montana State University!
It has been a very eventful year for our College. Perhaps one of the most significant days in the life of our college was marked by the grand opening of Jabs Hall on May 7th, 2015. As the new home for our college, Jabs Hall embodies many of the values that provide our foundation for the future. It is clearly one of the most open, inviting, and collaboration-friendly buildings on campus. It offers inspiring views from the many large windows throughout the building, coupled with intimate seating areas for students to work together or alone. Even if students are not taking classes in one of the eleven classrooms in the building, we are already seeing them come to use the great workspaces sprinkled throughout.
Our new home in Jabs Hall is the perfect place from which to implement our new mission: To inspire creativity, innovation, and growth. This new mission statement was the result of a series of discussions about how we could really live up to the "entrepreneurship" in our college's name. We realize that not every student wants to start his or hers own venture, and that we still have the responsibility for preparing our students to work in the many large firms that recruit our students. Our discussions led us to what we think is at the core of what makes any business professional, whether an entrepreneur or an employee of a large firm, successful. We want to graduate business professionals that can think creatively and develop innovative solutions and business ideas. We also want those graduates to embrace their own personal and professional growth, while contributing to the economic growth of Montana and the nation. To do all this, we are developing ways to inspire creativity in our curriculum, by making our courses more accessible to students from other colleges on campus. We believe that having our students work alongside engineers, scientists, and artists will broaden their horizons and increase their ability to work across disciplines. In that spirit, we are also introducing new courses, such as our interdisciplinary design course, taught by a faculty team from business, engineering, and graphics design.
With a "collaboration lab" dedicated to interdisciplinary projects, Jabs Hall provides the perfect venue for encouraging these creative activities. Add to that the ever-increasing number and quality of students that are choosing MSU for their business education combined with our great faculty and accomplished alumni, the future of the Jake Jabs College of Business and Entrepreneurship looks very bright indeed. We are well on our way to being known as the most creative, collaborative, and entrepreneurial business school in the region.
I invite you to explore our website to learn more about our programs, and in particular, I call your attention to the following:
Great things are happening at the College, and we hope you will be a part of the excitement. If you don't find what you're looking for on the website, please contact us directly.
Dr. Kregg Aytes
Dean, Jake Jabs College of Business & Entrepreneurship