Dean's Welcome Message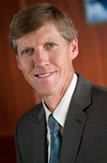 Welcome to the Jake Jabs College of Business & Entrepreneurship at Montana State University! We have many exciting things happening here in Bozeman. In October, 2011, the College was honored to be the recipient of a transformational $25 million gift from MSU alumnus Jake Jabs. We have used the bulk of that gift to break ground on a new business building, Jabs Hall, this spring. We will use the balance of the gift for student scholarships and new academic programs, focusing in particular on entrepreneurship, professional skills development, and interdisciplinary programs with other departments and colleges at MSU.

The strength of our college is our commitment to high quality education, which we accomplish through a great mix of faculty members who are currently or recently engaged in the practice of what they teach, and faculty members who completed their doctoral studies at the best Ph.D. programs in the country and conduct leading-edge research in their fields. This, along with our curriculum that includes many opportunities for "experiential learning" such as internships and consulting projects with local organizations, provide our students with the best in classroom and real-world learning. The recent gift from Mr. Jabs will greatly enhance these already successful efforts.

We enhance the long-term career success of our students by offering professional career coaching and individualized help with the critical communication skills valued by employers. Evidence of the quality of our programs can be seen in the performance of our seniors, who consistently score above the 90th percentile on the Major Field Test in Business. Also, our accounting graduate students regularly achieve a first-time CPA pass rate that ranks among the highest in the nation. Additionally, our Alderson Program in Entrepreneurship has been highly ranked by Entrepreneur magazine.
I invite you to explore our website to learn more about our programs, and in particular, I call your attention to the following:
Great things are happening at the College, and we hope you will be a part of the excitement. If you don't find what you're looking for on the website, please contact us directly.
Dr. Kregg Aytes
Dean, Jake Jabs College of Business & Entrepreneurship