Student Organizations
The Jake Jabs College of Business & Entrepreneurship (JJCBE) provides a variety of opportunities for students to develop their professional skills outside of the classroom including the student organizations listed below:

Accounting Club/Beta Alpha Psi

Accounting Club: Open to interested students of any major.
Beta Alpha Psi: A chapter of a national organization recognized as the premier organization for financial information professionals. Open to students enrolled in accounting, finance, or information systems majors.
.
Enactus (formerly Students in Free Enterprise/SIFE)

Open to students in any major. International organization focused on entrepreneurship, sustainability, community service, and being socially responsible business leaders.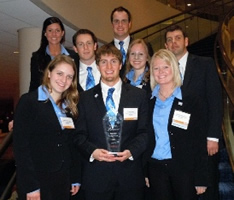 Finance Club

A student-run organization within the JJCBE focused on finance issues.


Human Resources Management Club (HRMC)

Provides networking opportunities and career/personal development opportunities in management and human resources.


International Business Club

MSU International Business Club is a pre-professional club at Montana State University that aims to connect students to the global business world through guest speakers, country information sessions, and culture classes.
Marketing Club

Participate in projects that provide hands-on learning in the field of marketing.
Montana Investment Group

The Montana Investment Group's mission is to enhance our members' education through learning in-depth equity research processes, valuation techniques, portfolio management, and market analysis.