Outreach Programs & Initiatives
A core component of the Jake Jabs Center for Entrepreneurship is its dedication to outreach programs. There is a sincere belief and commitment among the faculty and administration of the MSU Jake Jabs College of Business & Entrepreneurship (JJCBE) that this entrepreneurship program can make a significant contribution to the economic development of the state of Montana and its people. Here are some programs and initiatives that do just that.
ENTREPRENEUR DAY

This event is a day of education, motivation, information exchange, and networking geared towards high school students interested in entrepreneurship and business. The event is sponsored in part by Boeing.
Monday, NOVEMBER 9, 2015
Q&A with Brie Thompson

The 2015 keynote entrepreneur will be Brie Thompson, co-founder of Olivelle.The keynote entrepreneur presentation "The Power of Confidence: Recognize, Adapt, Overcome," will take place in SUB Ballroom A on the MSU campus in Bozeman from 1:00-2:00 pm. This presentation is free and open to the public.
"Entrepreneurship becomes possible when one understands "the Power of Confidence" and recognizes that every problem, no matter how difficult, has a solution. Brie is excited to share how her method to "Recognize, Adapt, and Overcome Challenges "are not only valuable skills in business but relevant to all aspects of life. It is with these skills that success and growth can truly prosper.
After starting her business in 2009 at the age of 22, with no professional experience and straight out of business school, Brie has grown Olivelle from a single retail store to an expansive food manufacturing and distribution operation that imports, exports, consults, wholesales and ultimately changes the way people think about Oil & Vinegar. Olivelle currently has exclusive supply agreements with over 30 independent retail shops spanning the country from New York to Alaska and recently opened its first oil & vinegar bar in Canada.
In 2015, Brie was recognized at The Bozeman Daily Chronicles 20 Under 40 awards, has been the featured speaker in Prospera's Leadership Mentoring Series, and most recently became one of only 15 Certified Olive Oil Savants in the world (similar to a wine Sommelier)."
Please click here for the MSU Exponent (student newspaper) story on the 2013 event.
Check out this video featuring the 2012 Entrepreneur Day:


ENTREPRENEUR-IN-RESIDENCE
Public Presentation: Tuesday, FEBRUARY 24, 2015
6:15 p.m. in Reid Hall 108
Guest EIR: Patrick Crowley, founder of Chapul
This program brings in seasoned entrepreneurs to act as mentors for JJCBE students. This program provides one-of-a-kind mentoring and face-to-face interactions with successful entrepreneurs spanning diverse fields of expertise. During the week, entrepreneurs visit a number of classes to chat with students, answer questions and give constructive criticism on projects and presentations. They also hold office hours and will normally hold a free public presentation on an entrepreneurial topic or trend.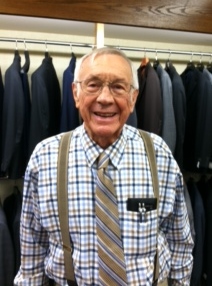 The Family Business Program offers education and information to the backbone of many Montana businesses, those that are owned and managed by families of Montana. The annual awards luncheon, usually held in the fall, honors outstanding family businesses based on contributions to their communities and industry, innovative business strategies and practices as well as other factors.
Family Business Day: Friday, OCTOBER 23, 2015
Keynote Speaker: Ike Kaufman, Kaufmans Menswear Centre
"Riverboats and Relationships"

This year's keynote luncheon speaker will be Ike Kauffman, a 1996 Family Business Award winner and the owner of Kaufmans Menswear, based in Great Falls, Montana. Kaufman's presentation will focus on lessons learned from his family's 121-year-old multi-generational business. Kaufman will also discuss the "Three Circles of Family Business" and key relationship-building principles that have remained in the family since the initial Missouri River voyage.


OTHER GUEST SPEAKERS AND PRESENTATIONS
Upcoming:
April 14, 2016: "Anticipating the Wave of the Future: How R/GA Helped Two Brands Evolve"—R/GA NYC Team
Past:
March 10, 2016: "How Design Research Impacts Our World"—Nate Bolt, founder of Ethn.io (Read the Q&A here)
September 11, 2015: "Bootstrapping a Green Drink Business"—Shauna Martin, founder of Daily Greens
March 19, 2015: "Making and Marketing Brands in a Connected World"—R/GA NYC Team
January 29, 2015: "A Conversation from the Top: National Executives from Northwestern Mutual on Ethics & Careers"
September 10, 2014: "Building to Learn: How Design Thinking Can Help Bring Change"—Dr. Jim Patell
March 18, 2014: "Internal Startups: How Nike and R/GA Built the FuelBand"—R/GA NYC Teaml
June 18, 2014: "Anatomy of a License: Tips, Traps and Best Practices"—expert licensing and international lawyers
Oct 24, 2013: "Lessons Learned on Expert Entrepreneurship from the View of Successful Venture Investing"—Dr. Rob Wiltbank
February 20, 2013: "Social Entrepreneurship: My Venture Changes the World. Can Yours?"—Charles Best, DonorsChoose.org