Our campus is set among the mountains of Montana which inspires students and faculty alike to move beyond their existing areas of expertise, to learn and master new self-enriching skills. We go beyond the class room via experiential learning, stepping outside normal routines to explore new ones. We provide a transformative educational experience, where students learn from their experiences as we create unique experiences from which students will learn.
For more comprehensive information about our community, travel & transportation around Bozeman, things to do while you are here, and the outdoor experience, please visit: http://www.montana.edu/about/bozeman/.
Visit Montana: Information for Travel in Montana
Click here for Activities and Points of Interest around the Bozeman area.
Campus Maps, directions and parking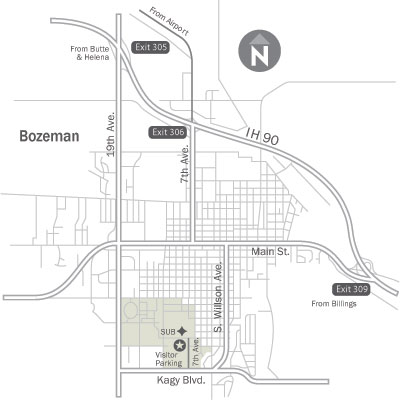 Directions
Bozeman, Montana is located on I-90. Two interstate exits will bring you to the MSU campus in Bozeman.
From the west:
Take exit 305 onto North 19th Ave. and follow it south approximately 3.5 miles to Kagy Blvd.
Turn left onto Kagy Blvd. and continue to South 7th Ave.
From the east:
Take exit 309 onto Main Street and proceed west to Willson Ave.
Turn left on Willson Ave. and travel 18 blocks to Kagy Blvd. (Willson will curve slightly here)
Turn right on Kagy Blvd. and continue to South 7th Ave.
Many of our visitors prefer to use GoogleMaps or MapQuest to locate campus. Although we do not have an actual physical address, you can use the intersection outside of the Strand Union Building (SUB) to generate good turn instructions. The intersection is: South 7th Ave and West Grant St, Bozeman, MT 59715.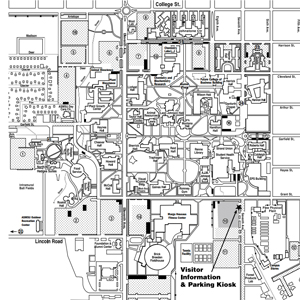 Printable Campus Map
Download and print the campus map to take with you while you visit the Montana State University campus.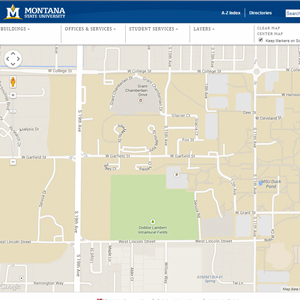 Online Campus Map
Find your way around campus to locate specific buildings and services through the MSU Campus Map powered by Google.