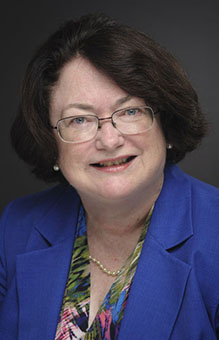 Dr. Mary B. Burns
Assistant Professor of Accounting


Office: 442 Jabs Hall
Email: mary.burns1@montana.edu
Phone: (406) 994-2773
Courses:
ACTG 321 - Accounting Information Systems I
ACTG 421
- Accounting Information Systems II

In the News:
Research Interests
Fraud/deception detection
Information systems security
Using technology to increase audit effectiveness
Expertise & Service
Service: AIS Educator Association (Membership Officer)
Bio
Mary Burns joined the MSU accounting faculty in 2013. Prior to relocating to MSU, she was a tenure-track assistant professor in Accounting at Georgia Regents University. Throughout her academic career, Mary has taught courses in Accounting and Information Systems at the undergraduate and masters' levels. Before her academic career, she spent more than 11 years managing Control and IS functions at two Fortune 200 companies. This work required frequent travel and now she travels for pleasure instead of work every chance she gets.


Google Scholar profile: https://scholar.google.com/citations?user=sBwib_EAAAAJ&hl
ResearchGate profile:
Selected Publications
"Automated Deception Detection of 911 Call Transcripts," Security Informatics, 3:8. (2014)
"A Theoretical Justification of Embodied Conversational Agents (ECAs) to Augment Accounting-Related Interviewing Processes," Journal of Information Systems, 27:2, 159-176. (2013)
"Simplicity is Bliss: Controlling Extraneous Cognitive Load in Online Security Training to Promote Secure Behavior," Journal of Organizational and End User Computing, 25:3, 52-66. (2013)
"Identification of Fraudulent Financial Statements Using Linguistic Credibility Analysis," Decision Support Systems, 6:2, 257-273. (2012)
Awards
Beta Gamma Sigma, Professor of the Year, 2015
"Using Eye-Tracking to Compare Pattern Recognition Approaches in Auditor Risk Assessments: An Empirical Analysis," MSU Faculty Excellence Grant AY 2014-15, funding approved in April, 2014.
MSU College of Business Dean's Award for Research, 2014.


Education
Ph.D., Management with Management Information Systems emphasis, University of Arizona, Tucson, AZ, 2012
M.B.A., emphasis in Control, Harvard Business School, Boston, MA, 1980
M.S., Information Science, Harvard Graduate School of Arts & Sciences (GSAS), Cambridge, MA, 1978
B.S., Mathematics/Computer Science, College of William and Mary in Virginia, Williamsburg, VA, 1976