Nominations for Family Business Day
The Jake Jabs College of Business & Entrepreneurship (JJCBE) is pleased to announce the 2018 Family Business Day Awards. With these awards, we encourage the world at large to take note of these pioneering and successful family businesses and of the hearts of the people who have sustained them through generations. Judging will be conducted by principals of family businesses and family business service professionals.
To download the 2018 Family Business Day Nomination Forms, click here.
Rules for Nominations
Business headquarters must be in Montana.
A firm may be nominated by anyone, including employees and business associates. In the spirit of entrepreneurship, self-nominations are encouraged.
All family businesses are eligible with the exception of prior winners.
All nominations must be received by June 1, 2018. Completed applications are due on or before July 5, 2018. (Applications will be sent to nominees.) Applicants will receive notification of award by August 10, 2018.
Awards will be given in the following categories: (Sized by number of full-time employees.)
Large sized business--> 50 employees

Medium sized--30-50 employee
Small sized--10-29 employees
Very small sized--less than 10 employees
Old family business--over 50 years
New family business--under 10 years
Nominations remain active for three years. You may nominate as many businesses as you wish.
Judging Criteria
Business growth and success
Innovative business strategies and practices
Contributions to community and industry
Longevity (except for new firms)
Family-business linkage
Succession preparedness
Multi-generation family business involvement (except new firms)
To Family Business Program Home Page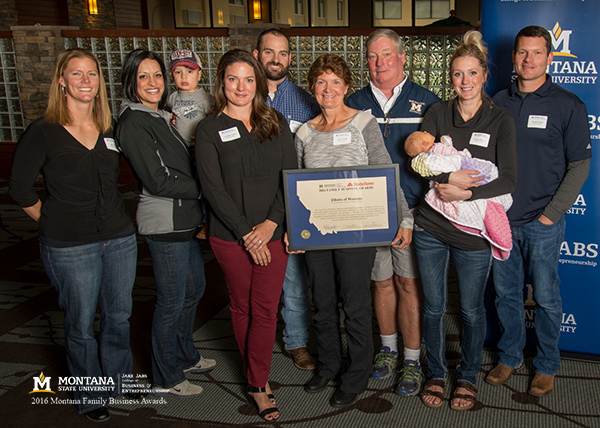 ---
The Family Business Program at Montana State University was launched in 1994. The program is currently sponsored by State Farm Insurance. The program receives additional support from the Montana Chamber of Commerce and WIPFLi
The purpose of the Family Business Program is to provide educational opportunities and resources to family-owned businesses. In addition, the program provides educational opportunities and resources to service providers of family businesses.
For more information, please contact Anna Reardon, Director of Events, at:

Phone: (406) 994-6195
Fax: (406) 994-6206
E-mail: familybusiness@montana.edu