Study Abroad Opportunities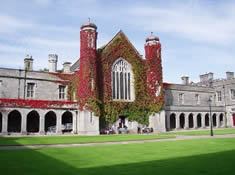 If you're serious about international business, you should study abroad for at least a semester. Your expenses should be approximately the same as your expenses at MSU (plus travel and personal expenses). Many of your pre-approved courses will count toward your Jake Jabs College of Business & Entrepreneurship (JJCBE) degree requirements, and you'll gain valuable experiences that will help you grow personally and professionally.
The JJCBE offers exchanges with colleges of business in Sweden and France.
Current direct JJCBE exchanges are:
Euromed Marseille Ecole de Management, Kedge Business School (France)
Marseille International business courses taught in English.
Jönköping International Business School (Sweden)
All courses taught in English.

Hundreds of other international exchange opportunities are also available to you through the
MSU-Bozeman Office of International Programs. Go check it out!


Check our list of MSU Study Abroad opportunities for JJCBE Students which have business classes in English.
To be eligible for a JJCBE exchange, you must be formally admitted to the JJCBE by the time you depart on the exchange, and must satisfy the criteria listed in the application (available in Jabs 108). Deadlines for application for JJCBE exchange programs are October 2015 for the spring semester and March 2016 for the fall semester, although the JJCBE uses a rolling admission process so you are strongly urged to start the process earlier. Exchanges offered through the Office of International Programs have different application procedures. The JJCBE offers International Fellowships for qualified students.
For further information contact:
Jake Jabs College of Business & Entrepreneurship
Bracken Center for Excellence in Undergraduate Business Education
Jabs Hall 108
P.O. Box 173040
Montana State University
Bozeman, Montana 59717-3040
(406) 994-1995
brackencenter@montana.edu