Owner of Get Ready Girls Spoke at MSU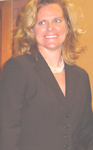 Dana Lasher speaks to business students about how they can find success in the business world
Dana Lasher, founder and co-owner of Get Ready Girls, Inc, delivered a David Orser lecture at the Montana State University College of Business on Wednesday, Oct. 4.
Lasher, who graduated from the MSU College of Business in 1990, spent 15 years in "Corporate America." She worked for Fortune 100 companies, including Unilever and Coca-Cola USA, until starting Get Ready Girls, Inc., more than a year ago. Her company licenses and manufactures women's products for NASCAR and universities under the sub-brand names "Race Ready Lady" and "Spirit Ready."
Lasher's lecture chronicled her career path to success. She started by saying, "It's all about getting it done." As a glass half-full business leader, she exhorted students to truly have passion for what they're doing, where they are and where they are going. Her lecture was peppered with words such as vision, leadership, service and strategy.
Lasher attributed much of her success to the education she received at MSU's College of Business. She said her education prepared her as well as any of her peers who studied at private and elite institutions. "Someone walking out of MSU can make it!" she said.
In its 18th year, the David Orser Executive Speakers Forum brings accomplished and inspiring professionals to MSU's College of Business to deliver large, open-forum lectures as well as to share their expertise and experience with students in the classroom. David B. Orser, a 1966 MSU graduate, funded the program beginning in 1988 to inspire MSU business students to pursue careers as innovative, responsible and ethical business leaders.
Orser said as a student, "One of the things I observed here was there were no business lectures." He continued, "I've been working all my life and I feel good giving back to students doing the same thing I was doing 50 years ago."