College of Business Hosts 2007 Annual Scholarship Dinner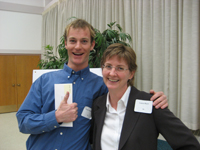 Students were grateful for all of the scholarship moneys awarded at the Annual College of Business Scholarship Banquet
More than 115 students majoring in business options at Montana State University College of Business received scholarships and awards from the College recently.
The scholarships, announced Monday, February 26th at the College's annual scholarship banquet, were provided through endowments and funds set up to specifically grant financial aid to students enrolled in the MSU College of Business.
Wyeth Windham, production manager for PrintingforLess.com, was the banquet's keynote speaker. He gave a lively presentation on the importance of business and its role in growing America's economy. Windham is a 2003 College of Business marketing graduate. After beginning work for PrintingforLess.com's technical service department in November 2003, Windham quickly worked his way into production management. Remembered by the College of Business faculty for his energy and charisma as a student, Windham was an obvious choice as keynote speaker for the scholarship banquet.
About the College of Business:
The College of Business offers four option areas of study, five minors and a Master's of Professional Accountancy degree. The MSU College of Business is accredited by the Association to Advance Collegiate Schools of Business (AACSB). For more information on the MSU College of Business, visit the College's Website at www.montana.edu/cob.
Scholarship recipients and the type of scholarship/awards received were:
MONTANA
Anaconda
Kristin Basiaga - David W. & Dorothy E. Patterson Scholarship
Baker
Lynn Williams - Donald W. Bullock Memorial Scholarship
Belgrade
Jolyn Deshler - Jim Alderson Scholarship
Tina Dykstra - Carlvon Family Foundation Scholarship & Donald W. Bullock Memorial Scholarship
Big Sky
Stacie Potts - Elizabeth Seitz-Moyer Memorial Scholarship
Heather Budd - Harlan F. Patterson Scholarship
Bigfork
Crystal Garland - David W. & Dorothy E. Patterson Scholarship
Billings
Brianna Harris - Howard Kelsey Memorial Scholarship
Daniel Huffman - David W. & Dorothy E. Patterson Scholarship
Alexa Lucas - Montana Society of Public Accountants Scholarship
Julie Schicktanz - The Gary K. Bracken Scholarship
Erin Ahlgren - David W. & Dorothy E. Patterson Scholarship
Kelsea Husar - Frank Preston Scholarship
Leah Kraft - Parent/Family Association Scholarship
Abby Maki - Montana Society of CPAs Scholarship
Kelly Rickard - David W. & Dorothy E. Patterson Scholarship
Kristin Principe - David W. & Dorothy E. Patterson Scholarship & John T. Cadby & George Bennett Scholarship
Boulder
Laura Llewellyn - Mike Bowen Memorial Scholarship
Bozeman
Colin Albee - David W. & Dorothy E. Patterson Scholarship
Keith Aldrich - Dean's Award for Excellence Undergraduate*
Andy Baber - Citizen's State Bank Scholarship & David W. & Dorothy E. Patterson Scholarship
Aaron Balian - Elizabeth Seitz-Moyer Memorial Scholarship
John Devine - David W. & Dorothy E. Patterson Scholarship
Torrey Fleming - KPMG LLP Scholarship
Corinne Harris - David W. & Dorothy E. Patterson Scholarship & Friends of Open Classic Golf Scholarship
Grant Jamieson - Robert Simkins Memorial Scholarship
Stefanie Kauffman - Donald W. Bullock Memorial Scholarship & MT Bankers Association 25 Year Club Scholarship
Larene Newman - KPMG LLP Scholarship
Lieveka Nybo - Junkermier, Clark, Campanella, Stevens
Emily Quinn - Deloitte & Touche Scholarship
Lynn Spokas - David W. & Dorothy E. Patterson Scholarship & Dean's Award for Excellence - Undergraduate*
Jessica Soukup - Donald W. Bullock Memorial Scholarship
Jill Therrien - Scott & Barbara Heck Scholarship
Philip Vogl - David W. & Dorothy E. Patterson Scholarship
Cardwell
James Truckle - Dean's Award for Excellence - Undergraduate*
Chester
Mitchell Clark - David W. & Dorothy E. Patterson Scholarship
Chinook
Tiffany Cuerth - KPMG LLP Scholarship
Shardae Johnson - COB National Board of Advisors Scholarship
Cut Bank
Shannon Walter - Grace Rosness Memorial Scholarship
Denton
Cole Derks - David W. & Dorothy E. Patterson Scholarship
Eureka
Stephanie Sanders - David W. & Dorothy E. Patterson Scholarship
Glendive
Chase Basta - Friends of Open Classic Golf Scholarship
Tasia Appel - KPMG LLP Scholarship
Sara Titensor - David W. & Dorothy E. Patterson Scholarship
Great Falls
Tyler Bryant - David W. & Dorothy E. Patterson Scholarship
Anthony Golt - David W. & Dorothy E. Patterson Scholarship
David Wells - David W. & Dorothy E. Patterson Scholarship
Aaron Gray - John W. Blankenhorn Scholarship
Morgan Rangel - Donald W. Bullock Memorial Scholarship
Kati Eve - Frank Preston Scholarship
Hamilton
Micah Van Gilder - David W. & Dorothy E. Patterson Scholarship
Havre
Kevin Campbell - David W. & Dorothy E. Patterson Scholarship
Helena
Kelsey Chouinard-Peck - Bracken International Scholarship
Rebecca Dusenberry - Deloitte & Touche Scholarship
Katie Goodhart - David W. & Dorothy E. Patterson Scholarship
Carrie Leitgeb - Russell B. Hart Memorial Scholarship
Sean Raczkowski - David W. & Dorothy E. Patterson Scholarship
Morgan Smith - Dean's Award for Excellence - Graduate*
Cee Cee Tryan - Donald W. Bullock Memorial Scholarship
Kalispell
Jacquelyn Bodfish - David W. & Dorothy E. Patterson Scholarship
Lesley Meeker - D. A. Davidson & Co. Scholarship
Sarah Saxby - Jim Alderson Scholarship
Amy Fuhrmann - David W. & Dorothy E. Patterson Scholarship
Matt Pugh - Donald W. Bullock Memorial Scholarship
Livingston
Ellaina Kowalzek - David W. & Dorothy E. Patterson Scholarship
Amy Brown - David W. & Dorothy E. Patterson Scholarship
Lustre
Grady Toews - US Bank-Bozeman Scholarship
Malta
Rebecca Lind - Galusha, Higgins & Galusha Scholarship
Manhattan
Stephanie Cole - David W. & Dorothy E. Patterson Scholarship
Melrose
Andrea Kearns - Joseph Eve CPAs Scholarship
Miles City
Brooke Griffin - Parent/Family Association Scholarship
Joseph Ottoy - Frank Preston Scholarship
Missoula
William Bauerle - Michael McCue Memorial Scholarship
Oilmont
Melissa Ostberg - Montana Society of CPAs Medallion Award*
Opheim
Jayme Larson - David W. & Dorothy E. Patterson Scholarship
Plentywood
Dane Anderson - David W. & Dorothy E. Patterson Scholarship
Richey
Jeffrey Seward - Frank Preston Scholarship
James Trotter - Jeanne M. and Harold Roby Scholarship
Roundup
Kristin Dornton - David W. & Dorothy E. Patterson Scholarship
Laura Ingalls - David W. & Dorothy E. Patterson Scholarship
Sheridan
Jamie Dixon - Harvey A. Larson Scholarship
Sidney
Keri Peterson - David W. & Dorothy E. Patterson Scholarship
Terry
Jennifer Graham - Dean's Award for Excellence Undergraduate*
Three Forks
Tyler Williams - David W. & Dorothy E. Patterson Scholarship
Townsend
Maximilian Updike - David W. & Dorothy E. Patterson Scholarship
Turner
Britney Jones - David W. & Dorothy E. Patterson Scholarship
Twin Bridges
Steven Martin - David W. & Dorothy E. Patterson Scholarship
Heidi Giem - Joseph Eve CPAs Scholarship
White Sulphur Springs
Melissa Mikesell - EideBailly LLP Consultants/CPAs Scholarship
ALASKA Anchorage
Alex Gvozdkova - Harlan F. Patterson Scholarship
COLORADO
Steamboat Springs
Andrew Garber - Elizabeth Seitz-Moyer Memorial Scholarship
ILLINOIS
Fairview
Caitlin Campbell - Junkermier, Clark, Campanella, Stevens
MINNESOTA
Grand Rapid
Nathaniel Byrne - Donald W. Bullock Memorial Scholarship
Newport
Benjamin Phillips - Parent/Family Association Scholarship
St. Paul
Bryan Schmitz - KPMG LLP Scholarship
NORTH DAKOTA
Dickinson
Nathan Deibert - Beta Alpha Psi & MSU Accounting Scholarship & Deloitte & Touche Scholarship
Jamestown
Tania Mittleider - J & H Office Supply Scholarship
NEBRASKA
Arthur
Sharon White - The Munro Scholarship
NEW YORK
Rochester
Sarah Leavy - The Gary K. Bracken Scholarship
OHIO
Mt. Vernon
Nicholas Bennett - Robert W. Martin, Jr Scholarship
SOUTH DAKOTA Custer
Whitney Griffin - Elizabeth Seitz-Moyer Memorial Scholarship
WASHINGTON Camas
Melinda Tyler - PricewaterhouseCoopers Scholarship
Kent
Patricia Thompson - Joseph Eve CPAs Scholarship
WYOMING
Casper
Brandon Perkins - The Boeing Business Scholarship
Jackson Hole
Taylor Robinson - Harold & Reta Haynes Student Mentoring Scholarship
INTERNATIONAL
China
Jingying Zhou - The Gary K. Bracken Scholarship
Yan Su - Jerry D. Trainer Scholarship
Dubai, United Arab Emirates
Joey Chugani - KPMG LLP Scholarship
Krasnoyarsk
Vera Vasileva - PricewaterhouseCoopers Scholarship
Norway
Christer Kjos - Bracken International Scholarship
Karoline Teien - Friends of Open Classic Golf Scholarship
*Denotes Awards