Orser Presentation by Director of Advertising for BBC Global Channels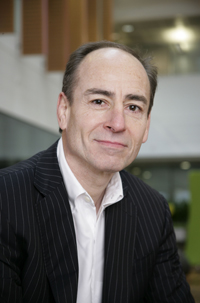 Jonathan Howlett, BBC Executive, to Give Free Lecture at MSU College of Business

Jonathan Howlett, Worldwide Director of Advertising for BBC Global Channels will be the David Orser Executive Speakers Forum guest presenter at the MSU College of Business. Howlett will present "Branding of Nations," Thursday, April 12, at 4:10 pm. The lecture will take place in Reid Hall #108 on the MSU campus. Business owners, members of the community and MSU students are invited to attend and participate in a Q&A session following the lecture.

Branding is considered the new paradigm for advertising and marketing according to followers of current business trends. Howlett will explore the concept of branding as it relates to nations; how branding effects worldwide perceptions of a country and how it can be used to change those perceptions. Howlett is responsible for advertising and sponsorship revenue for the BBC's commercial global channels including BBC World, BBC Entertainment, BBC Knowledge, BBC Lifestyle, BBC HD and BBC America.

Before joining Global Channels, Howlett was director of airtime sales for BBC World, the BBC's 24-hour international news and information channel currently available in over 280m homes around the world. In April this year, BBC World's airtime sales team merged with Global Channels.

Howlett remains a board director of BBC World Ltd. and travels extensively visiting global advertisers and their agencies around the world. He is supported by a sales team of more than 70 staff based in 12 international offices New York, London, Paris, Frankfurt, Dubai, Mumbai Bangalore, Delhi, Singapore, Hong Kong, Tokyo and Sydney.

About the David Orser Executive Speakers Forum In its 19th year, the David Orser Executive Speakers Forum brings accomplished and inspiring professionals to MSU's College of Business to deliver large, open-forum lectures as well as to share their expertise and experience with students in the classroom. David B. Orser, a 1966 MSU graduate, funded the program beginning in 1988 to inspire MSU business students to pursue careers as innovative, responsible and ethical business leaders.

Howlett's lecture is free and open to the public. For more information, contact Dave Foster at 994-6188 or dfoster@montana.edu.