Annual Family Business Day Awards Call For Nominations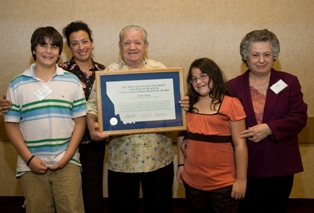 Little Athens with their 2007 Family Business Award
Nominations for the 2008 Montana State University College of Business State Farm Insurance Family Business Awards are due May 19.
Sponsored by the MSU College of Business and State Farm Insurance, awards are based on business development, family/business links, community and industry contributions, innovative business strategies and practices, preparedness for succession, multi-generational family business involvement and longevity. Awards are usually given to businesses in several categories: large, medium, small, very small, old and new.
All family businesses headquartered in Montana, except prior winners, are eligible for the awards. Anyone may nominate companies, and self-nominations are encouraged. Businesses that are nominated will receive an application packet to complete.
Winners will be honored at the annual Family Business Day in Bozeman on September 19 at the Holiday Inn. This event will include a seminar and awards luncheon.
Winners for 2007 were: Little Athens, Falls Construction Co., Diversified Plastics, Inc., Cascade Electric Co., Mergenthaler Transfer and Storage Co., Honeyland, Inc., and Sletten Construction Co.
Nomination forms are available by calling the MSU College of Business at 994-6796, by e-mailing Karen Beach at kbeach@montana.edu, or on the Web at: http://www.montana.edu/wwwdb/FamilyBusiness/FamilyBusiness.html