Increasing Environmental Health Literacy in a Native American Community (or "Guardians of the Living Water")
2015–Present
Map by Kristen Drumheller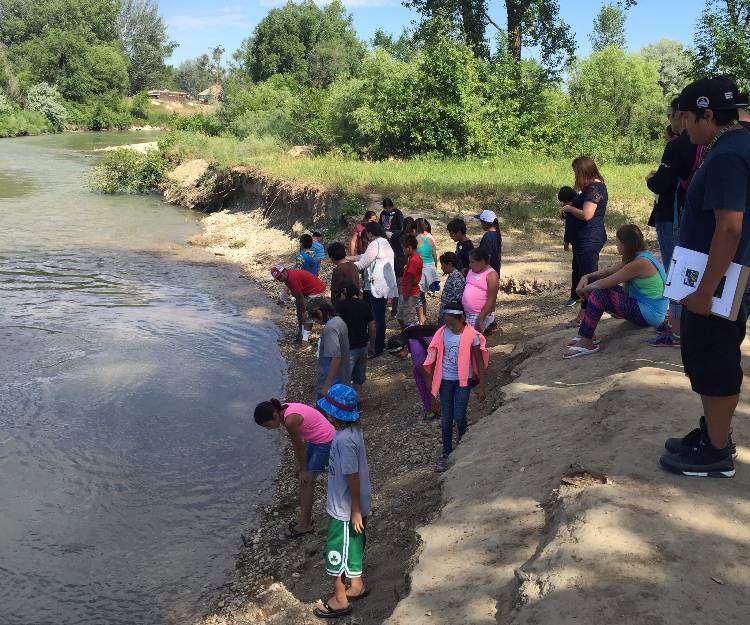 As part of the Guardians of the Living Water summer camp, students make field trips to the Little Bighorn River. (Photo by Jason Cummins)
As the largest reservation in Montana, the Crow Indian Reservation is particularly blessed with natural resources: grazing lands, farmlands, fossil fuel deposits, three mountain ranges, and two river basins, including the scenic Little Bighorn River. But with that bounty of land comes a need for awareness. That's because Native American communities, in general, are at particular risk for exposure to environmental contaminants due to subsistence diets and spiritual and cultural practices that increase their likelihood for contact with contaminated soil and water.
Existing and past interventions for mitigating environmental risks on tribal lands have focused primarily on educating the community through the adult population. This unique project, developed in collaboration with Apsáalooke community members, aims to develop and pilot an intervention to increase children's water-related environmental health literacy skills and to transfer that knowledge to others in their schools, families, and communities.
Guardians of the Living Water is a partnership among the Crow Environmental Health Steering Committee, Crow Agency School, Montana State University, and Little Big Horn College. Through a system of summer camp and after-school activities involving art and science—all grounded in the Apsáalooke culture—children in grades 4 through 6 learn about the relationship between water-related environmental issues and human health, then apply their knowledge in practical applications and dissemination tasks. Results may determine how effective children can be as agents of change, a concept that has received little attention from researchers.
The project is in its final year. At the conclusion of the project, the intervention developed for Guardians of the Living Water may be adapted and tested in other tribal communities in Montana and beyond to address environmental health disparities. Dr. Simonds will continue her work in Crow communities as a CAIRHE investigator, including research in environmental health and oral health disparities.
Related Publications and Presentations (Selected)
Simonds, V.W., Kim, F., LaVeaux, D., Pickett, V., Milakovich, J., & Cummins, J. Guardians of the Living Water: Using a health literacy framework to evaluate a child as change agent intervention. Health Education and Behavior. Forthcoming.
LaVeaux, D., Simonds, V.W., Pickett, V., Cummins, J., & Calkins, E. Developing a curriculum for change: Water and environmental health literacy in a Native American community. Progress in Community Health Partnerships: Research, Education, and Action. Forthcoming.
Milakovich, J., Simonds, V.W., & Kim, F., et al. Children as agents of change: Parent perceptions of child-driven environmental health communication in the Crow community. Journal of Health Disparities Research and Practice. Forthcoming.
Click image to read an article about Guardians of the Living Water in the Fall 2017 edition of MSU's Mountains and Minds.
Simonds, V. W., LaVeaux, D., Cummins, J., BullTail, G., Smith, E., Pickett, V., Stops, S., Goes Ahead Pretty, B., & Milakovich, J. (2015, November). Increasing water-related environmental health literacy: Children as agents of change. Presentation at the annual meeting of the American Public Health Association, Chicago, IL.
Simonds, V. W., LaVeaux, D., Smith, E., Felicia, D. C., Cummins, J., & BullTail, G. (2015, June). Environmental health literacy and children as agents of change. Presentation at the National Congress of American Indians (NCAI) Policy Research Center Tribal Leader/Scholar Forum, St. Paul, MN.
Investigator Spotlight
Dr. Simonds, a member of the Crow Tribe, grew up in Bozeman, Mont., where her father was a longtime English instructor and director of American Indian Research Opportunities at Montana State University. Then and now, she has enjoyed visiting extended family living on the Crow Reservation about three hours away.
Working among people she knows so well has made her research particularly rewarding. "It's nice to go back there and get to know people even better," Simonds says. "I'm really happy. It's so helpful when you already have those relationships with people who can help you get things going."
Acknowledgments
The following people have contributed to the development of this program:
Crow Agency Public School: Jason Cummins*, Lisa Stevens, Kristen Merchant, Jonna Chavez
Crow Tribe Cultural Committee: Grant Bull Tail
Little Big Horn College: Dr. David Yarlott, Frederica Lefthand, Dayle Felicia, Winters Plain Bull, Te-Atta Old Bear, Jeremy Not Afraid, Tiffany White Clay, Bruce Goes Ahead Pretty, Sa'Rayna Stops, Velma Pickett
Montana State University: Erin Smith, Jessica Milkovich, Deborah LaVeaux, Kendra Veo, Christine Martin
Crow Environmental Health Steering Committee: Sara L. Young*, Myra Lefthand*, Dr. Mari Eggers*, Robin Stewart, David Small*, John Doyle*, Ada L. Bends*
Consultants and Advisors: Dr. Suzanne Held & Dr. Rima Rudd
Camp Assistance: Xada Littlewolf
Guest Speakers: Tilton Old Bull, Elias Goes Ahead, William Big Day, Timothy McLeary, Chairman Darren Old Coyote, Secretary Shawn Backbone, Noah Watts
*Also on the Guardians of the Living Water Steering Committee
To Learn More
Read more about the project in this excerpt from the Spring 2016 CAIRHE Newsletter.