Application Process & Deadlines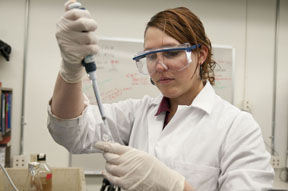 Bridget McNulty studies the molecular and cellular factors in the development of the inner ear.
Apply through the Molecular BIOSciences Program
Prospective graduate students should apply through the Molecular BIOSciences Program at MSU.
The CBN faculty affiliated with the Molecular Biosciences Program are Drs. Roger Bradley, Charles Gray, Frances Lefcort, Thomas Hughes, Christa Merzdorf and Steve Stowers. Students interested in working with any of these faculty to pursue a Ph.D. in CBN may apply to the Molecular BIOSciences Program at http://mbprogram.montana.edu or contact mbprogram@montana.edu for additional information.
The application deadline for the Molecular BIOSciences Program is November 14th of each year.
Direct Application to CBN
If a professor in the department has agreed to be your graduate mentor, you may apply directly to CBN at any time. Only applicants who have confirmed a faculty mentor for their graduate program may submit applications directly to CBN.
Application to the program occurs in a three-phase process:
Phase 1: After confirming a faculty mentor, you must first submit a pre-application to the Department of Cell Biology and Neuroscience (CBN). Complete a Student Inquiry Form (PDF) and return this electronic form to professorhughes@icloud.com. The subject line of your email should specify "Grad Application for [your name] in [mentor's name] lab."
Phase 2: If you are invited to apply to The Graduate School at MSU, specific instructions will be provided at that point. You will be required to pay a $60 processing fee and have official GRE scores, professional letters of reference, undergraduate transcripts, and a statement of research and education interests specific to CBN programs sent to MSU.
Phase 3: CBN faculty will review the application and make recommendations regarding admission to the Graduate Committee and CBN Department Head.