Civil Engineering Graduate Programs - How to Apply
The Civil Engineering Department offers two MS degrees: MS Civil Engineering and MS Environmental Engineering. Thesis and non-thesis options are available.
Thesis students (Plan A) are generally those that have been appointed to a Research Assistantship, while the non-thesis option (Plan B) is usually appropriate for Teaching Assistants and students that are self-funded.
Our curriculum is mostly comprised of traditional on-campus courses to take advantage of our outstanding labs and teaching facilities. All our MS programs require 31 credit-hours of applicable coursework. Most of our MS students spend 4 semesters in residence to complete the MS degree program.
We offer funding, when available, on a competitive basis. Our MS students work in all the traditional areas of civil and environmental engineering.

Applications are submitted online at http://www.montana.edu/wwwdg/apply.html
Entrance Requirements
We require a completed Bachelor of Science or Bachelor of Engineering degree in an engineering field closely related to the MS degree program you plan to enter. Examples:
MS Civil Engineering – BS in civil engineering, geotechnical engineering, architectural engineering…
MS Environmental Engineering – BS in civil engineering, chemical engineering, bioengineering…
If you have an engineering degree that is not closely aligned or if you have a bachelor's degree in a field other
than engineering read the information on this page relative to remedial requirements.
You don't have to complete your BS degree to apply to the MS program, but you must have finished your BS degree by the start of your first MS program semester. Many applications to graduate school are submitted during the final semester of the BS program. Submit your current transcripts when you apply and then submit final transcripts after the BS degree is officially posted.
We require a minimum cumulative GPA of 3.00 or higher on a 4.00 scale. Having the minimum GPA does not guarantee acceptance, and there may be rare cases where applicants are accepted with a cumulative GPA of slightly less than the minimum because of other positive attributes.
Official transcripts are required. When you submit your official transcripts, include those for ALL university studies not just the program that you graduated from.
We require three letters of recommendation.
The general GRE exam is required. We do not require a minimum score on the GRE. We generally consider GRE scores below the 50th percentile to negatively affect an applicant, and scores above the 50th percentile to positively affect the applicant. The Institution Code for MSU is 4488. It takes some time to schedule an exam and get scores back, so please consider taking the exam a month or two prior to starting the application process.
Our application requires a goals statement. This is a formal essay where you identify the topic area you want to study (geotechnical, water resources…) and let us know why you are interested in pursuing a graduate degree. We use this as an additional measure of writing ability as well.
Deadlines
We offer rolling admission with no specific deadlines. International applicants should apply no less than 75 days prior to the beginning of the semester to accommodate the visa process. All applicants interested in funding should be aware of the timeline shown below because funding decisions are often made well in advance of the start of the semester. You must be admitted to our graduate program before we can consider you for funding. We do not perform pre-admission evaluations of applicants.
Applicants are encouraged to visit with individual professors concerning specific research topics and projects. Faculty are willing to discuss their research program but will be hesitant to discuss funding opportunities with potential students until after they have applied and been admitted.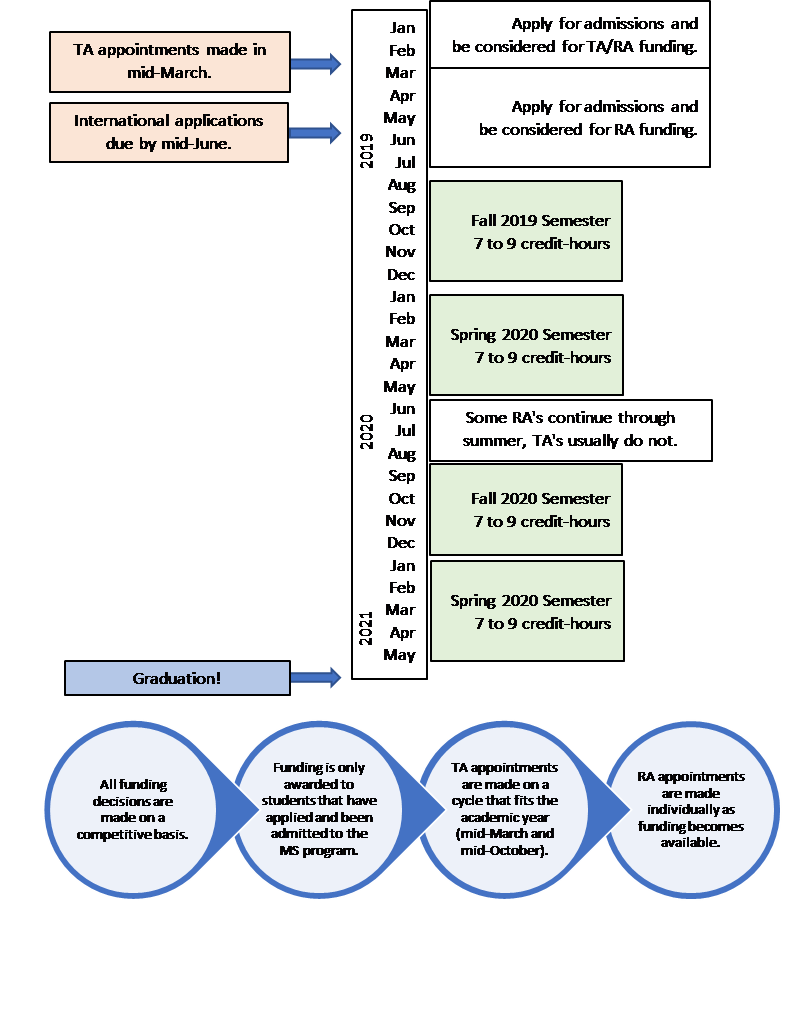 Applicants with a BS Degree that is NOT in an Appropriate Engineering Field
Students with a BS or BA degree that is not in engineering or not in an appropriate engineering field should contact the CE Department directly (joelc@montana.edu). In general, we will audit your BS degree transcripts to see what if any remedial courses you must complete prior to applying to the MS program. The remedial courses are summarized below.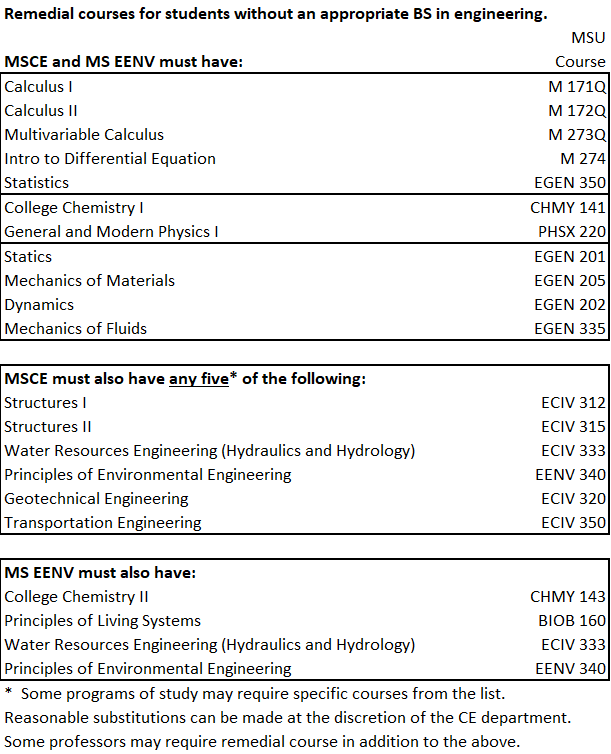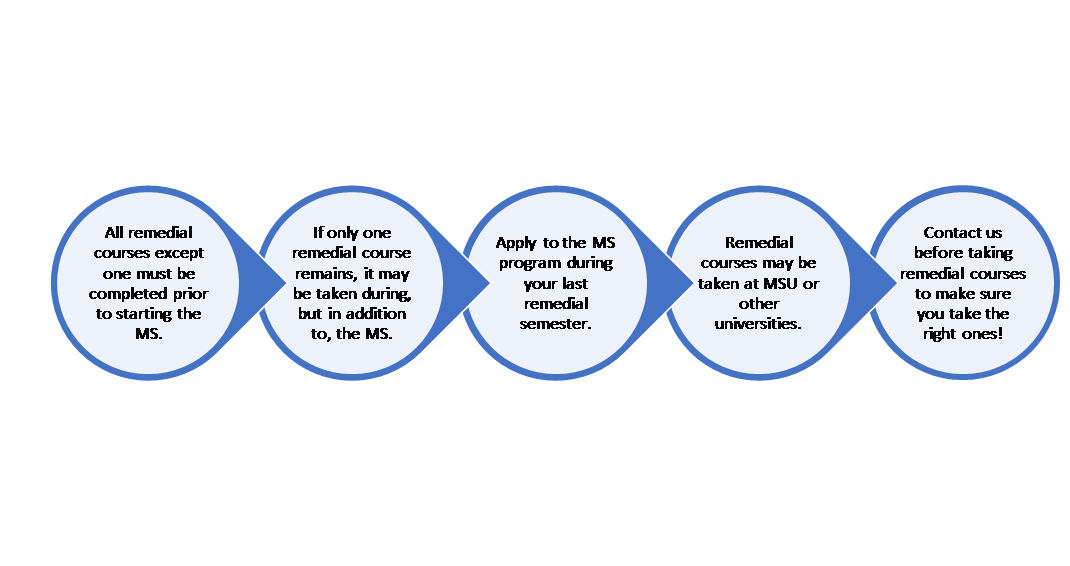 Programs of Study
All MS students will take courses (mostly selected from the department or other College of Engineering programs) that are tailored specifically to their topic area and career goals. The student forms an advisory committee of three professors and works with the committee to select appropriate coursework. The CE Department Head approves all programs of study.