Introduction
Are you fascinated by biology and natural systems?
Do you want to help improve the condition of our planet?
Is clean water important to you?
Would you like to help people find sustainable energy options?
If you answered yes to any of these questions and see yourself as a problem solver, a master's degree in Environmental Engineering will put you on track to finding a satisfying career that suits your interests.
What environmental engineers do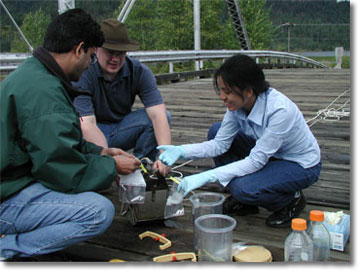 Problem solving has gone green. As an Environmental Engineering student, you will integrate biotech and engineering fundamentals. Through professional projects and papers, you will develop expertise in the analysis, manipulation, and design of microbiological systems with applications in the following areas:
Environmental protection through the use of green and sustainable technologies
Modern biological wastewater treatment
Drinking water treatment and distribution
Bioremediation of toxic contaminants
Renewable energy production through biofuels
Bioprospecting – finding organisms from unique environments that have unique applications
Microbial fuel cells for use in remote aquatic environments
Biotechnological innovation, metabolic modeling and process development
Sustainable, low-impact technologies for rural applications of water treatment
Shortcuts to details
Find your current location on a path to an M.S. in Environmental Engineering
Path 1: I have a bachelor's degree in a related engineering discipline (Environmental Engineering, Chemical and Biological Engineering, or Civil Engineering) and I want to earn a master's degree in Environmental Engineering
Path 2: I have an unrelated, non-engineering bachelor's degree, and I want to earn a master's degree in Environmental Engineering.
Explore Ph.D. options in Engineering
Related