Students in Free Enterprise, the world's best-known and most successful program helping university students to create community empowerment projects, has changed its name to Enactus to reaffirm its long-standing commitment to using entrepreneurial action as a catalyst for progress.
Enactus is an international organization with more than 1,200 active universities in 34 different countries. This organization mobilizes university students around the world to make a difference in their communities while developing the skills to become socially responsible business leaders. At the end of the school year, Enactus teams travel and compete in regional and national competitions.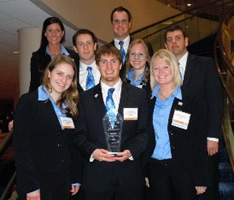 The 2011 SIFE (now Enactus) team at the regional competition in Atlanta, Georgia. They were the runner-up in their league.
The MSU team is a newer club and has 26 members. While the club is run through the JJCBE, students in any major is welcome to join. Students involved in the club participate by volunteering for projects, writing grants and even proposing and leading new projects within the community.
Enactus projects:
Enactus worked with Prospera Business Network and the Economic Development Council to help at two events: The Economic Development Summit and follow-up roundtable discussion groups.

Summit: Enactus students helped to run this event. 150 business owners and leaders to listened to Dan Ripke, a national leader in economic gardening strategy, speak at the Emerson about the key facets to a successful economic gardening program.
Follow-up Roundtables: Business owners came to voice their opinions of what they would like to see done differently, and what is working well. Enactus students recorded notes and presented to Prospera the summaries of the ideas discussed.


Enactus worked with Big Sky Skydiving to make it more visible through a new website, flyers, merchandise, etc.
Enactus worked with Family Promise, a nationwide non-profit organization committed to helping low-income families achieve lasting independence. Enactus members helped write a grant for $1,500 to pay for the renovations of the Family Promise host house. Additionally 13 Enactus member have attended the Volunteers Orientation to become volunteers in the program. They spend their time tutoring kids, hosting dinners and providing business assistance.
Enactus has also participated in a number of other projects involving the College, Bozeman Deaconess non-profit emergency hospital, Gallatin Valley Skate Park Association, Byte Arts and Blue Roan Media.
Enactus (formerly SIFE) in the News:


SIFE Club Competes and Excels at Atlanta Regional Competition
SIFE Club Travels to San Francisco for Regional Competition
SIFE Club Hosts Free Professional Ethics Lecture
SIFE Club Promoting Environmentally Conscious Solutions
SIFE Students Win Rookie of the Year Award
---

Enactus at MSU meets Mondays @ 5:00 p.m. in 330 Reid Hall
Officers:
President: Kasondra Dawson
Contact: msuenactus@gmail.com

Advisor: Gary Bishop
Enactus Website: http://enactus.org/