University Withdrawals, Incompletes, and Drops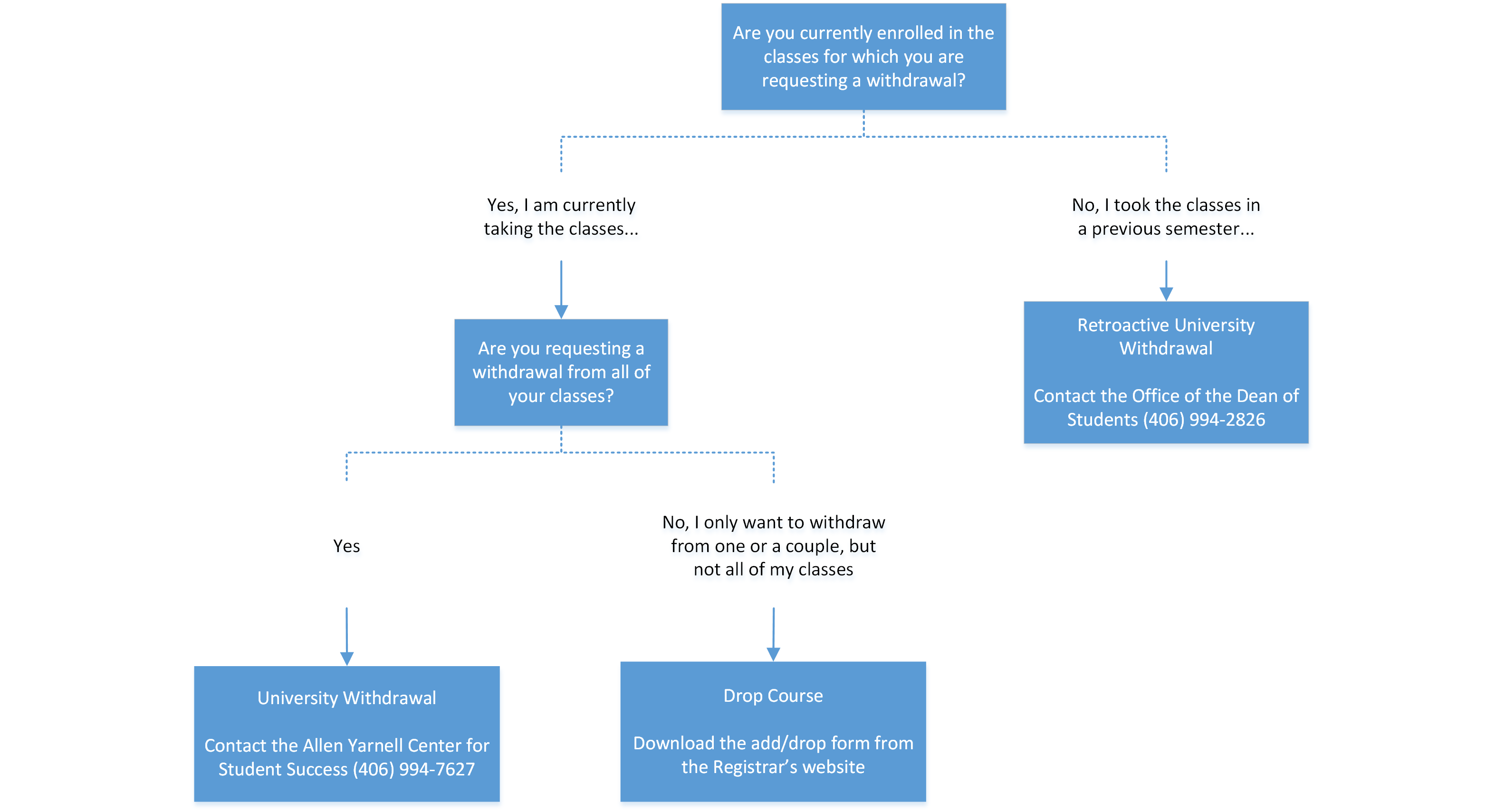 The Allen Yarnell Center for Student Success processes all University withdrawals (when a student withdraws from all his or her classes) for undergraduate students. The Center for Student Success can be reached via phone at (406) 994-7627. Online students withdrawing from all classes need to work with Extended University and graduate students need to work with The Graduate School.
The "drop" form (dropping one or more courses, but not all) is processed through your academic department and should begin with your advisor/department. The drop/add form available through your department or on the Registrar's website.
If you are enrolled for only one course and wish to discontinue that course, you must process a University Withdrawal.
Incomplete or "I" grades are processed by the faculty member. In order to be considered for an "I" grade, the student must have completed 75% of the course and be passing the course. The instructor has the final authority to approve or disapprove the "I" grade.
Each of the above processes must be completed within a specific time frame with deadlines depending on the semester. Specific "drop dates" and other important dates can be located on the Registrar's website in their Registration Handbook.
With all of the above processes, please also be prepared to supply appropriate documentation (such as a doctor's note for medical reasons).
Retroactive University Withdrawal Requests
You can find the university's retroactive university withdrawal policy here.
A retroactive university withdrawal (RUWD) may be an option for students who were unable to complete a standard university withdrawal during the semester of their departure from the university. A RUWD can be applicable in several situations, the most common of which is when a student was unable to withdraw from the University due to extraordinary circumstances such as a family or medical injury or other personal hardship.
The RUWD is a withdrawal from all courses and is not easily granted. It is not intended to clean up a transcript for Financial Aid or GPA purposes. Additionally, it is not applicable to students who face academic suspension and did not withdraw before the semester's deadline. Such students must go through the suspension appeal process.
After determining you may qualify for an RUWD, you will need to provide the following:
A completed RUWD application cover form. The RUWD application cover form is submitted electronically. Access to the cover form can be granted by emailing deanofstudents@montana.edu.
A detailed letter explaining the extraordinary circumstances you faced as a student during the semester for which you are seeking an RUWD including, the timeline of those circumstances, and how those circumstances prevented you from being successful.
Objective, third-party documentation verifying the extraordinary circumstances you experienced. Letters from parents or other family members will not constitute the required documentation. Common forms of documentation include doctor's notes on letterhead, travel receipts, communications from University officials or employers, or obituaries.
The Office of the Dean of Students can consider a RUWD appeal up to three years after the semester in question. However, we are unable to consider a RUWD appeal after a student has graduated as a transcript becomes closed and is not editable. Please note that appeals may take several weeks to consider as RUWD requests are investigated.
What do we consider when evaluating a RUWD request??
Semester before and after the semester in question. While this may not always be possible, it is important that there is a clear separation between the performances of semesters that precede and follow the semester for which you are requesting a withdrawal.
Could the student have withdrawn within the timeline? It is the student's responsibility to understand the options available to them or to approach faculty or staff to inquire about how to remedy a situation. Claiming that you did not know about a policy is not grounds for a RUWD.
Information from faculty and staff. After receiving a request, we check in with a student's college. WE may also gather information from academic advisors, instructors, residence hall staff, and others to determine last dates of attendance and if any individuals can verify a student's circumstances. If a faculty or staff member can attest that you communicated with them, it becomes easier to grant a RUWD.
Habitual withdrawing. A student who is granted a RUWD will most likely not be granted another RUWD for the same reasons.
Severity of extraordinary circumstances. While we do not claim to be medical or counseling professionals, our staff does our best to evaluate how the circumstances you encountered impacted your ability to be successful.
Please understand that when a withdrawal is granted, the most common decision is to provide "W's" for a semester with no refunds; refunds are difficult to grant and are rarely provided in full. Should a refund be provided, there may be Financial Aid implications.