Place and Peoples: Creating a Field Guide to the Contemporary American West
William Wyckoff
Professor of Geography
Department of Earth Sciences, Montana State University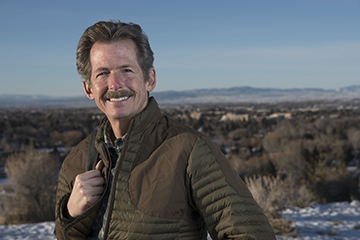 Time and Location
Date: Wednesday, September 16, 2015
Time: 6 PM
Place: Hager Auditorium, Museum of the Rockies
Summary
Dr. Wyckoff will explore the process of creating an
illustrated field guide to the 21st-century American West. The book, entitled How to Read the American West: A Field Guide, involved extensive field work all across the region, constructing an interpretive approach designed to reach a wide public readership, and harvesting
a varied array of more than 400 images and 30 maps. His goal was to make tangible, visible connections between the world of academic geography and the ordinary settings westerners encounter in their everyday landscapes.
In addition to examining the process of putting the book together, Dr. Wyckoff will share general observations about the contemporary American West and how geographers can use the tools of landscape interpretation to better understand the challenges being faced by an extraordinary, but fragile American region that over the past 40 years has been rapidly and radically transformed.
About the speaker
A native of Southern California, William Wyckoff received his masters (1979) and doctoral (1982) degrees in geography from Syracuse University. Since 1986, he has taught geography in the Department of Earth Sciences at Montana State University.
For more than 25 years, Wyckoff has studied the historical and cultural geography of the American West and the evolution of the region's landscapes. He is the author of five books on the West and on the frontier, including his most recent volume titled How to Read the American West: A Field Guide, published by University of Washington Press in 2014. Earlier books include The Developer's Frontier: The Making of the Western New York Landscape (Yale Press, 1988), The Mountainous West: Explorations in Historical Geography (with co-editor Lary Dilsaver, Nebraska Press, 1995), Creating Colorado: The Making of a Western American Landscape (Yale Press, 1999) and On the Road Again: Montana's Changing Landscape (Washington Press, 2006).
He also coauthors Diversity Amid Globalization: World Regions, Environment, Development, an award-winning world regional geography textbook published by Pearson.