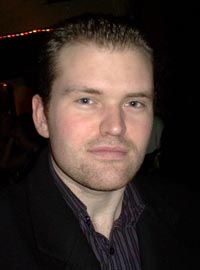 Degree(s) Held:
B.S., Earth Sciences, University of Durham, UK (1998)
M.S., Palaeobiology, University of Bristrol, UK (2000)
Degree Sought:
Ph.D. in Earth Sciences
Title of Research Project:
Dinosaurs and time: Chronostratigraphic frameworks and their utility in analysis of dinosaur paleobiology, with the example of the Hell Creek Fm and regional equivalents
Advisor:
Personal Website:
Research Interests:
My research focuses in two areas: palaeontology and stratigraphy. I try to take a novel perspective on solving problems, utilising the Unified Frames of Reference (UFR) methodology encouraged at the Horner paleo lab. This involves a "total approach", taking into account the often overlooked effects of stratigraphy and ontogeny.
Research Activity:
http://www.denverfowler.com/publications/
Peer-reviewed Publications:
NEWBREY, M.G., BRINKMAN, D.B., WINKLER, D.A., FREEDMAN, E.A., NEUMAN, A.G., FOWLER, D.W., & WOODWARD, H.N. (in press) Teleost centrum and jaw elements from the Upper Cretaceous Nemegt Formation (Campanian – Maastrichtian) of Mongolia and a re-identification of the fish centrum found with the theropod Raptorex kreigsteini.
SCANNELLA, J.B., & FOWLER, D.W. (in press) A stratigraphic survey of Triceratops from the Hell Creek Formation, northeastern Montana. GSA special publication.
WOODRUFF, D.C., & FOWLER, D.W. (2012) Ontogenetic influence on neural spine bifurcation in Diplodocoidea (Dinosauria: Sauropoda): a critical phylogenetic character. Journal of Morphology.
KOENIG, A.E., LUCAS, S.G., NEYMARK, L.A., HECKERT, A.B. , SULLIVAN, R.M., JASINSKI, S.E., & FOWLER D.W. (2012) Direct U-Pb dating of Cretaceous and Paleocene dinosaur bones, San Juan Basin, New Mexico: COMMENT, Geology 40: e262, doi:10.1130/G32154C.1
FOWLER, D.W., FREEDMAN, E.A., SCANNELLA, J.B., & KAMBIC, R.E. (2011) The predatory ecology of Deinonychus and the origin of flapping in birds. PLoS One 6(12): e28964. doi:10.1371/journal.pone.0028964
FOWLER, D.W., & SULLIVAN. R.M. (2011) The first giant titanosaurian sauropod from the Upper Cretaceous of North America, Acta Palaeontologica Polonica 56(4): 685-690
FOWLER, D.W., WOODWARD, H.N., FREEDMAN, E.A., LARSON, P.L., & HORNER, J.R. (2011) Reanalysis of "Raptorex kriegsteini": a juvenile tyrannosaurid dinosaur from Mongolia. PLoS One 6(6): e21376. doi:10.1371/journal.pone.0021376
FOWLER, D.W., & HALL, L.E. (2011) Scratch-digging sauropods, revisited, Historical Biology 23(1): 27-40 doi:10.1080/08912963.2010.504852
WINGS, O., SCHWARZ-WINGS, D. & FOWLER, D.W. (2011) New sauropod material from the Late Jurassic part of the Shishugou Formation (Junggar Basin, Xinjiang, NW China). Neues Jahrbuch für Geologie und Paläontologie, Abhandlungen 262/2: 129-150. DOI: 10.1127/0077-7749/2011/0183
SULLIVAN, R.M., & FOWLER, D.W. (2011) Navajodactylus boerei, n.gen., n.sp. (Pterosauria, ?Azhdarchidae) from the Upper Cretaceous Kirtland Formation (Upper Campanian) of New Mexico. In: Sullivan et al. (eds.). "Fossil Record 3": New Mexico Museum of Natural History and Science Bulletin 53: 393-404
FOWLER, D.W., FREEDMAN, E.A., & SCANNELLA, J.B. (2009) Predatory functional morphology in raptors: Interdigital variation in talon size is related to prey restraint and immobilisation technique, PLoS One 4(11): e7999. doi:10.1371/journal.pone.0007999
LUCAS, S.G, SULLIVAN, R.M., CATHER, S.M., JASINSKI, S.E, FOWLER, D.W., HECKERT, A.B., SPIELMANN, J.A, & HUNT, A.P. (2009) No definitive evidence of Paleocene dinosaurs in the San Juan Basin, Paleontologica Electronica 12(2); 8A: 10p.
WOLFF, E.D.S., FOWLER, D.W. & BONDE, J.W. (2007) A possible case of necrotizing dermatitis in the crocodylian Diplocynodon , from the Oligocene of the Isle of Wight , UK, Historical Biology 19(2): 203–207
WINGS, O., FOWLER, D. W., MAISCH, M. W., MARTIN, T., PFRETSCHNER, H.-U. & SUN, G. (2007): Dinosaur teeth from the Jurassic Qigu and Shishugou Formations of the Junggar Basin, Xinjiang/China and their palaeobiogeographical implications. In: Sun, G; Mosbrugger, V.; Sun, Y.W. & Bruch, A. (eds.) - Proceedings of the International Symposium for Sino-German Cooperation on Geology and Environmental Changes in Northern China; Urumqi/China, September 1-7, 2007; p. 5-10.
FOWLER, D.W. & SULLIVAN, R.M. (2006), A ceratopsid pelvis with toothmarks from the Upper Cretaceous Kirtland Formation, New Mexico: Evidence of late Campanian tyrannosaurid feeding behavior, New Mexico Museum of Natural History and Science Bulletin 35: 127-130
SULLIVAN, R.M. & FOWLER, D.W. (2006), New specimens of the rare ankylosaurid dinosaur Nodocephalosauruskirtlandensis (Ornithischia: Ankylosauridae) from the Upper Cretaceous Kirtland Formation (De-na- zin Member), San Juan Basin, New Mexico, New Mexico Museum of Natural History and Science Bulletin, 35: 259-261
Conference Abstracts:
FOWLER, D.W., SCANNELLA, J.B., GOODWIN, M.G., & HORNER, J.R. (2012) How to eat a Triceratops: large sample of toothmarks provides new insight into the feeding behavior of Tyrannosaurus, Journal of Vertebrate Paleontology 32(5, abstracts vol): 96
SCANNELLA, J.B., FOWLER, D.W., GOODWIN, M.G., & HORNER, J.R. (2012) Transitional Triceratops: Details of an ontogenetic sequence from the upper Middle Unit of the Hell Creek Formation, Montana, Journal of Vertebrate Paleontology 32(5, abstracts vol): 166
FOWLER, D.W. (invited speaker), FREEDMAN, E.A., SCANNELLA, J.B., & KAMBIC, R.E. (2011) The predatory ecology of Deinonychosauria: foot use compared among dromaeosaurids, troodontids and basal birds. Dinosaur Track Symposium, Obenkirchen, Germany (abstracts volume)
FOWLER, D.W., SCANNELLA, J.B., & HORNER J.R (2011) Reassessing ceratopsid diversity using unified frames of reference. Journal of Vertebrate Paleontology 31(5, abstracts vol): 111
SCANNELLA, J.B., FOWLER, D.W., TREVETHAN, I.J., ROBERTS, D., & HORNER J.R (2011) Individual variation in Triceratops from the Hell Creek Formation, Montana:, implications for dinosaur taxonomy. Journal of Vertebrate Paleontology 31(5, abstracts vol): 187
SANDER, P.M, WINGS, O., GRIEBELER, E., FOWLER, D.W., HENDERSON, D. (2011) High maximum growth rate in c.f. Mamenchisaurus argues against low basal metabolic rate as the explanation for sauropod gigantism. Journal of Vertebrate Paleontology 31(5, abstracts volume): 186
FOWLER, D.W. (2010) Anagenesis and long-term morphologic trends in Chasmosaurinae (Dinosauria: Ceratopsidae) revealed by a new high-resolution chronostratigraphic framework, ontogenetic analysis, and description of two new taxa, Journal of Vertebrate Paleontology 30(5, abstracts volume): 91A
FREEDMAN, E.A., & FOWLER, D.W. (2010) Stratigraphic correlation of Judith River Formation (Campanian, Upper Cretaceous) exposures in Kennedy Coulee (Northcentral Montana) to the Foremost Formation (Alberta): Implications for anagenesis in hadrosaurid dinosaurs, Journal of Vertebrate Paleontology 30(5, abstracts volume): 92A
PADIAN, K., HORNER, J.R., FOWLER, D.W., & SCANNELLA, J.B. (2010) How a synergy of species recognition and social signaling explains cranial anatomy and ontogeny in several groups of dinosaurs, Journal of Vertebrate Paleontology 30(5, abstracts volume): 143A
WOODRUFF, D.C., & FOWLER, D.W. (2010) Ontogenetic influence on neural spine bifurcation in Diplodocoidea (Dinosauria: Sauropoda): a critical phylogenetic character, Journal of Vertebrate Paleontology 30(5, abstracts volume): 189A
FOWLER, D.W. (2009) The grasping foot of Deinonychus : implications for predator ecology, evolution of the perching foot, and a new hypothesis for the origin of flight in birds, Journal of Vertebrate Paleontology 29(3, abstracts volume): 98A
FOWLER, D.W. (2009), A sequence stratigraphic subdivision of the Hell Creek Formation: beginnings of a high-resolution regional chronostratigraphic framework for the terminal Cretaceous, North American Paleontological Convention, abstracts volume: 136
SCANNELLA, J.B. & FOWLER, D.W. (2009) Anagenesis in Triceratops: evidence from a newly resolved stratigraphic framework for the Hell Creek Formation, North American Paleontological Convention, abstracts volume: 148
FOWLER, D.W. & HALL, L.E. (2009) Scratch-digging sauropods, revisited: similarity of sauropod pes unguals to tortoises, and inferred nest-excavating behaviour, Museum of the Rockies occasional papers: Dinosaur Eggs & Babies, abstracts volume: 18
FOWLER, D.W. (2007), Recently rediscovered baryonychine teeth (Dinosauria: Theropoda): new morphologic data, range extension, & similarity to Ceratosaurus, Journal of Vertebrate Palaeontology 27(3, abstracts volume): 76A
WINGS, O., SANDER, P.M., TUTKEN, T., FOWLER, D.W., & SUN, G. (2007), Growth and life history of Asia's largest dinosaur, Journal of Vertebrate Palaeontology 27(3, abstracts volume): 167A
FOWLER, D.W. (2006), Terrestrial Late Cretaceous stratigraphy of North America and the utility of ceratopsids in biostratigraphy, Journal of Vertebrate Palaeontology 26(3, abstracts volume): 63A
FOWLER, D.W., SIMMONDS, K., GREEN, M., & STEVENS, K.A. (2003), The taphonomic setting of two mired sauropods (Wessex Fm, Isle of Wight, UK), palaeoecological implications and taxon preservation bias in a Lower Cretaceous wetland, Journal of Vertebrate Palaeontology 23(3, abstracts volume): 51A