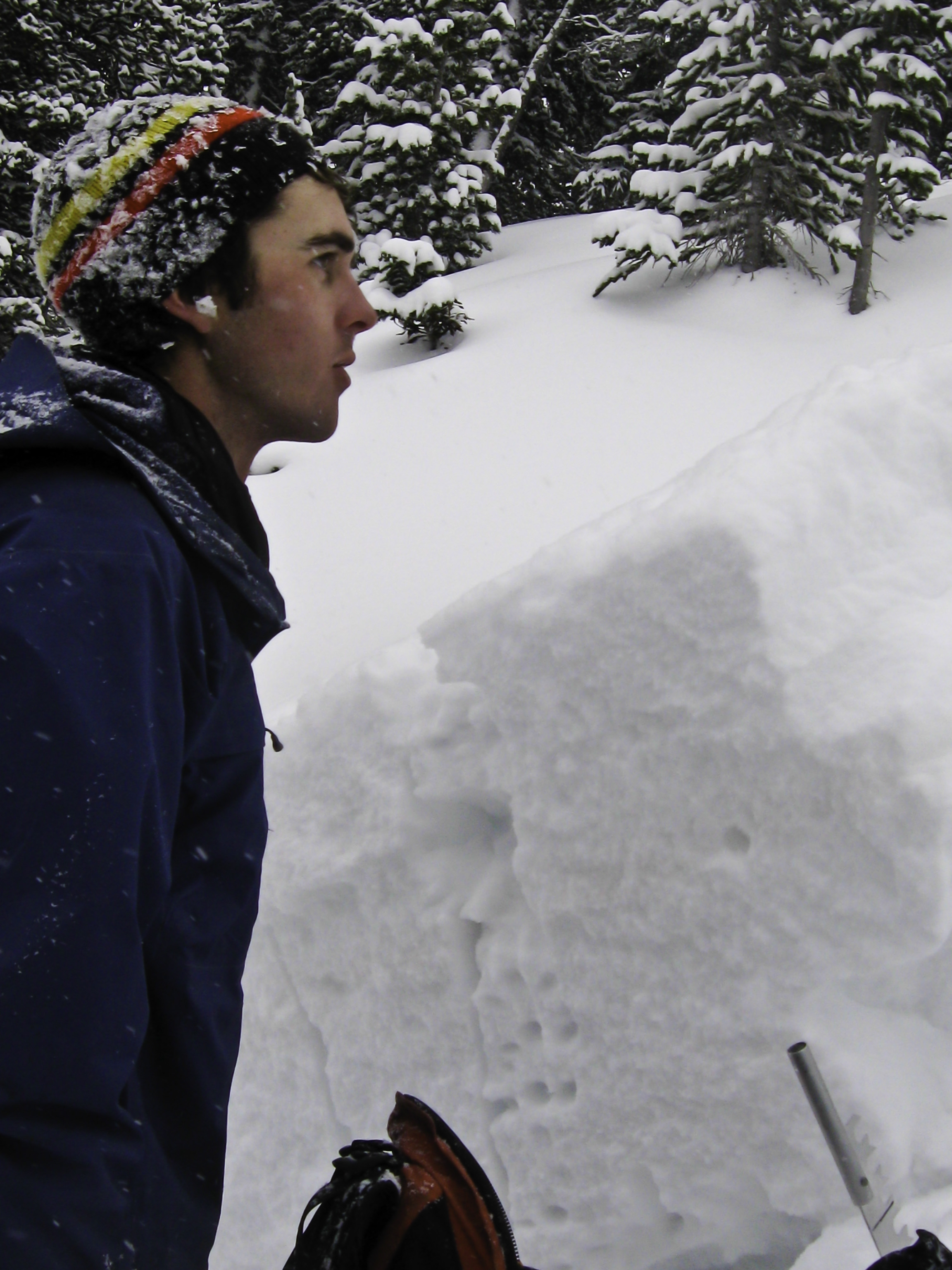 Degree(s) Held
B.S. Earth Science, Snow Science, Montana State University, 2013
Degree Sought:
M.S. in Earth Sciences
Title of Research Project:
THE EFFECTS OF CANOPY COVER AND SHADING ON SURFACE HOAR SIZES IN SMALL FORESTED MEADOW OPENINGS
Advisor:
Jordy Hendrikx and Karl Birkeland
Email Address:
Project Summary:
Understanding variations in slope scale snowpack properties influences stability assessments at the slope and regional scale. Previous studies have shown that surface hoar, a prominent weak layer type, can vary in initial crystal size and height across small, seemingly homogenous meadows and sparsely forested areas on northerly aspects. The differences in size have generally been attributed to the radiation balance, which is difficult to estimate in the field. This study aims to further investigate the effect of canopy cover and shading on the growth of surface hoar in small forested meadow openings just after initial growth and prior to burial. Two small (approx. 30m x 50m) study plots located in southwest Montana were selected. The study plots, one northern and one southern aspect, are mostly planar 10° meadows surrounded by heavy tree cover. Over the course of 2 winters samples will be collected at these study plots. Estimations of canopy cover and shading will be conducted using hemispherical fisheye photography. These estimations will then be used to compare these factors to the sizes of surface hoar in the meadows.

Publications/Presentations:
Wieland, M., 2012.The effectiveness of boot packing for snowpack stabilization. Utah Snow and Avalanche workshop, oral presentation.
Wieland, M., J. Hendrikx, and K.W. Birkeland. 2012. The effectiveness of boot packing for snowpack stabilization. Proceedings of the 2012 International Snow Science Workshop, Anchorage, Alaska.
Affiliations:
-American Avalanche Association - Professional Member
Work Experience:
Graduate Teaching Assistant, Cartography and GIS, Montana State University.
Auguest 2012 - Present
Avlanche Educator, Basic and Advanced Avalanche Awareness, Friends of the Gallatin National Forest Avalanche Center.
2007 - Present
Avalanche Educator, Moonlight Basin avalanche level 1
2007 - 2012
Forecaster, Moonlight Basin Ski Patrol
2005 - 2013
Grants:
Barry C. Bishop Scholarship for Mountain Research
American Avalanche Association Theo Meiners Avalanche Research Grant
Training courses and professional development:
GNFAC Professional Development Seminar "Decision Making for the Avalanche Professional, Bozeman, MT – March 2012.
GNFAC Professional Development Seminar "Surprise Avalanches" - March, 2011.
Canadian Avalanche Assocation Operations Level 2 - 2010
Canadian Avalanche Assocation Operations Level 1 - 2006
Emergency Medical Technician - Basic, December, 2004
American Avalanche Association Level 2 - 2004
American Avalanche Association Level 1 - 2000