Graduate Program Overview
GRADUATE APPLICATION DEADLINE FEBRUARY 1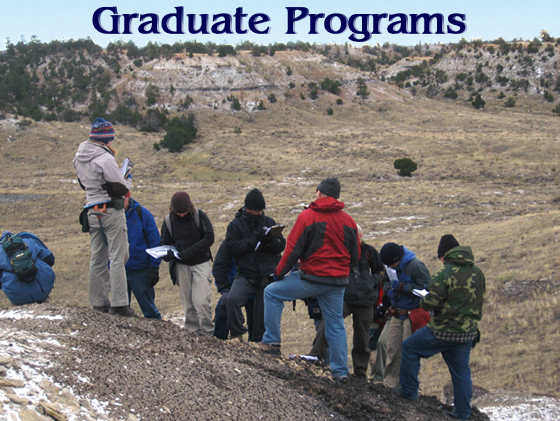 We offer Master of Science and Doctor of Philosophy degrees in Earth Sciences with areas of specialization in Geography and Geology. Our requirements for acceptance into the graduate programs are slightly different for these two areas. Regardless of specialization, all diplomas will say Earth Sciences. We strongly recommend that prospective students learn about the research interests of the faculty and contact potential research advisors directly. Admission into the department of Earth Sciences is only in the fall semesters.
M.S. and Ph.D. degrees in Earth Sciences are offered with content areas in Geography and Geology. Both stress independent thesis research with some supporting course work. Although we are a small department, our expertise spans most of the subfields of Earth Sciences. Our Geography faculty includes specialties from settlement geography through bioclimatology to GIS and snow science, while the interests of our Geology faculty range from petrogenesis to paleobiology to applied hydrogeology and from dinosaur taphonomy and stratigraphy to geomorphology. Our greatest faculty strengths are in surficial geology/physical geography, dinosaur paleontology and snow science. Theses produced by successful M.S. and Ph.D. students span these diverse fields. Recent graduates in our graduate program have conducted research in Geology and Geography which have expanded our knowledge of issues from GIS-based assessment of rockslide hazards to exotic species assessment in Grand Teton National park.
If you would like to be considered for entry to our graduate program, your completed application including all required materials must be received by February 1.
Admission Requirements for M.S. and Ph.D. Programs in Earth Sciences:
1. Complete the MSU Graduate Application.
2. Minimum GRE scores in verbal, quantitative, and analytic measures are required; a verbal GRE of 150 is generally required to be eligible for a Teaching Assistantship. Revised scoring found here
3. Transcripts from all universities and colleges attended. Transcripts to be sent directly to the graduate school
4. Three letters of recommendation. To be sent directly to the Earth Sciences Department from the recommendor (sealed)
5. Personal Reference Form from your three recommenders with letters of recommendation attached.
6. A clear, concise essay indicating your objectives for pursuing the curriculum and degree for which you seek admission. The essay should also include a statement regarding why you wish to enroll in Earth Sciences at Montana State University and who you wish to work with.
7. International students must have a TOEFL score of 237 (computer), 580 (paper) or 93 (internet ) for admission. For the IELTS test a 7.0 total band score is required. See full list of minimum scores required here all graduate admissions process for International students can be found here Financial certificate information found here.
8. All students must achieve a 3.0 GPA or higher unless there are unusual mitigating circumstances.
The most up-to-date program information can be found on our site and on The Graduate School site.. For additional information, please contact our graduate coordinator, Jean Dixon at jean.dixon@montana.edu