Jake Thacker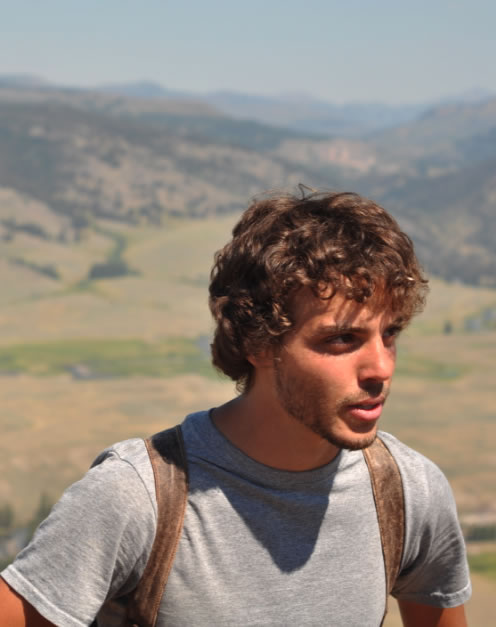 Degree(s) Held
B.S. Geological Sciences, Cleveland State University, Cleveland, OH, 2011
Degree Sought:
M.S. in Earth Sciences
Title of Research Project:
Structural and mineralogic characterization of the South Prairie fault in the Stillwater Complex, Beartooth Mountains, MT
Advisor:
Email Address:
Resume:
Research Interests:
Structural geology & tectonics
Laramide and Laramide-style orogenesis (specifically in northern Wyoming)
Fault zone characteristics and fault zone behavior
Phyllosilicates
The role of basement rocks during deformation
Research Project Summary:
The South Prairie fault is a subsurface basement fault located within the ultramafic-mafic Stillwater Complex of the Beartooth Mountains, southern Montana. Geometric and kinematic data as well as sub-greenschist mineralogy of the fault core zone strongly suggest a Laramide origin for its most recent motion history. This, coupled with the fault's subsurface geometry, allow a unique and rare opportunity to study an in situ Laramide basement fault that is essentially unaltered by post-kinematic surface processes, a typical problem for Laramide faults. The main objectives are to examine (1) the geometry and kinematics of the fault, (2) the mineralogy of the fault zone and how it varies, (3) the syn-kinematic T/P conditions and the deformation mechanisms responsible for fault growth, and lastly, (4) the extent of the fault zone and it's architecture/overall structure. Preferred orientation of fault zone material, permeability, and fluid flow history will also be addressed in this study.
A great deal of work has been published on the megascopic geometric and kinematic characteristics of the Laramide orogeny. However, the micro- to mesoscopic characteristics of Laramide faults has received considerably less attention and, when considered, has focused on dominantly quartzo-feldspathic host rocks. This research differs from previous studies in that it will consider Laramide deformation in rocks that preclude quartz, and therefore has interesting implications for fault zone processes. In addition, comparison of the fault zone's mineralogy with other studied faults may have interesting results, as most other faults are exposed and therefore may be recording post-kinematic meteoric alteration of fault zone material. Overall, applications to civil engineering projects and drilling/tunneling projects are anticipated from this research, as well as to further development of the Stillwater ore body.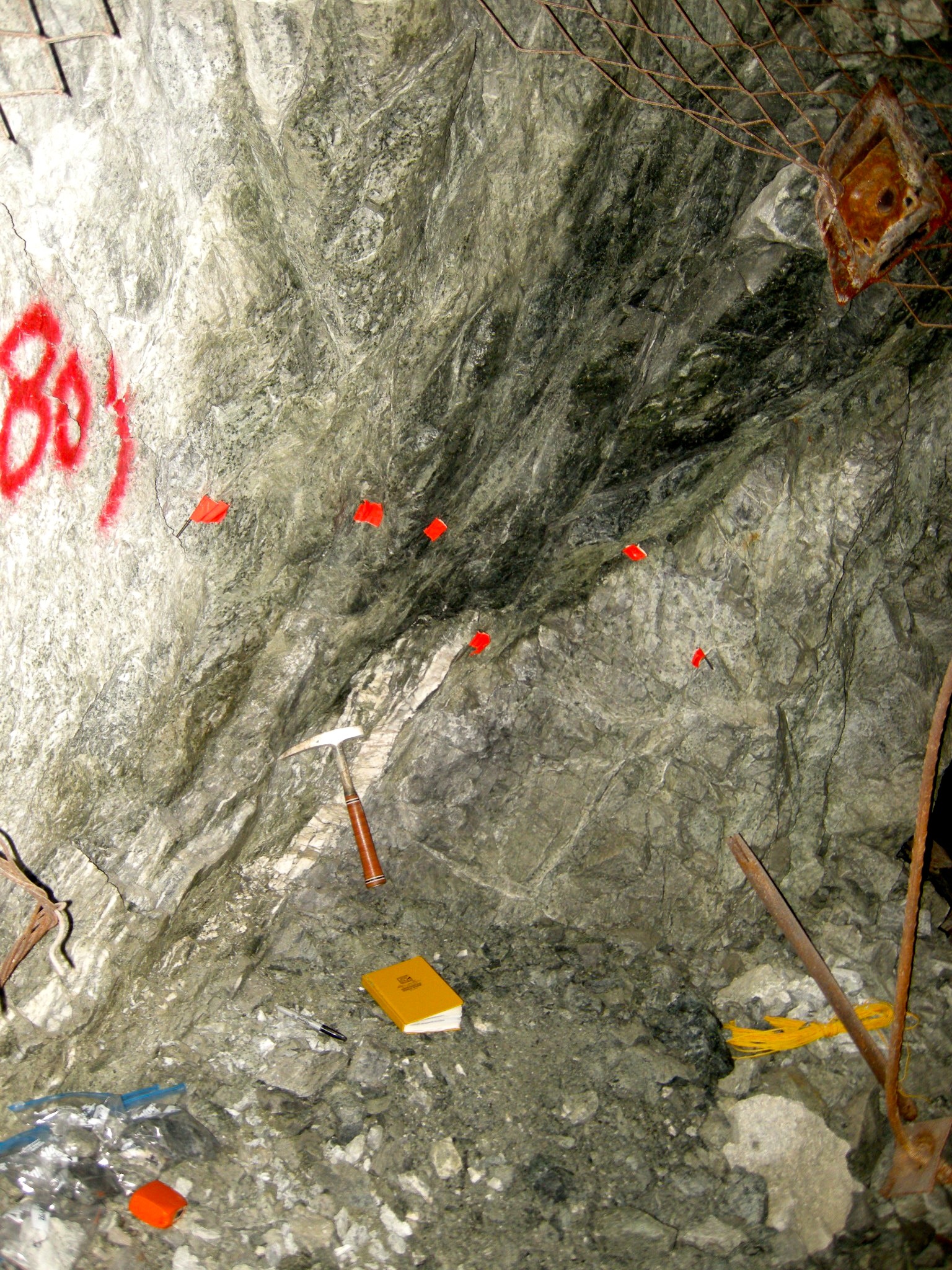 Current Stage of Study:
X-ray diffraction analysis has been conducted on various sections of core and fault gouge sampled directly from the South Prairie fault in the Stillwater Mine near Nye, MT. These results have been used to preliminarily estimate the syn-kinematic temperature and pressure conditions in the SPF, and how the mineralogy varies across the fault zone. Fault zone width, attitude, and associated fractures have been measured during three visits to the mine, and have been used to address the geometry and kinematics of the South Prairie fault, as well as its architecture, permeability and mesoscopic deformation mechanisms. Analysis of the preferred orientation of fault zone rock has been conducted using XRD Synchrotron, and is in the process of being quantified. Thin section, scanning electron microscopy, and stable isotope geochemistry analysis will be done during the summer 2013 months to examine the microscopic deformation characteristics and fluid flow history of the South Prairie fault.
Academic Positions Held and Student Involvement:
Graduate Student Representative to the Faculty (2012-present)
AAPG Student Chapter, Vice President - (2011-present)
MSU Earth Sciences Student Colloquium Planning Committee, Public Relations (2012 & 2013)
Graduate Teaching Assistant - (2011-2013)
Geology 101, Earth Systems Science 101, Undergraduate Structural Geology
Undergraduate Teaching Assistant - (2010-2011)
Cleveland State University Geological Association, Treasurer (2010-2011)
Presentations:
2012 MSU Earth Sciences Colloquium - Oral Presentation
Structural and mineralogic characterization of the South Prairie fault in the Stillwater Complex, Beartooth Mountains, MT
2013 MSU Earth Sciences Colloquium - Oral Presentation
Preliminary subsurface structural analysis of the South Prairie fault: A Laramide basement fault located in the Stillwater Complex, Beartooth Mountains, MT
2013 GSA National Meeting (upcoming) - Poster Presentation
Structural and mineralogic characterization of the South Prairie fault in the Stillwater Complex, Beartooth Mountains, MT
2013 GSA National Meeting (upcoming) - Poster Presentation (joint authorship)
A new look at the classic Hubbert-Rubey Beer Can Experiment: Laboratory analogue to earthquake rupture mechanisms
Grants:
Clay Minerals Society (2012)
Tobacco Root Geological Society (2012)
Colorado Scientific Society (2013)
Scholarships & Awards:
Lewis Award for Outstanding Geology Undergraduate Senior (2012)
Ohio War Orphans Scholarship (2008-2011)
Professional Affiliations:
Geological Society of America (2010-present)
Short Courses Attended:
2013 Carbonate Core Analysis Workshop, Montana State University