Check back with us periodically. We're always posting new things!
News
May 2017
New!
May 9, 2017, MSU News reports on Ecology Ph.D. student Maureen Kessler's recent Fulbright Fellowship award. Kessler will travel to Australia for her 10-month fellowship studying the Hendra virus in flying foxes, a large fruit bat. She is a part of the Disease Ecology Lab at MSU, advised by assistant professor Raina Plowright.
April 2017
New!
April 25, 2017, MSU News highlights MSU alum Isaac Miller, who now works in the Center for Biofilm Engineering (CBE) and who has received a Graduate Research Fellowship from the National Science Foundation. Miller earned a bachelor's degree in 2015 in Biological Sciences - Organismal Biology through our department, and worked for two years at the Bozeman Fish Technology Center. He will begin PhD studies in Fall 2017 through MSU's Molecular Biosciences Program where he will continue work with the CBE and Bozeman Fish Technology Center.

March 2017
March 10, 2017, The Ecology Department had a strong presence at the Montana Chapter of The Wildlife Society meetings in Helena during the week of March 6-10. Attending were 20 undergraduate students, 10 graduate students, and 3 faculty. Ecology students and faculty gave 8 oral presentations and several poster presentations. Three students received awards: undergraduate student Thomas Sutton (advisor Andrea Litt) received the Wynn Freeman Award, graduate student Shannon Hilty (advisor Andrea Litt) received a small grant from the Chapter to support her research, and graduate student Anthony Slominski (advisor Laura Burkle) received the award for best student presentation. Congrats!
March 2017, Yellowstone Science publishes several papers co-authored by Ecology graduate students and faculty. Students Colleen Detjens and Kurt Heim co-authored Preservation of Native Cutthroat Trout in Northern Yellowstone and students Alex Poole and Nathan Thomas, along with Drs. Chris Guy and Al Zale. co-authored Lake Trout Supression Alternatives to Gillnetting. Detjens was also the main author on a short in the issue entitled, Fly Fishing Volunteers Support Native Fish Conservation in Yellowstone.


February 2017
February 14, 2017, MSU News highlights a paper co-authored by doctoral student Elizabeth Flesch, interdepartmental student in both our department and the Department of Animal and Range Sciences. Published in the journal Ecosphere, the paper Comparing citizen science and professional data to evaluate extrapolated mountain goat distribution models, focuses on data gathered in Glacier National Park as park of its High Country Citizen Science Project.

January 2017
January 30, 2017, Graduate student Leonardo Calle, along with his advisor Benjamin Poulter, have co-authored a paper published by Nature Geoscience: Historical carbon dioxide emissions caused by land-use changes are possibly larger than assumed.
January 27, 2017, Frontiers in Marine Science accepts paper, Using optical sensors on gliders to estimate phytoplankton carbon concentrations and chlorophyll-to-carbon ratios in the Southern Ocean, co-authored by Ecology graduate student Gilbert Ogunkoya.

December 2016
December 16, 2016, Journal Ecology and Evolution publishes research of PhD candidate Egil Dröge. The paper, Spatial and temporal avoidance of risk within a large carnivore guild, is co-authored by Ecology faculty Scott Creel, affiliate Dr. Matthew S. Becker, and recently graduated Master's student Jassiel M'soka.
December 13, 2016, MSU News highlights a paper that Dr. Andrea Litt co-authored on the effects of prescribed fires on wildlife in regional ecosystems. Published by The Wildlife Society, Effects of Prescribed Fire on Wildlife and Wildlife Habitat in Selected Ecosystems of North America contributes to its technical review series.

November 2016
November 15, 2016, Two Ecology Graduate Students receive fellowships from the Montana Institute on Ecosystems, as highlighted in the MSU News. Katie Carroll, Ph.D. student with Dr. Andy Hansen, and Claire Qubain, Ph.D. student with Dr. Jia Hu, have received fellowships to support their research in Montana and the Rocky Mountain West.

October 2016
October 27, 2016, Ecology Graduate Student Will Thompson is credited on several photos in an article in the Huffington Post, Adorable American Pika Is Fast Disappearing, And We're Doing Nothing To Stop It, which sites research done by Thompson and Erik Beever (USGS) after the Fish and Wildlife Service denied a second request for the pika to be added to the Endangered Species Act.
October 13, 2016, MSU News highlights new book, Climate Change in Wildlands: Pioneering Approaches to Science and Management, co-authored by Ecology professor Dr. Andrew Hansen. Hansen, who is also lead editor of the book, sees his research with NASA's Landscape Climate Change Vulnerability Project as the impetus for the book.
October 10, 2016, The Weddell seal crew has started their 2016 field season in Antarctica and you can follow them online! Their outreach expert for the season, Mary Lynn Price, will update a blog on the field project that provides brief summaries of activities and some really nice photos provided by the crew.
You can also follow them on Instagram: Weddelllsealscience
October 6, 2016, The following students have been awarded scholarships for the 2016-2017 academic year. See Scholarships for a description of each scholarship and application requirements.
Kenneth D. Lorang Memorial Award
Nathaniel R. Bowersock - $500
Matthew F. Clow Memorial Award
Adeline Dutton - $2000
Eric A. Scholl - $2000
Jim Belsey Graduate Student Scholarship
Kurt C. Heim - $2400
Colleen Detjens - $2400
The Don C. Quimby Graduate Wildlife Research Scholarship
T. Daniel Ritter - $1500
Jim Patton Wildlife Management Scholarship
Kaitlin Macdonald - $1000
Jack Creek Preserve Wildlife Scholarship
Kelli Poole - $2500
Carly Sebastian - $500
Kevin Hurley Wild Sheep Biology Award
Kelli Poole - $2300
Silicon Valley Community Foundation Award
Niall Clancy - $2500
Cailey R. Philmon - $2500
John H. Rumely Award
Michael P. Simanonok - $2800
September 2016
September 20, 2016, Ecology Professor Dr. Scott Creel will be the first speaker at this year's Provost's Distinguished Lecturer Series on Tuesday September 20 at 7pm in the Hager Auditorium of the Museum of the Rockies. Dr. Creel will present, Predators, Prey and People: Conservation and Ecology of Large Carnivores in Africa and North America.
For more information on Dr. Creel and his research, see the recent MSU News article highlighting this talk.
The Department of Ecology announced 2016 student scholarship opportunities. Application deadline is September 20 with an award announcement of October 6 at the department BBQ / Potluck at the Lindley Center in Bozeman.

August 2016
August 4, 2016, MSU News lists all 2016 spring graduates, including hometown and honors. The Department of Ecology awarded 55 degrees including 51 B.S. degrees in Biological Sciences and 4 M.S. degrees in Fish and Wildlife Management. Congratulations graduates!

July 2016
July 26, 2016, MSU News and The New York Times highlighted research by Christopher Guy, Affiliate Professor in the Ecology Department and Assistant Unit Leader of the Montana Cooperative Fishery Research Unit. Guy has published on - and continues to research - the effects of oxygen-depleted zones between dams and other environmental factors that are causing declines in pallid sturgeon populations. Included in both articles is a photo of Ecology Graduate Student Luke Holmquist releasing a pallid sturgeon while conducting research on the reproductive ecology of pallid sturgeon.
July 14, 2016, MSU News published a piece on doctoral student Kristen Emmett's 2016 NSF Research Fellowship award and her current research on fire ecosystem modeling in the Greater Yellowstone Ecosystem. Kristen is a student in the Poulter Lab.
June 2016
June, 2016, PhD student Eric Scholl won a 2016 "Best Presentation" Award at the Society for Freshwater Science annual meeting, held June 4-8 in Sacramento, California. Eric conducts research with the Cross Lab at MSU.
Fall 2014 Master's Graduate Tanner Williamson won the "Exceptional Promise in Graduate Research" award from the Ecological Society of America (ESA) as a result of his paper, Warming alters coupled carbon and nutrient cycles in experimental streams, co-authored with faculty Wyatt Cross, among others. According to the ESA website, papers were "judged based upon the paper's contribution to the field, including its originality, study design, and impact."
March 2016
March 29, 2016, Graduate Student Kristen Emmett was named an awardee of a 2016 National Science Foundation Graduate Research Fellowship. The GRFProgram provides three years of financial support within a five-year fellowship period ($34,000 annual stipend and $12,000 cost-of-education allowance to the graduate institution). To read more about the NSF GRFP and access the complete list of this year's recipients, refer to the NSF press release.
March 22, 2016, Postdoctoral Researcher Dustin Ranglack chosen by the Journal of Applied Ecology to receive the 2015 Southwood Prize, awarded annually to the best paper by an early career researcher. For more information, see the British Ecological Society prize announcement and Utah State Today news article. Currently working with Dr. Bob Garrott, Ranglack uses spatial ecology to evaluate and inform the management of elk and elk habitats in western Montana.
March 10, 2016, Ecology Faculty Dr. Ben Poulter contributed to a study on the role of greenhouse gases that was published today in Nature, an international scientific journal. Highlighted in the MSU News, this study emphasizes the importance of a multi-greenhouse gas perspective in climate change science.
February 2016
February 20, 2016, In collaboration with Montana Fish Wildlife & Parks, Ecology Faculty Dr. Bob Garrott, Graduate Student Carson Butler, and other faculty, staff, and friends used a drop net to capture bighorn sheep in the Southern Madison mountain range in southwest Montana. The following video about the event was created by Marcus Hockett and Hugo Sindelar. Marcus is a graduate of MSU with a BS in Biological Sciences - Fish and Wildlife Ecology and Management and is now pursuing an MFA in Science & Natural History Filmmaking at MSU.
Events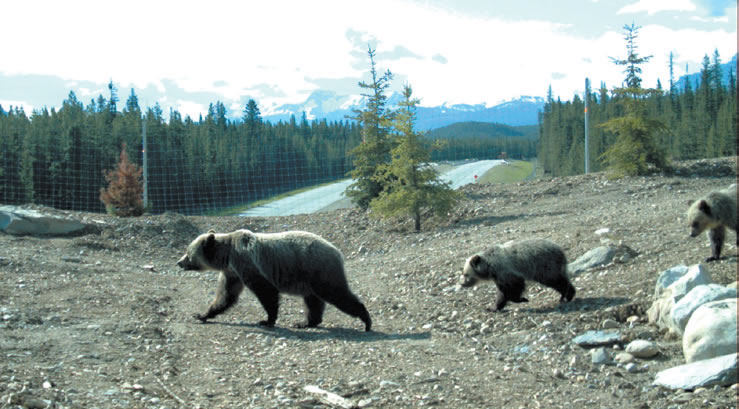 Archives