Ann (de Onis) Ellsworth
Professor, Curriculum & Instruction
Reading & Language Arts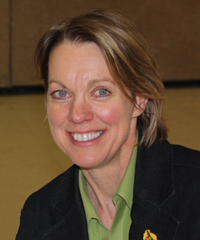 Contact Information
138A Reid Hall
Montana State University
Bozeman, MT 59717-2880
Email
406.994.5793
Additional Information
Curriculum Vitae
Note: This is a condensed curriculum vitae. Please contact Dr. Ellsworth for complete version.
Undergraduate Courses
EDEL 305 Principles and Practices of Early Literacy, K-3 (4 credits)
The five building blocks of an early literacy program are the major topics explored in this course: phonemic awareness, phonics, vocabulary, fluency, and comprehension. As well, teaching handwriting, spelling, and writing are other course strands.
EDEL 405 Teaching Literacy to Established Readers, Gr. 4-8 (4 credits)
Students in grades 4-8 know the literacy basics. This course focuses on developing higher-level reading strategies with both narrative and expository text, and improving writing by incorporating writing across the curriculum.
EDSD 450 Content Area Teaching (2 credits)
This course focuses on the distinct nature of informational text and how teachers can support students' literacy learning with pre, during and post-reading activities.
EDCI 105 Teaching Grammar (3 credits)
This class covers the foundational aspects of the English language: Eight parts of speech, punctuation conventions, sentence types and structure, and sentence diagramming.
Graduate Courses
EDCI 531 Contemporary Issues in Education (3 credits)
This is the inaugural course in the Department of Education's C & I on-line program. It addresses Curriculum and Pedagogy, Indian Education for All, and Professional Teaching Standards.
EDCI 533 Middle Years School (3 credits)
This course examines changing philosophies from junior highs to middle schools; as well as present issues which middle grade educators face are addressed.
EDCI 564 The Comprehensive Portfolio (3 credits)
This class is the capstone project for the Department of Education's on-line NPTT graduate program.
Research and Scholarship
Early Literacy
K-12 Literacy
Content Area Teaching and Learning
Literacy Assessment
English Language Conventions