Course Work

MSU LIFE Scholars CertificateStudents select classes offered at either MSU or Gallatin College based on their interests and goals identified during a STAR person-centered planning process. Students audit between 1-4 classes per semester, but may take classes for credit, if appropriate. However, students auditing classes have greater flexibility with modifying assignments to meet their learning goals, whereas students taking classes for credit are required to adhere to the same course requirements as other students and are evaluated on the grading system set by the professor.
The majority of LIFE Scholars will audit classes as they work toward earning an MSU Life Scholars Certificate.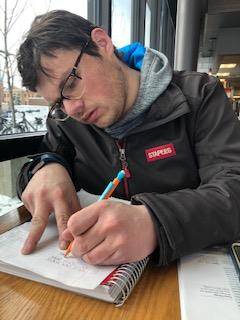 The MSU LIFE Scholars non-degree Certificate will be awarded to students upon successful completion of the requirements in academics, campus engagement and career development, as well as self-determination and independent living. Students will be expected to demonstrate satisfactory progress in each of these five categories of their individual plans. Satisfactory progress will be assessed using a proficiency scoring scale
Length of program: 3 years average. (Students may complete the program in as few as 2 years and a maximum of 4 years.)
Minimum Academic Credit Requirements: 20 (14 academic + 6 internship credits )
Minimum Campus Engagement Hours: 60 hours
Supports and Accommodations
LIFE Scholars staff work closely with the MSU Office of Disability Services, faculty, and Peer Partners to identify and provide individualized accommodations, course modifications and support for a successful experience. Students must register with the Office of Disability Services and provide the required disability documentation.
Accommodations provided by MSU include note taking, nonstandard testing conditions, accessible texts, interpreting services, and the SmartyCats tutoring offered through the Office of Student Success. Additional supports, such as course modifications and peer partner support are provided through the LIFE Scholars program.