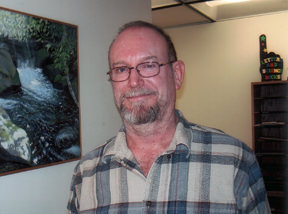 D.A. Idaho State University
Creative Writing, Contemporary Literature
Greg Keeler, Professor of English, has taught at M.S.U. since 1975. He received his M.A. from Oklahoma State University and his D.A. from Idaho State University. His areas of specialization are in the writing of poetry and fiction and in contemporary literature. He has published three books and three chapbooks of poetry, has had six plays produced, has produced ten tapes and CDs of his satirical songs, and published many articles in popular and academic magazines and journals. His acrylic paintings have been exhibited the M.S.U. Library and in galleries in and around Bozeman. He illustrated Jim Harrison's chapbook, Livingston Suite. In 2001 he received the Montana Governor's Award in the Humanities.
Selected Recent Publications:
A song, WD-40 Polka on NPR's Car Guys
Regular column and poems in Big Sky Journal
Several poems in recent issues of Valparaiso Poetry Review and Square One*
Songs for Neon Dream, a musical produced by the Vigilante Players and now touring the Northwest
Waltzing With the Captain: Remembering Richard Brautigan, Limberlost Press: December 2003
Projects:
Trash Fish, (a Memoir)
Dead West, (a book of recent poems) accepted by Clark City Press.
A recent performance for the Rural Literature Festival in Marshall, MN
A recent participant in the Montana Festival of the Book
Resources:
Troutball
Disclaimer: The links, opinions or statements expressed herein should not be taken as a position or endorsement of MSU-Bozeman or its affiliates.