ETD Submission Deadlines: Formatting Advisor:
Summer 2017: July 18, 2017 Megan Maier
One-credit Extension: August 28th, 2017 Office Hours:
Fall 2017: November 27, 2017 Tuesday and Wednesday 2– 5 pm
One-credit Extension: January 10, 2018 9 Montana Hall
Spring 2018: April 18, 2018 gradformatting@montana.edu | (406) 994-7518
Overview
Your thesis or dissertation represents the culmination of your research, scholarly, or creative endeavors while at Montana State University. A well prepared document speaks highly of your ability as a scholar, and The Graduate School is here to help ensure your thesis or dissertation formatting is of the highest quality.
All theses and dissertations are submitted to The Graduate School electronically, which is why they are called ETDs (Electronic Theses or Dissertations). The Graduate School does not require a bound paper copy of your thesis or dissertation.
When you reach your final semester, please reach out to the Formatting Advisor with any questions you have about your ETD. A final PDF of your ETD must be submitted to the Formatting Advisor by 5:00 pm on the published deadline, which is typically 14 working days before the end of the semester you graduate. Please check The Graduate School Dates & Deadlines page for the exact date for each semester.
After your ETD has been given final approval by The Graduate School and the degree granting department, your ETD will be published on ScholarWorks, the Montana State University open-access repository for theses and dissertations. Students may choose to have their ETDs available worldwide or hold their work for a period of up to one year. After one year, all ETDs will be available online through ScholarWorks.
---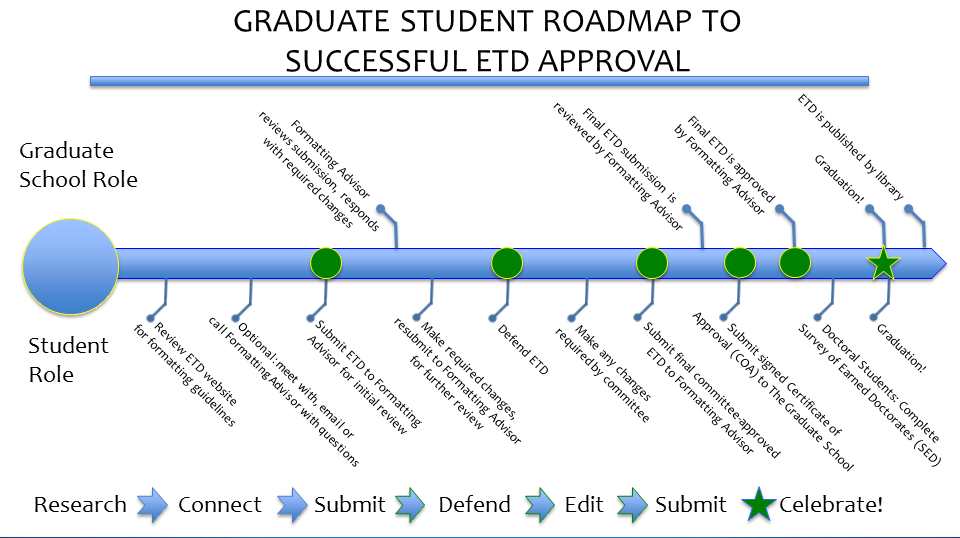 "A thesis or dissertation topic is a mystery to be solved. Develop the skills to look at it from all angles, use a process of elimination to narrow the focus. If you're stuck, ask for help, step back a bit and new ideas will find you. When the intimidating task of writing your thesis or dissertation arrives, write it a line at a time. Ideally, you'll have a fascinating story to tell. Write several hours a day and at the end of each day you'll have solved something that had seemed like a big challenge."

Wayne H. Dickinson,

Ph.D., Chemistry, 1996