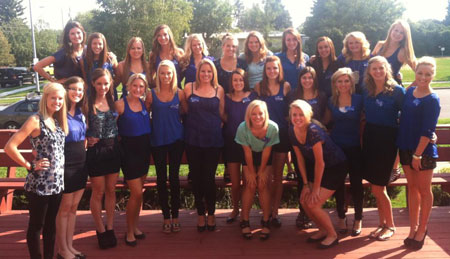 Chi Omega
Chi Omega is a sisterhood that provides a network of friends and lifelong development for collegiate and alumnae members. Chi Omega is committed to:
Personal integrity
Excellence in academic and intellectual pursuits
Inter-generational participation
Community service
Leadership opportunities
Social enrichment
Chi Omega has a rich history dating back to its founding at the University of Arkansas on April 5, 1895. Born in the late 19th century, Chi Omega's four women founders grew to adulthood as a rapidly expanding economy fostered industrialization and urbanization. And they were instilled with the spirit of America, with values of independence, innovation, and adventure. They could not have known how influential their lives would be.
The organization grew locally that first year with 11 out of the 14 original members returning to the university in September of 1895. During this time, Chi Omega began to acquire a reputation for determination and poise, and for doing things well. Chi Omega was founded with the intent of becoming a national organization and it expanded into every part of the country. It is now the largest womens fraternal organization in the world, and the second largest women's organization, right behind The Girl Scouts.
Chapter Update
Recruitment this year led us to 27 new members, bringing the house total to 62 members. We are doing very well in grades, we have been first of all the sorority houses for the past 3 years.We had our first annual Parents and Professors Brunch which was a huge success. We had an alumni brunch also. For our philanthropy we wrote letters to Santa! For every letter wrote $1 was donated to Make-a-Wish Foundation and our Adopt-a-Cop was in attendance.
---
Nickname:

Chi-"O"

Philanthropy:

Make-a-Wish

Address:

405 West Garfield
Bozeman, MT 59715

Phone:

(406) 202-4938

Local Chapter Website:

National Website:

Chapter President::

Brooke Darfler