Click here for Montana State University's COVID-19 website.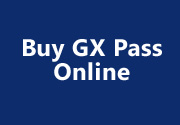 In-Person Classes Beginning July 7, 2020
We are excited to announce that we will slowly begin adding in-person classes! We are committed to safety in this process. Please see details below.
GX Class Schedule:
Classes will be scheduled on a week by week basis. Please see the GX Schedule below for this week's offerings or sign-up for GX Alert, at the bottom of this page, to receive notifications.
Classes are free with Marga Hosaeus Fitness Center membership.
Social Distance, Equipment and Cleaning Procedures
Class size will be limited to 10 persons.
Classes will be first come, first serve. Patrons will not congregate in studio foyer area.
Participants will remain six feet apart the entirety of class. Space designations will be provided for easy guidance.
All equipment utilized by class will be set out prior to class by instructor in designated workout spots. There will be NO patron retrieval of equipment and patrons will not enter storage area.
Patrons must wipe down equipment before use with disinfecting wipes.
Instructors will clean equipment with disinfectant after class and put away in storage area.
Studio doors will remain open for the duration of class.
Due to the need for microphones and projection, instructors will not wear masks, but must maintain social distance. No hands on adjustments will be used.
Not ready for in-person classes or looking for virtual options?
In March we created a FREEonline resource for GX classes that is still going strong. The platform being used is a private Facebook group called "MSU Online Group Exercise Classes." Please search that title in Facebook and request to join.
If you have an MSU email address you can access our new streaming technology videos via Box, a collaboration and files-sharing service for Montana State University students, faculty and staff.
Click this link to access the GX Box folder: https://montana.box.com/s/mh1x8scjsiroc4ttttasd518e95qc1sb
No Facebook? No problem:
Some patrons have expressed they do not have Facebook and thus cannot access the free MSU Online Group Exercise Classes. (Click the link here.)
As a note, I understand the hesitance in signing up for social media. But, I would strongly suggest considering signing up for a free account in this temporary time of crisis. The platform has been a wonderful way to stay connected to our niche in the MSU community.
However, if signing up temporarily does not sit well with folks, we are putting as many videos as we can on our YouTube playlist: GX Online Classes. (Click the link here.)
Additional Online Resources:
Check out these additional online suggestions and resources that have been tested and recommended by our GX instructors and personal trainers. Click here for online workout resources to be well and keep moving. These will be periodically updated.
Please contact Whitney Hinshaw with any additional questions or concerns. Click here to contact Whitney Hinshaw.
GX Pass Price Per Semester:

Student:
$49 (Unlimited classes; puchase online)
Non-student:
Included with Marga Hosaeus Fitness Center membership
Weekly:
$10 (purchase at the Membership Service Desk in the MHFC lobby)
Monthly:
$20

(purchase at the Membership Service Desk in the MHFC lobby)

Per Class:
$5 (

(purchase at the Membership Service Desk in the MHFC lobby)

)
All participants must have a valid Cat Card.
Semester long passes may be purchased online.
All instructors are CPR/AED and Group Exercise/specialty certified.
Classes are on a drop in/first-come, first-served basis. There is no need to sign up.

: Enter your name and email address here to receive notifications of Group Exercise class cancellations and schedule changes.
Have feedback about Group Exercise classes? Make sure we hear—use our feedback form!