Marga Hosaeus Fitness Center Policies and Regulations
Vision Statement
Our dedicated professional and student staff work every day to support health and wellbeing by offering exceptional facilities, programs and services.
Mission Statement
ASMSU Recreational Sports and Fitness encourages personal development, enhances academic productivity, and enriches wellbeing for students and the MSU community.
VIOLATION OF HFC AND PROGRAM GUIDELINES/RULES, OR THE MONTANA STATE UNIVERSITY CODE OF STUDENT CONDUCT, MAY LEAD TO REMOVAL FROM HFC AND LOSS OR SUSPENSION OF PRIVILEGES.
Equipment
Safe and proper use of equipment is required at all times.

People exercising on HFC equipment.

Please be courteous to other patrons and wipe off machines and benches with disinfectant after each use.
Do not drop weights on floor or slam plates together.
Please do not monopolize equipment by limiting equipment use to 30 minutes in heavy usage times.
Return equipment to designated areas.
Please report damaged or defective equipment to the Equipment Room or through the QR Coder App.
Facilities
Close toed shoes required at all times.
Wear appropriate athletic clothing.
Please keep facility clean and ready for use by others.
No cell phone usage in workout areas or lockers rooms.
Personal training by individuals other than Rec Sports & Fitness trainers is not permitted.
Participants displaying inappropriate behavior may be asked to leave the facility at once, and access privileges into the Hosaeus Fitness Center (HFC) may be revoked or suspended.
Animals are not permitted in the facility, except certified service animals.
Clothing Policy
In an effort to promote safety, reduce the spread of communicable diseases, and prevent additional wear and tear on the equipment, all participants are asked to wear appropriate athletic clothing in all areas of the facility.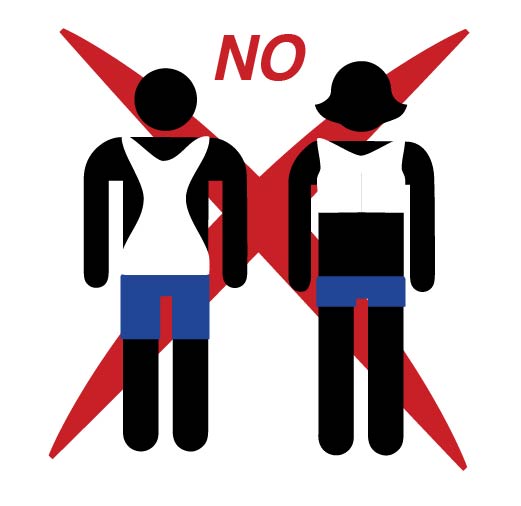 Illustration of inappropriate attire
Appropriate clothing can be defined as but not limited to:

Chest and midriff covered at all times.
Shorts must be long enough to cover the buttocks and groin.

Patrons must wear shirts in all areas of the facility including on all the fitness floors, studio rooms, functional training room, climbing wall and gyms/courts (no skins play during open rec play or Intramural activities). We will have pinnies available to check out at the equipment room if needed. The one exception is the users of the pool. This is for the following reasons:

To promote safety and reduce the spread of communicable diseases.
To decrease the potentially intimidating nature of shirtless people and to be more inclusive to all of our users.

Vulgar and/or offensive screenings on attire will not be allowed.
Pool Usage Policy
The lifeguards are in charge of enforcing all pool policies and the safety of the pool. If you have any questions please see the lifeguards or contact the Lifeguard Manager at 994-6313.
No paid coaches, personal trainers or teams consisting of 4 or more members are allowed in the HFC pool during lap swim, open swim, water polo or open boating times.
Groups of 5 or more are not allowed to swim during lap swim, open swim, or open boating without written consent from the Aquatics Director (994-6316). Groups outside of MSU must call Sports Facilities to rent pool times (994-7117) - additional rules may apply for visiting groups.
Lap Swimming is set aside for lap swimming and aqua jogging only. Open Swimming is set aside for lap swimming, basketball, aqua jogging, snorkeling, scuba diving, etc. However, no boats are allowed during these times. Open Boating is set aside for kayaks and small canoes. All boats must be hosed off before entering the water. The rubber mat must be used to enter and exit the pool.
Participants under the age of 16 must be accompanied by an adult patron and must pass the swim test be in the water on their own. Adults must be in the water with the children otherwise.
Showers are required before entering the pool enclosure.
Proper swim attire must be worn -undergarments, street clothes & gym clothes are not permitted.
No glass containers, food or gum allowed in pool or deck area.
No diving in shallow end.
People with skin diseases, infections, diarrhea or open sores are not permitted to use pools. As well as people wearing non- water safe adhesive tape or band aids. No unsanitary behavior is allowed.
Swimmers who aren't potty trained must wear a swim diaper. Do not change diapers in pool area.
No animals in pool area expect as required under the American with Disabilities Act.
Functional Training Room Policy
Maximum Occupancy = 16
If you are unfamiliar with this equipment please ask the Rec. Sports & Fitness certified personal trainer or set up a personal training session by calling 994-5000.
The room has an "open door" policy with no set monitor during all open hours therefore for assistance or reporting injuries see Equipment Room (ER) or Fitness Staff on duty. Please be aware of the potential risks involved with the fitness equipment in this room and advanced style of lifting.
When a trainer or fitness staff is on duty please listen to their advice. They are here for your safety.
Overhead lifting is allowed but users are required to follow the standards of the International Weightlifting Federation and USA Weightlifting, including:

Controlling the weight to shoulder level before dropping.
Dropping the bar in front of the lifter.
Not letting the bar/weight drop either deliberately or accidentally.

Secure all weight plates with a collar and put all weights away. Equipment does not leave this room.
Shirt and close-toed shoes required.
Keep chalk in closed container or in the bowl. Use it in an appropriate manner.
No one under the age of 14 is allowed in the FTR unless accompanied by an adult and/or RSF personal trainer.
No personal training or sport coaching allowed unless scheduled by an RSF employee with a RSF personal trainer.
Climbing Wall Policy
Feet should never be above the red line while bouldering.

Man climbing climbing wall.

Stay out of climbers' fall zones when on mats.
Bare feet are not allowed; close-toed shoes must be worn at all times.
Youth (under 18) must be accompanied at all times by a family member or guardian (over 18).
Rec. Sports Staff have the right to ask incoming users to wait if the wall and room have reached capacity.
Food and drink are prohibited on the mats; water in a closed container is acceptable.
All climbers should clean up after themselves; keep chalk in your bag and on your hands.
Unsafe conditions or climbing behavior is not acceptable and all parties involved will be asked to leave the facility.
Failure to adhere to these guidelines and rules, or abide by the requests of staff may result in termination of the use of the climbing wall.
Consumption of alcoholic beverages on campus is prohibited. If suspected of being intoxicated, you will be escorted from the fitness center.
Lost & Found & Storage at RSF
Lost articles may be turned in to either the Equipment Room located near the entrance of the facility. Recreational Sports & Fitness is not responsible for lost, stolen, unattended or unsecured items in the building.
The Equipment Room will assist in the event of a personal item that has potentially been stolen. Please report all stolen items to the Equipment Room. The Equipment Room has access to a lost & found log that is utilized to help maximize the chance of items being returned safely. This process is not foolproof and we highly suggest patrons utilize lockers available for rent or our day use lockers that are located throughout the facility.
Besides the use of rented lockers (see below), RSF does not provide storage for non-RSF programming & groups.
Lockers
Lockers can be rented by students, staff/faculty, and alumni. They are rented on either a semester basis (students) or a yearly basis (non-students). Student spouses are not eligible for locker rentals.
All lockers rented by the Rec Sports & Fitness Dept. are the property of the University. Rec Sports & Fitness reserves the right to alter the rental agreement if the locker or membership is deemed misused for any reason.
Upon expiration of a locker, it will be cleaned out by Rec Sports & Fitness staff and any unclaimed items will be bagged and labeled for patron pickup. Items will be held by RSF staff for 1 month after the expiration date. Due to the high demand of lockers, any that have not been renewed by the specified expiration date will be cleaned out and rented. There are no exceptions to this rule.
Lockers cannot be re-assigned or sublet to other patrons. If no lockers are available, patrons will be placed on a waiting list and called when a locker becomes available.
Lockers are equipped with locks placed by Rec Sports & Fitness staff that must be used when renting. Locks not placed by RSF will be removed.
In keeping with Montana State University's policy of creating an environment of non-discrimination and equal opportunity, the Recreational Sports and Fitness Department does not discriminate on the basis of race, color, religion, national origin, creed, service in the uniformed services (as defined in state and federal law), veteran's status, sex, age, political ideas, marital or family status, pregnancy, physical or mental disability, genetic information, gender identity, gender expression, or sexual orientation.
At the Hosaeus Fitness center, we support an individual's right to access restrooms, locker rooms and services that correspond to one's gender identity or gender expression. We further ask that patrons with children age five and above use their same gender locker room.
Membership Policies
Montana State Law prohibits Montana State University from selling community residents, outside of the defined University Community, public memberships to the Hosaeus Fitness Center.
Student Memberships
Students taking 7 credits or more will automatically have the gym fees assessed onto their semester tuition. This fee is assessed through Montana Hall as part of student fees. Students taking less than 7 credits can opt to pay this fee at Montana Hall. These fees are non-refundable. This membership includes dependents of the student who are under the age of 18 living in the household, access to the facility. Please see section below "dependents" for policies regarding this membership option.
Students may also elect to purchase a spousal membership on a semester to semester basis. A student spouse is defined as a person legally married to the student or one who is sharing living expenses with the student for at least six months. Proof of either situation is needed to be approved for the membership (i.e.: marriage certificate, lease, checks or bills with both names, etc.). The student must have a valid HFC membership and be present during the transaction.
Non-student Memberships
All MSU faculty/staff and spouses and MSU alumni are eligible to purchase a University membership for use of the Marga Hosaeus Fitness Center. This pass permits users full use of the facility with the option to purchase a locker and towel service, if available, at an additional charge.
Staff and faculty have the option of purchasing either a single or a family membership. The single membership is good for the staff/faculty member only. The family membership encompasses a spouse and dependent children living in the household. The family membership cannot be transferred to others outside of the specified persons listed above. Please also see section "dependents" for additional policies regarding this membership option.
Dependents
Dependents of a staff/faculty at MSU are considered their partner/spouse and children.
CHILDREN
Dependents are defined as children under the age of 18 and living in the same household as the member. If a dependent has turned 18 during the membership year and is still living in the household, they can continue use of the facilities until the membership expires. Staff and faculty members with children who are students at MSU cannot add them to their University membership.
At the HFC, children under the age of 16 do not have access to the facility without their parent/guardian present. Until a child turns 16, they will not be given an ID number to enter the facility unattended. They are also not permitted to enter the facility under their parent/guardian's ID number. Dependent children must be under the direct supervision of the pass holder. This is defined as attending to and ensuring the minor is behaving and participating in a safe manner. Noncompliance could result in removal from the facility.
SPOUSES
Spouses of MSU faculty/staff are considered those legally married to a MSU sponsor or those residing with and sharing expenses with the MSU sponsor. The staff/faculty member does not need to have a current membership with HFC for the spouse to purchase a membership.
Guest Passes
Members can purchase guest passes for day or week use. MSU sponsors accept responsibility of guest when they are using the HFC. Discounts may be granted for groups of 10 or more with prior approval only. Please contact the Rec Sports & Fitness Office at 994-5000 for inquiries regarding group discounts.
Advertising Rules
Recreational Sports and Fitness programs, services and events have priority over non-RSF requests.
Intent & Procedure
The intent of tabling or advertising in the Hosaeus Fitness Center is for the promotion of Recreational Sports & Fitness programs and services.
Here at the RSF, we know that when you walk through those front doors, you are here to work out and are not interested in harassing advertisements which is why we aim to keep them at a minimum.
Standing exceptions to advertisements include:
ASMSU posters for ASMSU elections
Blood drives which are limited to every other month For those outside of RSF looking to use the HFC for tabling, banners or posters, you must have a health and wellness theme and put in a request to the RSF director at

[email protected]
These requests will be reviewed with final approval by the Director of RSF.
The use of information tables to promote your event or cause is a privilege extended to registered student groups and campus sponsored groups. Responsibilities listed below are deemed acceptable and responsible behavior by RSF.
Information Tables
Any space needed must be reserved.
Arrive and depart on time.
Request tables and chairs during reservations. RSF will provide them if available, otherwise, it is the group's responsibility.
Request an electrical outlet if needed. This will affect your table placement. You will need to bring an extension cord.
A representative must be at the table for the entirety of the booking. Any representatives staffing the table must remain behind it at all times.
All displays must be behind or immediately beside the table without extending more than 3 feet from the table. Banners/posters can be attached to the front of the tables.
Approaching/calling to patrons is prohibited.
No selling of any product or service is permitted, without approval from Sports Facilities after completing a separate form.
Banner/Poster Space
Space must be reserved.
Banners cannot exceed 6' wide by 3' high.
Banners/posters must be approved by RSF Operations before they can be displayed.
The sponsoring group's name must be clearly visible.
Groups must put up and take down their information.