Graduate School Events & News
UPCOMING EVENTS
Welcome/Welcome Back Event
Do you enjoy talking about what excites you about your work, and why you do what you do? Are you looking for opportunities to tell other people all about it?

The Graduate School is asking for continuing students from any discipline, at any stage of their degree, to showcase what they are working on. This can be anything from art pieces, to research projects, to outreach and community engagement projects, to interdisciplinary initiatives, to startups, all as part of an informal, celebratory event.
We invite you to be part of (or come and check out) the Welcome/Welcome Back event, which will take place on September 16, 2019, from 4–6 p.m., in SUB Ballroom A.
If you're interested in presenting, please fill out this google form to reserve space for your showcase. We need a short description of yourself and your work, including your department, your degree program, and what your project entails. Space is limited, so reserve your spot now.
RSVP to attend here: https://forms.gle/fzRLx2VGvmixXL9B9.
We'll be accepting work proposals until September 10, or until space fills up.
NEWS
Montana Hall Renovations
Construction has ongoing in Montana Hall, both in a renovation project designed to
improve the overall safety, functionality and accessibility. Additionally, the Graduate School offices will be moving; having the G.S. all located on the main floor (suite 108 and 104).
When complete, the improvements will allow Americans with Disabilities Act-compliant access to all floors of the building thanks to the installation of a new elevator. Previously, only the basement level was accessible. Also, for the first time in the building's history, an ADA-compliant restroom will be available on each floor. The building's safety will be improved, as well, with a new fire-rated exit stairwell and a new fire hydrant placed near the building.
Work is expected to last into December 2019.
If students, faculty or staff with accessibility needs must visit our offices in Montana Hall
call us directly at 406-994-4125 for alternate accommodations
or the Office of Disability Services at 406-994-2824.
MSU graduate and faculty member win regional Emmy for audio
| | |
| --- | --- |
| A Montana State University alumnus and a faculty member have won a regional Emmy award in the audio category for their work on the MontanaPBS-produced series "11th and Grant with Eric Funk." Read the entire story from the MSU News Service. | |
MSU International Doctoral Student Wins Award for Wheat Rust Research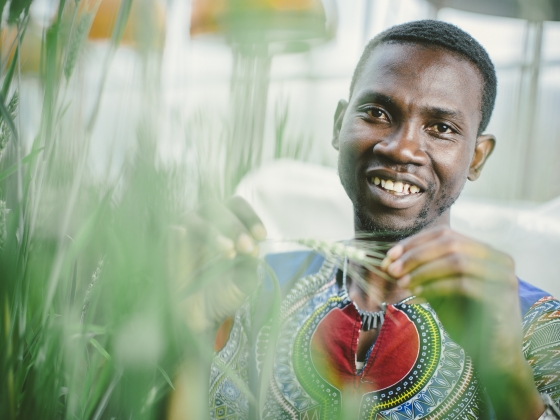 Bernard Nyamesorto, a doctoral student from Ghana in the College of Agriculture at MSU, recently won the graduate research competition at the Borlaug Global Rust Initiative technical workshop in Morocco for his research on rust-resistant wheat. Read about his research and the competition in this MSU News story.
DEADLINES & OTHER INFORMATION
Dates & Deadlines
The Graduate School Gets Social!
Follow Us on Facebook & Twitter
Help us increase our fan base by "liking" these pages. We update the regularly with news of Graduate School deadlines, event announcements, and more.
The Graduate School now has a Wikipedia page!
Click here to visit the Wikipedia page and find out about the history, the current Graduate School dean and more.
Wondering what to expect at the Commencement Ceremony?
Check out our short Commencement Tutorial video to find out more.