Fundraising for Graduate Education
In an effort to cultivate and steward relationships with graduate education donors, The Graduate School maintains a strong relationship with the MSU Alumni Foundation, development officers, deans, faculty and staff across campus. Whether donors are interested in gifts directly to The Graduate School or designating their gifts to graduate education in a specific college or department, Graduate School staff are available to visit with donors and provide information on graduate education on the MSU campus.
Key Graduate School Staff for Fundraising Activities
Dr. Karlene Hoo,Dean
Contact 406-994-4145
Ann Vinciguerra, Program Coordinator
406-994-5729; ann.vinciguerra@montana.edu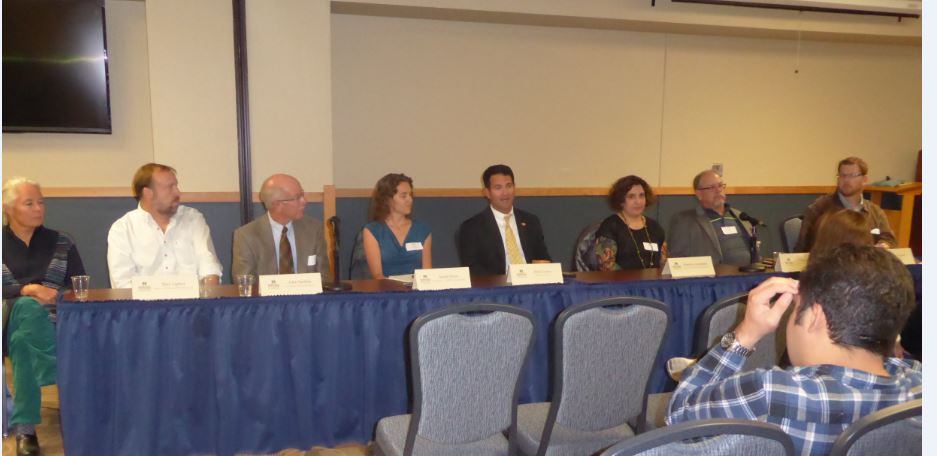 Graduate education donors join faculty and staff on the career pathways panel at the 2016 Graduate Student Summit
Dr. Hoo and Ms. Vinciguerra designed and delivered a graduate education seminar to Alumni Foundation staff on June 8, 2015. Materials from that session include:
Website links that are useful in promoting graduate education to donors:
Ways to Engage Donors in Graduate Education

Graduate Student Summit & Research Rendezvous (Fall Semester) - Opportunities for donors to meet graduate students, find out about graduate student research, serve as panelists and workshop leaders, and judge in the Research Rendezvous

Graduate Student Recruiting Weekend (Spring semester) - Contact Graduate School Recruiter Krista Baziak (994-4193 e-mail) for additional information
Lab tours, research presentation, departmental events and more

- Contact Ann Vinciguerra (406-994-5729;

email

) to brainstorm ideas and learn of campus events and opportunities.