Philosophy Student Clubs
Ethicats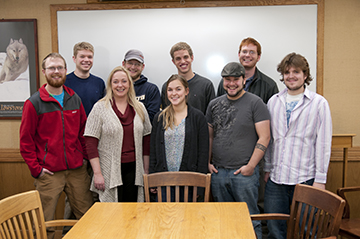 University Philosophy Debate Team
Advisor Kristen Intemann, Philosophy Professor
For more information, contact Kristen Intemann, email: intemann@montana.edu
Click here to read a news article about the Ethicats 2nd place achievement at a recent National Ethics Bowl Championship!
Phi Sigma Tau
International Philosophy Honor Society
Phi Sigma Tau activities are open to any interested student. Official membership requires students to have completed two semesters or the equivalent at an accredited university, to rank in the upper 35% of their class and to have completed two semester courses in philosophy with a mean average higher than a "B." The one time initiation fee is $25.00. Members receive the journal of the society, Dialogue, published twice yearly, which contains papers, discussion notes, and book reviews written by students. Members also receive the society's newsletter published two or three times a year.
For more information, contact philosophy professor and adviser, Sara Waller, sara.waller@montana.edu.
A to Z Lecture Series
The A-Z Lecture Series is a student-driven initiative that aims at making philosophy available for all. The Series features a new topic weekly where as the discussion is led and moderated by student, non-experts. For more information, visit the A to Z Facebook Group by clicking here.
Time: Wednesdays at 5:10pm (usually)
Location: SUB Fireside Lounge
Sponsored by the Philosophy Society of Montana State University.
Any and all are welcome, to listen, speak and/or present. If you are interested in presenting, email: philosophy.montana@gmail.com