Are you a beginner, an intermediate, or an advanced speaker of English? We welcome everyone!
You need this information in YOUR language?


A.C.E. at Montana State University offers intensive English classes for all levels. You will improve your English with people from all over the world by actively joining in our Listening, Speaking, Reading and Writing courses. For more detailed information, you can check the A.C.E. website.

The benefits of A.C.E. Language Institute at MSU:
"Conditional Admission" to MSU for undergraduate students: if you do not meet the English proficiency requirement but you are academically admissible to MSU, you can be conditionally admitted to MSU which means that you will learn English at A.C.E. before attending MSU. When you complete Level 6 at A.C.E., you enter MSU directly, with no TOEFL score.
Expert instructors who love to teach
Fun and challenging classes with 6-12 other students
Participate in interesting MSU classes when you reach the most advanced level
Intercultural presentations with your international classmates
A.C.E. will assist you with:
Airport pick-up and New Student Orientation
Familiarizing you with campus and campus life
MSU offers you:
Bachelor's degree programs in over 120 fields of study, masters degrees in 50 and doctoral degrees in 27 fields.

Library, free transit bus system, campus restaurants and shops in the Student Union Building

Complete sports facilities including swimming pool, gym, soccer fields, tennis courts, weight room, fitness classes and more

Student Recreation Centers: bowling, billiards, video games, sports equipment rental, outdoor adventure trips, and classes in outdoor skills like rock climbing and boating

Computer labs with over 600 computers and free internet access

Campus events such as movies, concerts, athletic games, and the annual International Food Bazaar

Professional academic and immigration advising
Looking for a safe, friendly and fun city to live and study in?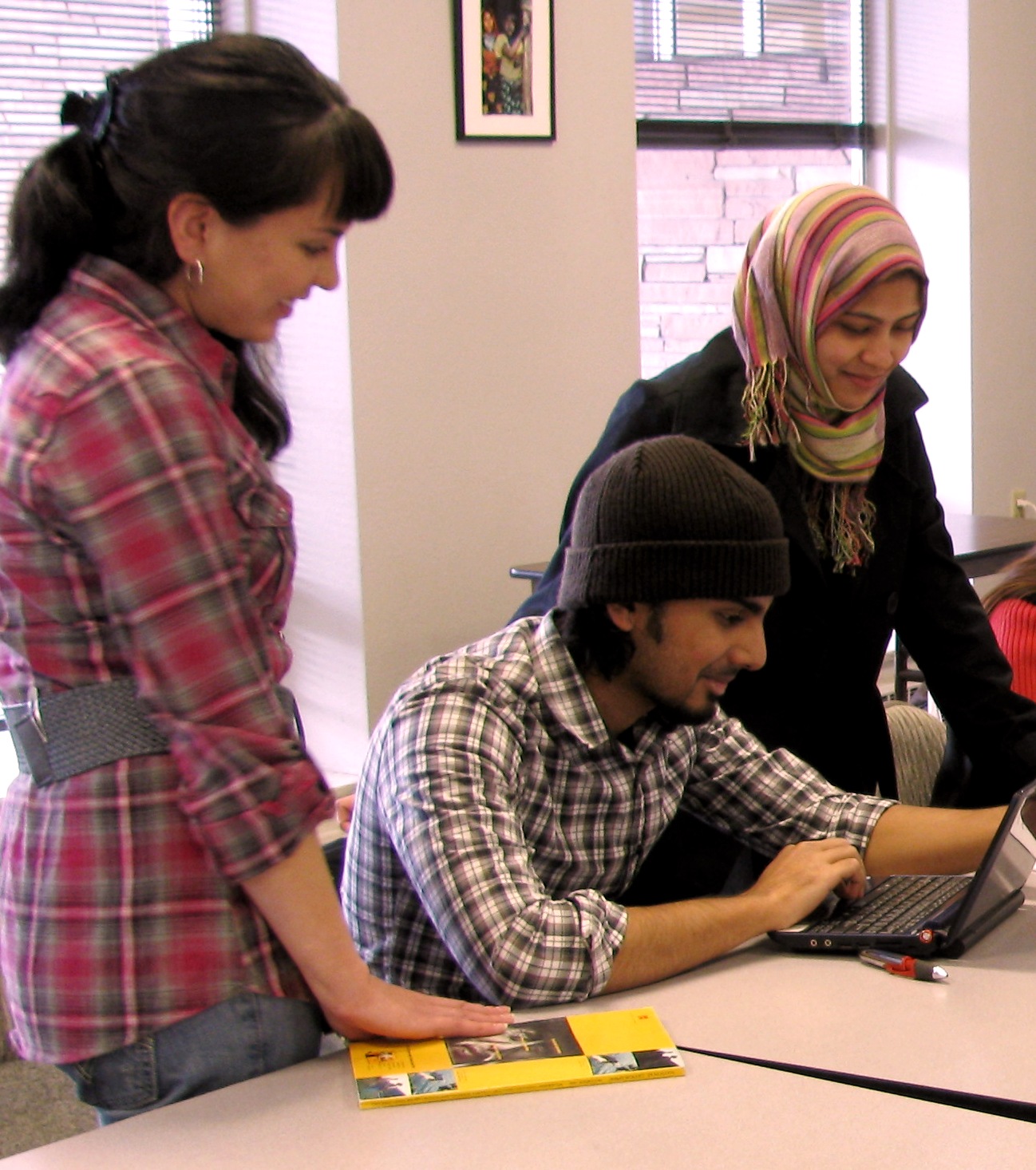 Bozeman is a lively, young city located in a beautiful valley surrounded by the Rocky Mountains, many rivers, clean air and starry skies. Our town is a safe and friendly place with an easy-going life style.
Students enjoy many outdoor activities like snowboarding, horseback riding, whitewater rafting, fly-fishing and biking. Visiting art galleries, museums, and many excellent restaurants is also popular.
Bozeman's sunny climate reflects its mountain valley location. Summers are pleasant, with warm days, cool nights and an abundance of sunshine. The dry weather makes both summer and winter an enjoyable experience.
Bozeman Area Population: 75,000
Nearby Attractions: Yellowstone National Park, 150 km - Bozeman is the gateway to YNP where natural features, oustanding scenery and abundant wildlife await you. Bridger Bowl Ski Area, 25km; Big Sky and Moonlight Basin Ski Resorts, 73km.
Free buses will take you anywhere in town, from campus to downtown and even to the nearby ski resorts.
Levels at A.C.E. Language Institute:
| | | |
| --- | --- | --- |
| Beginning Foundations | Beginning | 7,5 weeks = 1/2 semester |
| Level 1 | High Beginning | 7,5 weeks = 1/2 semester |
| Level 2 | Low Intermediate | 7,5 weeks = 1/2 semester |
| Level 3 | Intermediate | 7,5 weeks = 1/2 semester |
| Level 4 | High Intermediate | 7,5 weeks = 1/2 semester |
| Level 5 | Low Advanced | 7,5 weeks = 1/2 semester |
| Level 6 | Advanced - last level for undergraduate admission | 15 weeks = 1 full semester |
| English for Graduate Studies | Specialized preparatory program for graduate study | 15 weeks=1 full semester |
The A.C.E. Level 7 program is specifically designed to assist prospective international graduate students to prepare for graduate school in the areas of listening, speaking, reading, writing and research. With the approval of Dr. Ron Larsen, Vice Provost and Interim Dean of The Graduate School, A.C.E. was permitted to make recommendations for graduate admission in terms of language proficiency. The MSU Graduate School accepts completion of Level 7 in lieu of TOEFL or IELTS scores for admission purposes, and academic departments also have the choice of accepting this recommendation and completion of Level 7.
Courses
Classes will meet for 20 hours per week.
Audit/Audit Review (10 hours/week for one semester)
This class consists of two elements: attendance at an upper-level MSU class along with an A.C.E. instructor for three hours per week. The second part is seven additional hours per week of developmental work on academic reading, writing, critical thinking and preparation for exams all of which are meant to give the students the listening, reading and thinking skills necessary for advanced academic work. Students must complete all work and exams for the MSU course and pass with at least an 80% grade.
Advanced Academic Speaking (5 hours/week for one semester)
This class meets daily and is aimed at providing speaking, listening, discussion and presentation skills. The final project is a PowerPoint presentation on the students' areas of graduate study.
Advanced Academic Writing (5 hours/week for one semester)
This course focuses on the academic writing skills necessary for success in graduate school. These include summarizing, reviewing (critically) literature in the student's field, identifying appropriate research materials, performing research, and writing up research. Great emphasis is given to appropriate citation, paraphrasing, and avoidance of plagiarism.
Special classes are also available depending on adequate interest & enrollment:
Conversation Practice
Pronunciation
Reading Mechanics
English through Music
Spelling and Punctuation
Writing with Computers
TOEFL Preparation
GRE Preparation
College Vocabulary
Developmental Writing
The English of Mathematics
2014 A.C.E Session Schedule
| | | |
| --- | --- | --- |
| Session | First Day of Class | Last Day of Class |
| Spring I | January 6 | February 28 |
| Spring II | March 3 | May 2 |
| Summer I: | May 8 | June 20 |
| Summer II: | June 19 | August 1 |
| Fall I: | August 21 | October 15 |
| Fall II: | October 16 | December 12 |
Holidays:
Spring Break 2014: March 10-14
Tuition & Fees for 2013-2014
Full-time tuition

7.5 weeks/20 hours of class per week

$2,600
Health Insurance*
$180
Student Service/facilities fee
$275
A.C.E. Placement Test for students conditionally admitted to MSU
$60
One-time housing placement fee
$200
Application to A.C.E.
$100
Courier delivery of I-20
$65
TOEFL Test (institutional)
$60
Airport pick-up

included

*Unless student already has own insurance and provides proof of coverage in English
Residence Life Fees*
Single room/21 meals per week*
3 meals per day, 7 days a week

$1,750-$2,420
Single room/15 meals per week*
3 meals per day, 5 days a week (excludes weekends)
$1,750-$2,420
Double room/21 meals per week*
2 persons per room; 3 meals per day, 7 days a week
$1,750-$2,420
Double room/15 meals per week*
2 persons per room; 3 meals per day, 5 days a week (excludes weekends)
$1,750-$2,420
Estimated summer room cost/no meals included
$550
Homestay - limited availability, pre-application required
$1,125
* Prices may vary depending on room size and availability.
How to apply?
If you wish to apply for conditional admission at MSU, please contact Ms. Susan Reisch, sreisch@montana.edu or go to our application instructions webpage.
If you wish to apply to A.C.E. directly, please contact A.C.E. Language Institute Enrollment Services, enroll@cultural.org