Undergraduate Programs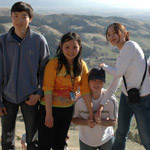 Montana State University (MSU) has approximately 15,293 undergraduate students including 800 international students from 71 different countries.
Academic & Research Opportunities
MSU is a nationally ranked,comprehensive public research university that offers top quality programs in agriculture; arts & architecture; business; education, health & human development; engineering; letters and science; and nursing. At MSU we offer more than 120 undergraduate majors!
The integration of learning and the discovery of knowlegde is a priority at MSU. Being a research university has enabled our undergraduate students to be taught by leading faculty and to work directly with top researchers in their academic fields.
More about research at MSU
Highly motivated undergraduate students can participate in the Undergraduate Scholars Program or enroll in the University Honors Program.
Student Activities & Recreational Sports
The MSU campus has more than 175 active student organizations and hosts many cultural events, including concerts, lectures and films.

More on student clubs

An extensive gymnasium complex provides a swimming pool, tennis and racquetball courts, a climbing wall, a fitness center and intramural team sports (such as basketball, badminton, soccer, etc.)

More on the recreational sports & fitness