Consider Montana State University
MSU is an excellent choice for students who want to study in a high-quality, mid-sized, public university in a friendly, small city (Bozeman, MT!) in the beautiful Rocky Mountains. MSU has a reputation as a dynamic research university that provides a student-centered educational experience.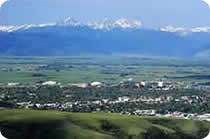 Future students can use Quick Facts to find out basic facts about the university and to learn about any of the more than 100 bachelor's degree, 40 master programs and 16 doctoral programs in agriculture; arts and architecture; business; education, health and human development; engineering; letters and sciences; and nursing.
Applying is made easier with the assistance of international admissions specialists who guide students through the application process and answer questions. Information about costs, scholarships and employment opportunities is included in the Financial Information section.
We'll be pleased to provide more information. Just ask!
MSU is on tour! Check if a MSU representative will be coming to your area: Fairs Schedule