International Student Handbook
The Office of International Programs has compiled this handbook to assist international students. The information is intended for use in conjunction with the MSU catalog and other university publications.
Our Online Handbook Is Divided into Three Sections
We hope this handbook will help you get the most out of your stay in Montana. If there is any additional information that you would like us to include in the handbook, please feel free to contact us at international@montana.edu.
Getting Started
Contact Information
OFFICE OF INTERNATIONAL PROGRAMS 1-406-994-4031
The Office of International Programs (OIP) is located in Culbertson Hall, Suite 400. It offers many services to the University, especially for foreign students and by students who wish to study abroad. Students may stop in any time, whether for information, advice, or just a friendly "hello." The staff of the Office of International Programs will be happy to offer advice and assistance in any phase of your adjustment to life at MSU.
IMPORTANT PHONE NUMBERS (country code= 1; Area Code= 406)
| | |
| --- | --- |
| Office of International Programs | 994-4031 |
| Registrar | 994-2601 |
| Student Accounts | 994-2701 |
| Ask Us Information | 994-4636 |
| Library | 994-5290 |
| A.C.E. Language Institute | 585-9832 |
EMERGENCY PHONE NUMBERS
| | |
| --- | --- |
| University Police | 994-2121 |
| Police | 994-2121 |
| Fire | 586-2313 |
| Ambulance | 587-0911 |
| Bozeman Deaconess Hospital | 585-5000 |
| Hospital Emergency Services | 585-1000 |
| MSU Health Service | 994-2311 |
| Poison Control | 1-800-525-5042 |
International Student Organizations and Activities
The MSU community offers may student organizations and activities in which you can participate. It is our hope that you will find an organization or activity that coincides with your hobbies and interests. Becoming involved is a great way to enhance your experience at MSU.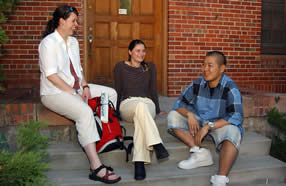 Global Culture Club
GCC is the international student group on campus. GCC meets regularly for social and cultural activities and is a great place for making friends from around the world. Students are needed to serve as officers and to work with the advisor to organize a variety of activities. Students can participate in any activity that interests them. Announcements of upcoming activities are made via e-mail. Contact OIP for further information.
Friends Beyond Borders
FBB matches newly arrived international students with a peer American student for their first semester of attendance at MSU. The program's purpose is to give each international student a friend who can show them around and teach them the basics of life at MSU.
Bozeman Friends of International Students
This volunteer group provides a "friendship family" to those students who wish to get to know residents in the Bozeman area. Students do not live and board at the homes, but they are invited by a family to share in occasional activities and are introduced to life in this part of the country. Popular activities include sharing holiday dinners, sightseeing, picnicking, shopping, and the inclusion of the student in family celebrations and events. If you would like a friendship family, fill out a request form at the Office of International Programs.
International Street Food Bazaar
Each February, the MSU international students hold a festive food, craft, and entertainment fair on campus. Thousands of interested people from the University and Bozeman community attend this delightful intercultural event. International students have an opportunity to participate and share some aspects of their culture with Americans. Native costumes, slides, craft items, etc., are displayed for the enjoyment of everyone interested.
Everyday Needs
Money and Banking
There are many banks conveniently located around town. First Interstate Bank, located in the Student Union Building, is popular among students for convenience and student oriented service. Make sure that you investigate which bank will best serve your needs.
Automatic teller machines (ATM) are located on campus for several of the banks and provide a convenient means of banking. Ask if the service is provided.
Do not carry large amounts of money with you or keep money in your room or apartment. Money lost or stolen is seldom recovered. Establish an account at one of the banks in Bozeman so that your money can be kept safely and conveniently.
Several types of accounts are possible:
CHECKING
There are usually two types of checking accounts based on how much money is in the account and how many checks you write. Discuss your needs with the people at the bank to find the type of account best suited to your needs. Most accounts include a debit card.
SAVINGS
A savings account is designed to hold money in a bank or savings and loan association for longer periods so that it can earn interest. If you have a large amount of money that you do not need to draw upon regularly, you may want to establish an account of this type.
Keep accurate records of your transactions with the bank. Keep your canceled checks and bank statements as they serve as receipts. Make sure all checks written are fully covered by your deposits. Writing insufficient-fund checks (checks without money in the bank to pay for them) is a serious criminal offense in Montana.
Health Care
Medical Insurance - Student and Family
Supplemental health, hospital, and accident insurance are required of all registered students at MSU. Check with the health insurance office, 994-3199, at the Student Health Service on campus for details. Also if you have family members with you here in the U.S., you must provide them with medical insurance coverage. Since the U.S. has no national health program all medical costs in the U.S. are extremely high. The dollars you pay now for family insurance could save you literally thousands of dollars in the case of a medical emergency.
Swingle Student Health Service
All students registered for 7 credits or more are eligible for the medical services offered by the Swingle Student Health Service. Your fees pay for these services so it is to your advantage to make use of what is provided. Since scholastic achievement is in part dependent upon good health, early recognition and treatment of illness can preserve your health and prevent loss of valuable class and study time.
The student health center is housed in the east wing of the Strand Union Building. The center is staffed by a team of full-time medical professionals and appointments can be made in person or by phone, 994-2311.
There is also a pharmacy, 994-5498, which fills most medical prescriptions at lower student rates. The hours are:
Weekdays by appointment 8:00 am - 4:30 p.m.
Weekday Emergency 5:00 p.m. - 7:00 p.m.
Weekends and Holidays - Acute Care
Weekends 8:00 am - 11:30 am
Closed on Holidays
MSU Dental Clinic
The Dental Clinic is located on the south end of the Swingle Student Health Service Building and is open 8:00 am - 4:30 p.m. Monday through Friday. The clinic provides essential and emergency care at a greatly reduced price. Students must make an appointment in advance either by phone, 994-2314, or in person.
Counseling Center
The Counseling Center provides an atmosphere of confidentiality and support in which students can face the pressures and concerns that often accompany the challenges of college.
Counselors in the Center have advanced training in the field of counseling psychology. The staff deals with a wide range of personal, academic, and vocational concerns. A better understanding of oneself, relationships with peers, family, roommates, or members of the opposite sex, test anxiety, and career decision-making are frequent reasons that students visit the center.
The Counseling Center, located on the second floor of the Swingle Building, is open Monday through Friday 8:00 am - 5:00 p.m. Appointments can be made by phone at 994-4531 or in person. Private doctors
Bozeman Deaconess Hospital
Located at 915 Highland Blvd., 585-5000, the hospital is well equipped to serve you. Charges at the Emergency Room, 585-1000, will be at least $300 for a simple visit (excluding special services) so plan to see a doctor or the MSU Health Service during regular office hours for problems of a non-emergency nature.
Urgent Care Centers
Bozeman has two urgent care clinics that are open in the evenings and weekends. These provide another emergency health care option. While still expensive, they are cheaper than using the hospital emergency room in many cases.
Telephone
There are four types of telephone service available to you:
Public or pay phones can be found in most public places. Local calls cost $.35 for the first three minutes and long distance calls are more expensive. Long distance costs on all phones depend on the time of day, the day of the week, where you are calling from, and how long you talk. Long distance rates are available at the front of your Telephone Directory.
Campus phones: Almost every building on campus has inter-university telephones which may be used to call any other location on campus by dialing the last four digits of the number. For example, the Office of International Programs number (on campus) is 994-4031. To call this office, you would dial 4031. Since all campus phones have the prefix 994, you do not have to dial 994 for another campus phone.
A Long Distance Credit Card: With a long distance credit card, you can call long distance from any pay phone and bill the costs to your card number. You may make calls from the United States and from other countries and bill you credit card. You will receive a bill every month for the calls you have made. There is no charge to order the card however, each call you bill to your calling card costs you an additional minimal fee.
Private Telephone Service: Students living in the residence halls on campus must use the university phone service. Students living in Peter Koch, Nelson Story Towers, or family housing can have a private telephone.
Telephones can either be rented from AT&T or purchased at K-Mart or Wal-Mart. AT&T telephones are expensive but good quality. If you wish to rent a telephone, call toll-free 1-800-222-0300 at the AT&T Consumer Products Division, and they will tell you where to pick up a rental telephone. Most telephones that you purchase, even inexpensive ones, will function for several years.
In order to establish telephone service at your home, you must call the US West telephone office between 7:30 am - 5:30 p.m., Monday - Friday. Their telephone number is 1-406-657-3222. When you call, be certain to have the following information:
Your name, local address, local telephone number
Your visa number (the number on the I-94 card)
The name of the university ("Montana State University")
Your status at MSU ("graduate" or "undergraduate")
Your permanent address (from your home country)
The name, address, & telephone number of your nearest relative.
How your name should appear on Directory Assistance (information available to the local operator) & in the telephone book
Your checking account or credit card number. There is an initial charge of approximately $35.00 to connect your telephone line. You will also receive a monthly bill for local services (approximately $25), for each long distance call made and for the rental of the equipment (if you do not purchase a telephone).
Telephone Directory
The Telephone Directory is a very valuable source of information. It contains a list of almost everyone (in this area) who owns a phone, their address, and their telephone number. Students living in residence halls are listed in the Fusser's Guide (a campus directory) and also at the dormitory desks and Ask-Us Information Center. The directory also lists area codes, call rates, and business phone numbers.
The Telephone Directory (also called the "telephone book" or "phone book"), is organized into two sections. These sections are each organized alphabetically. The first section is called the "white pages." Names of people with a phone and their addresses, are listed in alphabetical order according to their last names. The second section is called the "yellow pages" or "classified section." This is because the pages are yellow and the names of businesses or professionals are listed alphabetically by classification or profession. For example: It you wanted to purchase some clothing, you would look for clothing stores under "clothing" in the Yellow Pages.
Utilities
If you are paying a portion or all of the utilities for a rental unit, contact the following companies to have your utilities connected:
Water
Bozeman City Water Department
34 N Rouse
Bozeman MT 59715 586-3321
Local Transportation
The MSU campus is only a dozen blocks from Bozeman's downtown shopping district and malls which makes for a short walk. A popular mode of transportation during the warmer months is the bicycle. Some students have their own car. Car-pooling is a good way to save gas and make new friends. Student cars must be registered with the University Police within one week after arrival on campus. Registration ranges from $45 to $325 per year depending upon which lot you choose to park in.
Bozeman has a 24-hour taxi service (phone#: 388-9999). The airport is 10 miles northwest of Bozeman, adjacent to the town of Belgrade and is served by Delta, Frontier, Horizon and Northwest airlines. The Greyhound Bus (587-3110) depot is located at 1205 E Main.
Purchasing an Automobile
Whether you purchase a new automobile, a used one from a dealer, or a used one privately, you must keep in mind the legal and financial obligations involved. First you must go to the Driver's License Bureau at 19 N 10th St and apply for a Montana driver's license. In addition, you must go to the Courthouse at the corner of 3rd and Main to register the car in your name and purchase new license plates. Finally, you are required by law to have automobile insurance. A list of insurance companies is provided in the Yellow Pages of the telephone book under the heading Insurance. If you do not have insurance and are stopped by a police officer, you will be fined in excess of $500.
Postal Services
The main post office is located on N. 19th Avenue but a convenient alternative is the branch office in the Federal Building at 32 E. Babcock. Both are open Monday through Friday from 8:30 a.m. to 5:00 p.m. In addition to these offices, there is a small mail drop located in the Strand Union Building (SUB), a small post office in the Van's Country Market building at 912 N. 7th Ave. The main campus post office is located in Culbertson Hall on Harrison Street and should serve most of your needs. If you change your address during your stay in Bozeman, it is important that you notify the main post office and the OIP. Change of address forms allow your mail to be forwarded to your new address and are available at the main post office.
Shopping
Where and how you shop will make a great deal of difference in how much you spend and the quality of products that you buy while you are in Bozeman. In addition to the stores in the downtown area north of campus (along Main Street), you will find individual stores and clusters of stores scattered throughout Bozeman. The Gallatin Valley Mall, located on the west end of Main Street offers indoor shopping.
Shoplifting (removing merchandise from stores without paying) is a serious crime in Montana, and merchants are alert to any possible offenses. Be sure to keep your chosen items clearly visible as you shop and proceed to the cashier; any concealed items can look like attempted shoplifting.
MSU Bookstore
The MSU Bookstore located in the lower level of the Strand Union Building (SUB), is a store owned and operated through MSU. It is set up to satisfy the particular needs of students and may have many things you will need. Textbooks, art supplies, notebooks, pencils, MSU T-shirts, cosmetics, greeting cards, and stationery are just a few of the items available.
Second-Hand Stores
These stores usually sell used items like clothing, kitchen appliances, and furniture. Be sure to inspect the items you are interested in very carefully as they are used and may be damaged or in need of repair. Prices are usually a great deal lower for these used items that for new ones. Unlike most American stores, second-hand stores are flexible in price, and you may be able to bargain for lower price.
Some of the second-hand stores in Bozeman are:
The Salvation Army 400 E Babcock
Play it Again 720 W. Babcock
Sack's of Bozeman 138 W. Mendenhall
Second Wind Sports 15 W. Olive
The Attic 702 E Main
Garage Sales
Rummage or garage sales often offer excellent bargains on used merchandise. Rummage sales are held by community people at the seller's home. Buyers are encouraged to go to the home and buy the items desired. Rummage sales are advertised under Garage Sales in the classified section of the Friday and Saturday editions of the Bozeman Daily Chronicle. They are usually held on weekends when the weather is nice.
Discount Stores
Discount stores generally offer merchandise at lower prices than regular stores, particularly for common items like food and clothing. Remember to check prices at a variety of stores before deciding upon which store is best for you. Not all "discount" stores actually offer lower prices.
Some discount stores are:
Bob Ward and Sons - 3011 Max Avenue (next to Target; sporting goods and outdoor clothing)
K-Mart - 1126 N 7th Ave
Wal-Mart - 1500 N 7th Ave
Target - 2550 Catron St
Costco - 2505 Catron St (requires a yearly membership)
Grocery Stores
American grocery stores operate to make a profit. Usually, if more services are offered at a food store, prices will be higher at that store. So if you want to pay less, you must do some things for yourself. For example, at Town and Country Warehouse Grocers, you must put your own groceries into bags and carry your own bags to your vehicle.
Some food stores in this area are:
Town and Country - 220 N 20 Ave
Van's Country Market - 912 N 7th Ave.
Albertson's - 200 S 23rd Ave (some specialty items)
Safeway - 901 W Main (some specialty items)
Community Food Co-op - 908 W Main (organic, bulk items, ethnic food)
Montana Harvest - 31 S Willson Ave (health food)
Convenience Stores
Convenience stores are small centrally located stores which frequently also sell gasoline. These stores are not a good place to buy large amounts of supplies because their prices are generally much higher than other stores. Examples are: Mini-Mart, Kwik-Way, Joe's Parkway, etc.
Winter Clothing
Bozeman temperatures occasionally get as low as -20 degrees Fahrenheit in mid-winter. For this reason, it is very important that you have warm boots, a heavy coat, a hat, and gloves. If you do not have these items, they can be purchased at the many outdoor equipment/ski shops in Bozeman. A product called "Thinsulate" is used to make very warm coats, and it can be washed in the washing machine. Hats and gloves are warmest when made of wool, and many now have an inner lining made of cotton or polypropylene to make it more comfortable next to your skin. Some Bozeman stores specializing in winter wear are:
Bob Ward and Son's 2320 W Main
Chalet Sports 108 W Main
Northern Lights 1716 W Babcock
Round House Ski and Sports 1422 W Main
As these are specialty stores, their prices will tend to be higher than normal for items purchased there. Department stores such as Macy's and J.C. Penny in the Gallatin Valley Mall also sell winter clothing of good quality. Make sure that you watch for periodic sales and check the discount stores for the items you need as well.
Restaurants
Restaurant listings can be found in the Yellow Pages of the telephone book under "Restaurants." There are a variety of good restaurants in Bozeman. Chinese, Italian, Mexican, Greek and other ethnic restaurants are available, as well as traditional American restaurants. Some eating establishments require making a reservation in advance. If you are planning to go out to dinner, call ahead of time to make sure there are available tables. If you dine at a full service restaurant (where a waiter or waitress takes your order and serves your food,) a gratuity, or tip, is expected. The standard rule is to leave 15% of the total cost of your bill as a gratuity. However, if the service is poor, you are under no obligation to tip. Below is a list of a few restaurants, the type of food they serve and average prices per person in US dollars.
| Name of Restaurant | Menu Style | Price |
| --- | --- | --- |
| Colombo's Pizza | Italian | moderate |
| It's Greek to Me | Greek | inexpensive |
| I-Ho's | Korean | moderate |
| Perkins | Mixed American | moderate |
Child Care
If you are coming to MSU with children there are several things that are important for your to know. One of the biggest questions concerns childcare, and where it can be obtained. The welfare of your children is of utmost importance to the Office of International Programs and if you have any specific questions that this handbook does not answer, please, do not hesitate to come in and visit our office.
Daycare
The ASMSU Day Care School provides childcare and educational activities for preschoolers, age 2 to 6 years old. Open only to children of MSU students, school is in session Monday through Friday, 8:00am to 5:00pm on the days that MSU classes are in session, including summer sessions. The goal of the Day Care is to help preschooler progress in all developmental areas (social, intellectual, emotional and physical) and affirm a holistic philosophy. In addition, the school offers parenting information and an opportunity for MSU students to work with young children.
The school sponsors a number of events during the year which are open to all student families, like our Halloween party, the Christmas party and an Easter egg hunt. There is also a committee that advises and formulates policy for the school as well as preparing and presenting the budgets. There are 4 student member positions open. If you are interested, please ask for further information in SUB 281. For further information or applications, call 994-4370 or visit the Louise Shunk Day Care Community Center at 1295 West Garfield. The mailing address is PO Box 174200, Bozeman, Mt. 59717-4200
The Center also has lists of babysitters for evenings and weekends.
Protection of Children
Child Neglect Laws in the United States prohibit leaving small children alone at home or unattended in an automobile. Montana law requires children 2-4 years old or weighing less than 40 lbs. be restrained by an approved child restraint (car seat) when riding in a car. Plastic bags and plastic film (used for packaging) are very dangerous. They are airtight and may cause suffocation and death if placed over the mouth and nose. Keep these out of reach of children at all times.
Medicines, drugs, and household supplies such as cleaning powders, ammonia, bleach, etc., can cause serious illness or death if erroneously swallowed or inhaled. They should be stored where children cannot reach them. If an accident occurs, call the Poison Control Center at 1-800-525-5042, or take the child to the emergency section of the Bozeman Deaconess Hospital. It is wise to call ahead to alert them at 586-8511. Call 911 if you need an ambulance. "Mr. Yuk" stickers can be placed on dangerous items to warn children not to eat them. These are available at most pharmacies.
Electrical outlets can also be very dangerous. Any metal object such as a knife, fork, or hairpin can cause serious electric shock when placed in an outlet. Plastic safety plugs can be purchased inexpensively at any drugstore. Their use is strongly encouraged if small children are present in the home.
Public School
Public School education is free in the United States for all children age 5 and older. Instruction is given in a variety of areas. The OIP will assist you in enrolling your child or you may call the Bozeman Public School Office at 585-1548.
Educational Opportunities for Adults
Spouses of MSU students often wish to pursue their special interests and take courses outside the regular University classes. Two separate programs offer this opportunity: Bozeman Adult and Community Education Telephone: 585-1522 MSU Extended Studies Telephone: 994-6683
Life at MSU
How to Survive in an American Classroom
Once you begin attending classes at MSU, you will quickly see that they are not the same as the ones you attended in your home country. Do not let these differences intimidate you! View them as simply more challenges to overcome in your process of adapting to life in the United States and at MSU.
Understanding Professors
One of the first things that you will want to try to do when you begin classes at MSU is to identify a member of the faculty and work to develop a mentor relationship with them. Ideally, this should be someone in your field of study who researches topics in which you also have an interest. This will provide you with a faculty member with whom you can discuss any academic difficulties that you may encounter and can share in the successes that you are sure to obtain while you are at MSU.
Another area of the American classroom that may appear different to the foreign student is the level of informality that exists between American professors and their students. In many classrooms at MSU it is not uncommon to refer to professors by their first name as opposed to using the formal title of Doctor or Professor.
In many classes a certain percentage of the grade is based upon what professors call "participation" points. These are points that are awarded for class attendance or classroom discussion. For foreign students, the latter "participation" points are often the hardest because of language difficulties. Do not let that worry you. If you show an interest in and demonstrate a familiarity with material that is being discussed, the professor is not going to be concerned with any mistakes that you may make while participating in the discussion.
In certain classes, especially laboratory classes in the sciences, your instructor will not be a professor but a teaching assistant. Teaching Assistants, or TAs as they are more commonly known, are graduate students at the university who are hired to teach lower level classes. Often you will find the TAs are even more informal than the professors are! If there is some aspect of the course that you are having difficulty understanding, do not hesitate to seek the help of the TA.
All professors and TAs are required to keep Office Hours. These are times outside of class when they will be available to help students. It is highly recommended that you use these times if you are having difficulties with the course or even if you just want to get to know the instructor better. It always works to your advantage to use these times as the instructor will know that you are a committed student who cares about getting the most out of your studies.
Taking notes and Studying for Exams
For many students learning how to take notes is one of the more difficult tasks associated with attending classes at an American university. Often it appears that the professor speaks to fast or uses terms that are unfamiliar to the newly arrived student. Keep a separate notebook for each course and copy down everything that is written on the board during the course of the lecture. Another good suggestion is to sit towards the front of the classroom. This will help you to pay attention and make positive eye contact with the professor.
Another way of maximizing your notes from class is to recopy them when you begin to study. This way you will have a clean and neatly written set of study notes. You can also put key terms, concepts, definitions, or formulas on 3x5 cards and use them as flash cards.
A popular way of studying for exams is to form what is known as a study group with other students in the class. A study group will meet usually every one or two weeks to review notes, discuss materials that have been presented in class lectures, work on assignments, and prepare for examinations. This is a good way to review your notes and make sure that you are not missing important course concepts. It is also a good way to make friends.
While it may seem intimidating at first to approach American students and form these groups, just remember that as students you will always have one thing in common, succeeding in your courses. American students will be just as happy to work with someone as you will.
University Organizations and Services
Academic Assistance
If you are having trouble with your studies, see your professor or your academic advisor or come to the International Education Office to discuss your problem. There is a tutorial service available through the ASMSU office in the SUB. Also, there is a writing center located in Wilson Hall, room 1-108 and a math learning center in room 1-110 Wilson Hall. Tutors for the writing center are available by appointment only, so plan ahead. A language tutor list is available through the ACE Language Institute.
ASMSU
The Associated Students of Montana State University (ASMSU) is your student government. All students are welcome to attend Senate meetings and are encouraged to participate in the student government. The ASMSU office is located next to the Ask-Us desk in the SUB. Look for an opportunity to serve on a campus committee or run for the Student Senate.
Ask-Us Information Center
The Ask-Us Information Center is located on the second floor of the SUB. It serves as an information center for the entire campus and many residents of Bozeman. For information on anything from student/faculty telephone numbers to office hours or lecture/movie times, call 994-4636 (4636=INFO on phone keys.) Ask-us also has calendars, stamps, change, and a lost and found service.
Financial Aid
The Financial Aid Office is located in the basement of the SUB. The staff offers advice and assistance to qualified students wishing to find employment or to search for scholarship opportunities. Students with good grade point averages (GPA) may also ask departmental advisors about possible scholarships.
ASMSU Attorney
The ASMSU Attorney is available for advice in legal matters to MSU students. The office is located on the second floor of the Strand Union Building (next to the Ask-Us desk). A fee of $5.00 is charged for a consultation with the attorney. Pay the fee at the Business Office window in Montana Hall and take the fee receipt to the ASMSU Office to schedule an appointment.
Other Student Groups
There are a wide variety of student organizations at MSU coordinated through the Office of Student Activities across from the Ask Us Desk in the SUB. Participate in any and all of the activities or organizations that interest you. Do not feel limited to your own national group. Participation in a variety of American groups will increase your integration into and understanding of the U.S. citizens around you. Some active student groups include: Management Club, Finance Club, Native American Club, Campus Christian Fellowship, and many others.
Roland R. Renne Library
The Roland R. Renne Library houses a collection of more than 690,000 volumes. The Renne Library provides orientation tours designed especially for international students. A copy service, microfiche room, and international newspaper lounge are housed in the basement. Three computer labs also exist, one in the library basement, and the other two on the second and third floors.
Strand Union Building (SUB)
The Strand Union Building (SUB) is one of the most-used buildings on campus. There are three restaurants, a candy shop, the MSU Bookstore, the Recreation Center, a TV lounge, many study lounges, a post office, a theatre, four ballrooms, an art gallery, a bank, and many MSU offices.
CAMPUS CULTURAL AND RECREATIONAL EVENTS AND SERVICES
MSU sponsors a variety of concerts, recitals, plays, lectures, movies, and other events especially for the student. Watch the Exponent and the bulletin boards in the SUB for information and announcements of such events.
Marga Hoseaus Health and P.E. Complex
Students may use the sports facilities at the P.E. complex free of charge. Guest passes are also available for friends and family members. The Intramural Department sponsors an extensive program of sports activities for both men and women. For information on hours and activities call 994-4001.
S.O.B. Barn/Outdoor Recreation Department
The S.O.B. Barn sponsors dance classes, an inexpensive equipment rental service, holiday events, and bicycle/ski repair facilities. Organized outings offered by the Outdoor Recreation Department include hiking, backpacking, river floating, and bicycling. Extended trips to Yellowstone, Glacier, and Grand Teton National Parks are also scheduled. For more information call 994-3621.
Reynolds Recital Hall
Reynolds Recital Hall is located inside the music building on 11th Street. The Music Department has a recital schedule available for each semester. Concerts are usually held in the evenings and admission is usually free. Piano duets, string quartets, and MSU chorus, band, and orchestra concerts are common.
Exit Gallery
The Exit Gallery is located on the second floor of the SUB. Student and professional pottery, sculpture, paintings, and photography are displayed on a weekly basis.
Recreation Center
The Rec Center is located in the basement of the Strand Union Building and offers a wide variety of indoor recreation activities. Billiards, bowling, electronic games and the helicopter game are among the most popular. For information and activity schedule call 994-5803.
KGLT FM
KGLT FM is the MSU radio station located at 92 on the FM dial. It is funded and operated through ASMSU and staffed by MSU students. A programming schedule is available in the ASMSU office or at the KGLT office on the third floor of the SUB.
KUSM
KUSM television (channel 9), is a public television channel offering educational programming. Students majoring in film and TV production have produced many of the programs. Children's shows, National Geographic and Nova specials, and local talk shows are shown from 7:00 am to 10:00 p.m.. Programming schedules are available in the ASMSU office.
Newspapers
The Exponent, MSU's student newspaper, is published every Tuesday and Friday and is free. Check it for all events and announcements. The community newspapers are the morning Bozeman Daily Chronicle which you can purchase daily or through a monthly subscription, and The Bozone and The Tributary are free and focus on the arts and cultural events in the Bozeman area. The Chronicle, as well as major national newpapers are available to read in the basement of the Renne Library free of charge. An assortment of newspapers is sold at the downtown tobacco shop and drugstores. News is also carried on both the AM and FM radio stations. You may find continuous national and international news on CNN television, Channel 32 & 33. Substantial national and international news is also available on the FM Radio Station KUSM (89.9 on the radio dial). The news program is aired from 5:30 am - 7:00 am and 4:30 p.m. - 6:00 p.m..
Social Life at MSU
You will find that once you settle into life at MSU, many opportunities will present themselves for you to interact socially with other students. Welcome these opportunities as not only a chance to get away from your studies but also to see aspects of American Culture that are not evidenced in the classroom. MSU offers a wealth of on-campus social activities that are fun and engaging for all in attendance. Sporting events, club and university-sponsored dances, films, and comedians all combine to make a zesty and lively social atmosphere for students. Check the Exponent for current activity listings.
SPORTING EVENTS
MSU athletic teams are very good and attending the games with some of your newly acquired American friends is a good way to immerse yourself in American Culture. When you pay your fees at MSU, you pay what is known as an Athletic Fee. This fee entitles you to free tickets to MSU sporting events, with limited exceptions such as the MSU/UM Cat-Griz football game. For more information call the Sporting Ticket Office at 994-2287.
FILMS
Apart from the numerous motion picture theatres that are located around the city (the Campus Square 8-plex is two blocks from the MSU campus) the Procrastinator Theatre shows films throughout the school year in Linfield Hall, room 125. These films are usually only a couple of dollars for MSU students and are fairly recent releases of popular, mainstream American films. Another option is to attend one of the Bozeman Film Festivals (BFF) showings. The BFF specializes in bringing foreign films to Bozeman, and also focuses on Alternative films.
THEATRE
Three main theatre groups perform on campus at MSU. The Mainstage theatre group performs four productions each academic year. A wide variety of shows are performed which include comedies, musicals, mysteries and dramas. The actors are MSU students and the ticket prices are reduced for students. Another student theatre company is the Underground Theatre. This troupe performs student written shows and many alternative stage productions. The final production company is Shakespeare in the Parks. This is a professional theatre troupe that performs works authored by the English playwright William Shakespeare. The productions take place during the summer months (usually early June, and the weekend of the Sweet Pea Festival) and the first week of September and excepting the September performances, are performed outside at the Duck Pond Grove.
Things to See and Do in the Bozeman Area
Bozeman is a great place to see and do things year round. Almost any activity, cultural or outdoors is available. Remember, if you are going to be hiking, backpacking or cycling in the areas outside of the city to bring appropriate clothing as the weather can change quickly and unexpectedly. Finding things to do in Bozeman does not have to strain your budget. Many activities and events have minimal or no costs attached to them.
Bozeman Symphony, Ballet and Opera
The Bozeman Symphony Society is a community organization which sponsors three symphony concerts a year. The Bozeman Symphony is made up of residents of the community and students at MSU. Watch the Bozeman Daily Chronicle for announcements of symphony concerts, ballets, and other cultural events. A complete opera is presented each spring with major guest stars and participants from the community.
Ghost Towns
During the settlement of the western United States (around the 1850's), many affluent mining towns sprung up around Montana and other western states. Once the minerals in the mines around these towns were exhausted, the people in the towns moved on, leaving the remnants (buildings, streets, etc.) behind. Today some of these "ghost towns" still stand, holding much of the history of Montana and of the American West. Some popular ghost towns near Bozeman are Virginia City and Pony.
Lewis and Clark Caverns
The Lewis and Clark Caverns are magnificent underground caves formed by running water. Geologic features like stalagmites and stalactites make the caves unique and interesting. Located about 50 miles west of Bozeman, the caverns offer daily tours from May through September.
Museum of the Rockies
The Museum of the Rockies is located at the corner of South Seventh Street and Kagy Boulevard on the southeastern edge of the MSU campus. The museum is designed to interpret the physical features of the northern Rocky Mountains and the human dramas performed there. Geology, archaeology, ethnology, history and western art are displayed. The museum holds a major collection of dinosaur skeletons and eggs. The museum also has a Planetarium with daily shows about astronomy.
Other Museums
Other museums located in Bozeman include the American Computer Museum at 234 E. Babcock which features the history of computers in American society and the Pioneer Museum located at 317 W. Main, which focuses on the pioneer history of Gallatin County.
Ski Areas (Bridger Bowl and Big Sky)
Located 15 miles Northwest of Bozeman, Bridger Bowl Ski Area is a favorite with MSU students and Bozeman residents. MSU ski classes are held in the winter. Big Sky Ski Area is 40 miles south of Bozeman. This nationally known resort has extensive hotel, restaurant, and shopping facilities. Equipment rental is available at Bozeman ski shops and at facilities on both mountains. Cross-country skiing is less expensive than alpine skiing, and there are many trails available for this sport in and around Bozeman. Rental equipment is available at the Outdoor Recreation Center on campus.
Hunting and Fishing
Free courses in hunting techniques and hunter safety are offered by Montana Fish, Wildlife and Parks. Call 994-4042 for information. Licenses are required for all persons over 14 years of age. You may buy these licenses at sporting goods stores. Information on regulations and on where to hunt and fish is also available at the sports shops. Licenses are NOT transferable.
Sweet Pea Festival
Held in early August, this citywide celebration commemorates the arts. Parades, arts and craft shows, contests, outdoor concerts, theatre and other entertainment make this three-day event great fun.
Yellowstone Park
Located 90 miles south of Bozeman, Yellowstone Park is probably the most famous national park in the United States. The abundant wildlife which includes bears, elk and bison, geysers, hot springs, picnic, recreation, and camping facilities make this one of America's favorite vacation spots.
Christmas Stroll
Downtown Bozeman (Main Street) is alive with activity on the first Saturday of December. Merchants are open for business and Main Street becomes a pedestrian mall with no car traffic, just horse and wagon rides! Food stands, music and entertainment are part of the family fun. (Dress for winter!)
Native American Pow Wow
The Native American Students Association at MSU sponsors a traditional Indian celebration every May at the MSU Field house. The public is invited to a wonderful display of colorful dance competition after an informal "buffalo feed" barbecue. It is a family affair that provides an excellent chance to get acquainted with authentic Native American culture of the West.
Fourth of July
Independence Day is the U.S.' birthday party with traditional fireworks display at the Gallatin County Fairgrounds. You may pay an entrance fee and celebrate with music, etc., or pack a picnic and watch the display from a distance at 10:30 p.m.. Most stores are closed on this major holiday--a good time for picnics and camping!