International Services for MSU Faculty and Staff
Global Studies Minor
Montana State University is keenly aware that graduates in all disciplines are going to enter truly borderless careers. They will need to understand how the interconnected global society of the 21st century works, and they need to be able to work and communicate effectively with people from other cultures and languages. It is critically important to our state, region, and the nation that we educate citizens who are able to understand global issues. These are the goals that motivated creation of the Global Studies Minor.
The Global Studies Minor is a multi-disciplinary program designed to develop a broad base of international knowledge for students in any major at MSU. It consists of a combination of international course work, foreign language study, and education abroad experience organized to build base-level international knowledge and skills. It brings together international learning opportunities across the campus and around the world to provide the foundation for an international career. A pdf brochure is available with more information about this program or contact:
Dr. David L. Di Maria
Associate Provost
Email:david.dimaria@montana.edu
International Resource Center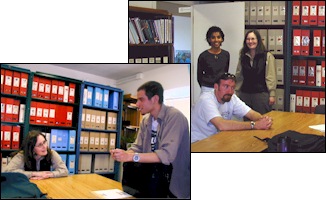 The Office of International Programs maintains an International Opportunities Resource Center offering students and faculty professional study abroad advising services. The Resource Center contains extensive information on MSU- Sponsored and non-MSU sponsored study abroad programs, work abroad opportunities, overseas internships, scholarship information, and general travel information. These reference materials include videos, books, maps, Culture Grams, course catalogs, and brochures from universities and other organizations around the world. In addition, students can look at photo albums and evaluations from past study abroad participants and use one of our computers for Internet research.
The International Opportunities Resource Center, located in 401 Culbertson Hall, is open Monday to Friday from 8am to 5pm. The Resource Center is open to current students, prospective students, faculty, and parents interested in finding out about the fantastic international opportunities available.
OIP Managed Grant Projects
Current Projects
U.S. Arabic Distance Learning Network
(US Department of Education, Fund for the Improvement of Postsecondary Education)
Study of the United States Institute for Undergraduate Student Leaders
(US Department of State, Middle East Partnership Initiative)
Teaching Excellence and Achievement Program
(US Department of State, IREX)
Building Advanced ICT Skills for Morocco
(Association Liaison Office for University Cooperation in Development, US/Middle East University Partnerships Program)
Global Climate Change and its Implication for Agriculture: an International Undergraduate Research Seminar in collaboration with the University of Western Australia
(US Department of Agriculture, International Science & Education Program)
Past Projects
International Leaders in Education Program (US Department of State, ILEP)
Secondary School Civic Education Curriculum Development Project for Azerbaijan (US Department of State, Bureau of Education and Cultural Affairs Office)
Montana State University – Moldova Pedagogical State University Linkage: Renewing Education through Best Leadership Practices
(US Department of State, NIS College and University Partnerships Program)
I-PIRL 2000: A Trans-Atlantic Project To Create A New Paradigm To Develop International Business Skills
(US Department of Education, European Community/United States Cooperation Program, EC-US, Fund for the Improvement of Post-Secondary Education)
Croatian Agricultural Entrepreneurship Program: Building Croatian Communities by Strengthening Human Capacity
(Association Liaison Office for University Cooperation in Development / USAID, Partnering with Higher Education for International Development)
Human Capacity Building for Environmental and Public Health Protection in Mexico (Association Liaison Office for University Cooperation in Development / USAID, Partnering with Higher Education for International Development)
Discovery-Based Undergraduate Opportunities: Collaborative Research Support Programs, MSU and University of St. Thomas in Mali
(US Department of Agriculture, CSREES Higher Education Challenge Grant)
Arabic Language and Middle East/North African Cultural Studies Program
(US Department of State, National Security Education Program)
Arabic in the Heartland: A New Paradigm for Less-Commonly-Taught Languages
(US Department of State, National Security Education Program)
For more information about these and other projects, contact:
Yvonne Rudman, Director for Academic & Technical Programs +1 406 994-4032