Incoming Exchange Students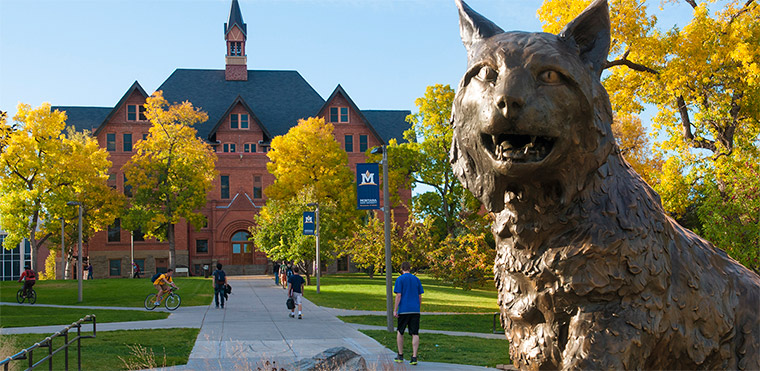 Application
How to Apply
Applicants applying for exchange must be first nominated by their home institution. Upon nomination, applicants must follow the procedure below to apply to exchange at Montana State University.
Please take the time to read through the application guide which will help you navigate our online application.
To apply please click the button below
Deadline
Applications are due in the Office of International Programs on:
April 1 for the following fall (August-December)
October 1 for the following spring (January-May)
For students coming from countries whose native language is not English, please refer to the following link describing the English proficiency levels required to study at MSU.
Arrival to MSU
International Exchange Students are required to attend two orientation sessions upon arriving at MSU:
January 8, 2016 - International Student Orientation
January 11, 2016 - Exchange Student Orientation
Please arrive in Bozeman, MT no later than January 7, 2016 to ensure you are able to attend the orientations. Further details of the exact time and location will be provided at a later date.
Post Acceptance Documents
MSU does not require a deposit but by courtesy, please fill out the confirmation form whether you're attending MSU or not. We would greatly appreciate it.
In order to view or change your class schedule in MyInfo, you must fill out and submit these Health Forms. You MUST have them completed before arriving in Bozeman.
Your visa requires you to meet certain insurance requirements. Click here for specific information on required coverage. You MUST bring proof of insurance coverage with you and you can waive your MSU insurance during orientation.
Once you have your flight itinerary, please fill out the Airport Pick-up request form. We will arrange for a representative from our office to greet you at the airport. Please make sure to reserve a plane ticket all the way to Bozeman (BZN). This service is free.
Academics
Information about MSU
Information on Course Selection
Susan Welker, swelker@montana.edu, will be your academic advisor here at MSU
Housing
Exchange students find their own housing when coming here to Montana State. You may apply for housing after being accepted and prior to receiving your student ID. Below are a few links to webpages to help find housing, whether you want to stay on campus or off campus. Priority dealine for on-campus housing applications for the fall semester is March 1st. Applications for the spring semester are processed on a first come first serve basis.
Student Life
Studying abroad is not only about learning at a foreign institution, it is also about experiencing local culture. Below are a couple of links highlighting ways you can engage in the local community.
Bozeman Friends of International Students
Share your culture while learning about another!
BFIS is a voluntary program that was established to encourage friendship with international students and to allow them to get a closer experience of "the American way of life." Matches of students and families or individuals are made according to stated interests and preferences to the extent possible. Ideally, a lasting friendship forms between the community member(s) and student. There are unlimited ways to build a friendship. Getting together at least once per month is suggested. Some typical activities for BFIS members are: sightseeing- lunch, dinner or coffee- attending a cultural or sports event- celebrating a birthday or holiday together. To become involved, contact Susan Reisch by email at sreisch@montana.edu or by phone at 994-6462 with any questions. BFIS matches will be made promptly and notification will be given by phone or mail.
Friends - Fostering Relationships between International, Exchange, and Domestic Students
The Friends program is a short two week program at the beginning of the semester that pairs up MSU students with new international students that are either studying abroad at MSU or starting towards a full degree. The program seeks to help international students settle in more easily, as well as foster friendships between international and domestic students. A friend and I started the program because we both had "buddies" while studying abroad and found it incredibly helpful and fun! As a part of the program you're paired up with an MSU student who will answer questions before you arrive, help you move in, get settled, and ready for classes! If you have any questions or want to take part contact Griffin at griff.ruehl@gmail.com.