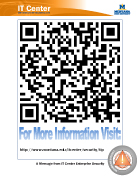 What exactly is a QR code?
That odd, square shaped, jumble of black and white that you've seen on signs, in magazines, and on just about any publically visible, flat surface is called a QR code. It's a type of two-dimensional bar code that any smart phone or mobile device with a QR reader can understand. QR codes can be used to provide information in formats such as text, phone numbers, or URLs, all of which users can easily read on their smart device or save for use later. For marketing purposes they have become a quick and easy way to get an individual to a website about a product, an event, or to provide them with information. Unfortunately QR codes can also be used for malevolent purposes.
Because there is no way to tell what kind of information a QR represents by looking at it, there is no way to know if it points to a malicious URL, one that is the home to an evil website that could install software onto your device that is used to hijack it or to steal your information when you visit. If you think this scheme sounds familiar, you'd be right. It is just a reinvention of spearphishing.
So the next time you see a QR code as you walk by think twice before scanning it!