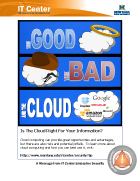 Cloud computing is a way of delivering computing resources through the Internet rather than having them hosted locally. This model has become much more popular as both individuals and businesses are looking for ways to save money while still having access to resources needed daily. Additionally, the increased popularity of mobile technology makes the availability of resources from any location increasingly important. While the use of cloud computing products and services provides many advantages and makes sense in some cases, there are significant risks involved that must be considered when deciding whether a cloud computing solution is appropriate.
What to Consider:
How Critical Are The Resources?
When resources are outsourced, your organization loses control over the management of those resources. While that's one of the main advantages, it can also be a large disadvantage if the resources suddenly become unavailable. If a single piece of their infrastructure fails, you can find yourself suddenly unable to see your data or use your applications. Even worse, you have no control over recovery efforts and can find it difficult to get an answer about what went wrong and how long it will take to fix. Therefore, before outsourcing to The Cloud, be sure that you analyze how long your organization will be able to be without access to the resource and weigh the risk of downtime against the advantages.
Will Any of the Uploaded Data Be Sensitive?
While most cloud providers will have securely managed servers, secure servers do not directly equate to secure data. Your sensitive data will likely be stored side by side with data from other customers. Make certain that the provider addresses how the data will be stored, managed and handled. Also verify with whom the responsibility will lay in the event of a data exposure. Just because the data is no longer on your servers, you are still responsible for ensuring that it is being handled properly.
Regulatory Compliance
Part of proper data handling is ensuring establishing that regulatory compliance is met. If the data are to be protected by policy such as PCI or FERPA, make sure that the required protections are used. Be sure that your provider is familiar with the policies in question and have has the infrastructure and controls in place to keep your data protected and in compliance. Remember, just because the data is no longer on your servers, you are still responsible for ensuring that it is protected.
Where Is Your Data Located?
You may not realize it, but when you move your data to the cloud it could be stored in places that you don't expect. Cloud services providers often have server farms in cities and countries all over the world. This can help them save costs and ensure guarantee redundancy, but it also may mean that the provider is responsible for abiding by the laws of the location in question. Those laws may very well take priority over any contractual obligations that they have to you.
Service and Data Continuity
Regardless of how stable a company claims to be, there is always going to be the chance that another company may acquire them or they'll collapse. In either case you don't want them disappearing with your data. Make sure up front that the company has a plan to return your data or services to you in a format that will make it possible for you to resume control or transfer them to another provider.
Disaster Recovery
Most cloud providers should have a redundancy plan that includes storing your information in multiple locations. Make sure that your provider has such a plan in place and is able to provide you with an estimated recovery time in the event of a catastrophic failure.
There is no question that cloud computing is a fantastic option for many services. There are times, however, where the risks do outweigh the benefits. Make sure that you thoroughly investigate any cloud solution and carefully consider what you will be using it for before committing. If you ever have any questions about whether a cloud computing service is right for your department please contact the Help Desk at helpdesk@montana.edu.