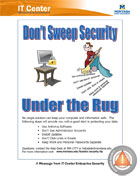 There is no one solution for securing your computer, accounts, and information. By following the tips below you can help make a difference in the security of your computer, accounts, and information.
Run Antivirus Software
Regularly running up to date antivirus software is essential to help protect your computer from viruses and bots. By not scanning (running your av software) regularly or even allowing your antivirus software to become out of date by a short amount of time your computer and information can be exposed to many types of malicious software.
Montana State University provides McAfee Antivirus software to students and employees. If you don't have it installed, get your free copy at: http://software.montana.edu/mcafee/
If you have any questions about how to install or properly configure your Antivirus software, contact the Help Desk.
Don't Use Administrator Accounts for Day-to-Day Tasks
Logging in to your computer using an administrator account is convenient but it can also open your computer up to many additional risks and make it much easier for your computer to be compromised.
For help making sure that your local account permissions are set up properly please contact the Help Desk.
Install Updates ASAP
Be sure to install your software updates immediately, whether it's a Microsoft Windows update or an update for any other software that you use. Keeping your computer up to date stops hackers from taking advantage of the vulnerabilities present in out of date software.
See www.montana.edu/itcenter/safecomputing/ for more information.
Be Cautious of Links in Emails
Unless you are sure that the source sending a link is trustworthy, never click on it. Links that appear to be legitimate can actually send you to a malicious website that steal your information and install malware on your computer. If you get an email that you believe is legitimate from your credit card company, bank, etc., rather than click on any links, open your web browser and enter the URL that you know is their's. That way you can ensure that you end up at the correct location.
Keep Work and Personal Passwords Separate
Keeping track of all of your passwords can be a difficult task, but while some of your passwords at MSU can be synchronized, you should always avoid using the same passwords for work accounts that you use for personal accounts. If somebody is able to guess or steal your personal email password the last thing that you want them to be able to do is find out where you work and access your MSU accounts with the same password.