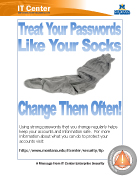 Why Protect Your Accounts?
To you, your accounts are simply tools that allow you to access information, perform tasks and utilize resources. Although it might be easy to assume that there is no reason why a hacker or bad guy would have any interest in in your accounts, especially if they don't contain valuable information, it would be wrong. Hackers can still use your resources for illegal activities such as storing illegal materials, sending spam, or performing attacks
How You Can Make Sure Your Passwords Keep Your Accounts Safe!
Keep them guessing:
Use strong passwords!
One common way that accounts become compromised is by Brute Force attacks and Dictionary attacks. The attacks work by quickly guessing simple passwords. To avoid falling victim to one of these attacks, make sure that your passwords are always at least 8 characters long. They should contain upper case letters, lower case letters, numbers, and special characters. Passwords should never contain any words or common names.
Smoke and Mirrors:
Don't use the same password for everything!
Using the same password everywhere can make it easier for you to remember, but unfortunately it also makes things much easier for hackers who want to gain access to your accounts. If one account is compromised (even if it's not your fault) then a hacker may be likely to try that password with your other accounts. Don't let them succeed.
Keep them fresh:
Change your passwords!
While having strong, varied passwords is a good start, you should make sure to change all of your passwords at least once every 180 days. This will help protect your account even if your password has been compromised somewhere along the way.
For more information about passwords, visit the following resources: