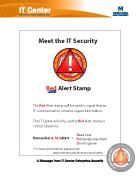 The IT Center is constantly looking for potential threats that exist so that you can stay one step ahead of the bad guys. When you see the following security stamps on a message, know that it contains important security information that could affect YOU!

The
Red

Alert Stamp
The Security Red Alert Stamp will ONLY be displayed on messages that contain critical IT Security information. When you see it, know that it's important to read the whole message and, as always, contact the Helpdesk at 994-1777 if you have any questions!


Remember,

RED

Alert means:

R

ead Now

E

xtremely Important

D

o Not Ignore
The Informational Alert Stamp

When you see our Informational Alert Stamp, the message it appears on contains information that will let you know about potential threats that exist, and ways that you can avoid them. Be sure to look over the information and contact the Helpdesk if you have any questions.



Remember that you are critical to the security of our University's information and resources.