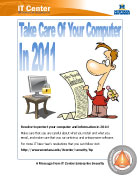 Stop bad habits:
Be thoughtful while using your computer and cautious about the sites you visit. Many less reputable websites install malicious code on your computer when you visit. Malicious code can do things like steal personal data or spy on your activities.
Take the same care with software you intentionally choose to download and never do so unless you're completely sure of its validity. These files can also contain viruses and do serious harm to your computer.
Diet:
Watch what you install on your computer. Extra software not only can slow it down but also introduce additional vulnerabilities. Make a point of going through your programs on a routine basis and removing any that you no longer need.
Contact the Help Desk (994-1777) if you're not sure whether a program is necessary or if you need assistance removing it.
If you don't have anything nice to say, don't say anything at all:
When sending an email never assume that the person you are sending it to will be the only one who ever sees it. The second you hit send, an email is completely out of your control. It could be forwarded, printed, or posted in a public place. Remember the newspaper test: don't put anything in writing that you're not willing to have published.
Be healthy:
Always run antivirus and antispyware software. MSU provides free McAfee Antivirus for students, faculty and staff. Other free software is available to remove adware and spyware programs that may have infected your computer.
Get a checkup:
Schedule a Desktop Wellness Check to make sure that your computer is healthy and properly configured. Call the Helpdesk at 994-1777.